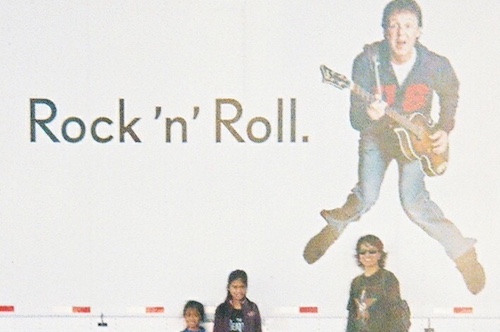 Paul McCartney
November 11, 2005
Arrowhead Pond at Anaheim
Anaheim, CA
"Hurry up, or we're gonna be late," is what my mom tells me as I struggle to put on my jacket and head out to the car. It's November of 2005. I'm nine-years-old, and I'm annoyed that my parents won't tell me and my six-year-old sister where we're going.
I get in the car, and the drive starts. It's Veteran's Day, and I just assume we're headed to some sort of fancy restaurant to celebrate my dad and his service like we normally do, but the drive gets a little long. We hit traffic. I see a huge line of cars waiting to get into a small entrance to a larger parking lot. I think, "This is some kind of restaurant."
We hop out of the car, and I follow my parents to a long line of people holding pieces of papers in their hands. My mom hands me my own piece of paper. "Do we need this to get inside?" She just tells me to read what it says.
At first, I don't get it, and I stare blankly at both my mom and my dad, my sister peeking over my shoulder trying to make out the words on the page, but then I look around me and realize I'm standing in a line of grown-ups who look very excited and pretty content. Most of them in Beatles t-shirts, many of them with smiles on their faces… and then I realized we were in line for a Paul McCartney concert.
Don't ask me why it took me so long to get it – I was nine. It was my first show, and it changed my life.
My parents had bought the tickets as a surprise. We made it a family event. Our love for The Beatles began when my mom put The Beatles 1 album on the stereo when I was really young. I would lay down on the floor with my head by the speaker and listen to it the whole way through – and going from "Love Me Do" to "The Long and Winding Road," in one play is a trip for a seven-year-old.
So, my sister and I grew up with The Beatles, thanks to our parents. We danced around rooms and hallways together to the rock 'n' roll that shaped music – me not having a clue that it would later shape my life.
Taking up four seats on the floor of the Arrowhead Pond – known today as The Honda Center – my family and I experience our first real concert together for the first time. Paul McCartney opens up with "Magical Mystery Tour," and maybe I was a kid back then, but I remember thinking Disneyland didn't compare to the magic I felt in that arena that night.
I could never imagine what seeing The Beatles might have been like, but I looked around me and noticed many of the fans in the audience must have. Now they were here, all these years later, and that amazed me. I'm introduced to Wings music for the first time. I witness McCartney play "Blackbird" on his guitar live for the first time. I see Abe Laboriel Jr. absolutely kill the drum kit for the first time… and I fall in love with live music.
McCartney is a world-class performer, and even at his age in 2005, he played for just over three hours. By the end of the night, my sister was asleep and carried out of the venue in my dad's arms. As for me, I had just heard "Helter Skelter" and was absolutely buzzing.
You might be wondering how 60s/70s rock ties into me spending my days now writing about pop-punk music, but there's a completely logical explanation.
Paul McCartney on his 2005 tour made me fall in love with bands who play instruments live, and after that show, the one thing that I discovered was that I needed it. All the time.
A couple of weeks later, my parents tell us that we're going on a road trip. We end up in Las Vegas, Nevada to see Paul McCartney again. I have a very vivid memory of me and my sister shouting, "We love you, Paul!" to the top of the hotel from the ground parking lot. McCartney plays at the MGM Grand on the same tour with the same songs… and for those who question why one would see the same artist over and over again, I will just say – it was better the second time.
To say Paul McCartney changed my life is not an exaggeration. From then on, I skip school events (and school, too) just to make sure I can fit live shows into my life. I work more hours than I should be just to make sure I still have the means to fund a concert ticket. People have their ways of living and I think, even at nine-years-old, I had already found what I needed.
This past summer – 14 years later – my family and I saw Paul McCartney on his Freshen Up Tour at Dodger Stadium. This time, I remember more things about the show. I'm older. "Blackbird," suddenly means so much more to me, and being able to see shows like this with my family is something that I cherish.
Sometimes though, it's something they think I've gone a little too overboard for.
The fall tour season is coming up! My November of this year is booked with shows from 5 Seconds of Summer to The Maine to Mayday Parade – a reflection of the way I grew up listening to bands who played instruments and the result of me finding myself through today's music as a product of loving a band like The Beatles.
My friends ask, "Do you ever do anything else?" The answer is, "No, not really."
My parents ask, "You're going to another show?"
I simply reply, "You got me into this," and I'm grateful they did.