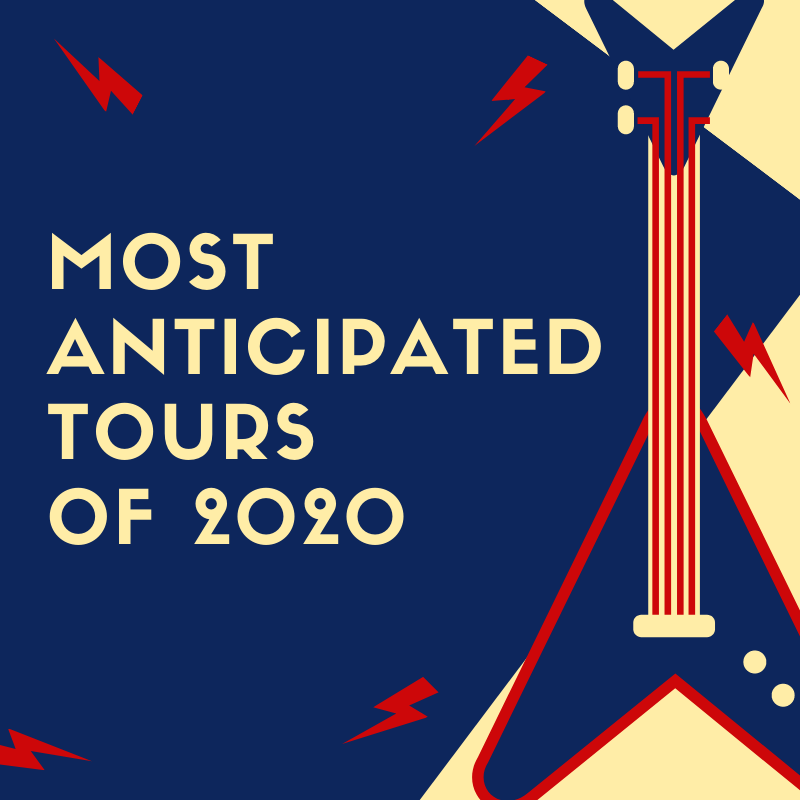 New decade. New music. New tours! From My Chemical Romance's comeback shows to The Hella Mega Tour, here's a list of all the 2020 tours you should get your tickets to next year!
THE HELLA MEGA TOUR
It's probably one of (if not) the MOST anticipated comeback tours of next year. Green Day. Fall Out Boy. Weezer. All on the same tour. The Hella Mega Tour features all three bands playing full sets, including an opening show by The Interrupters. They're hitting North America and Europe this upcoming summer. For dates, venues, and ticket info check here, or check out the video above for all the details! You're not going to want to pass this up.
MY CHEMICAL ROMANCE
Okay, so it's not a full-blown tour, but still – it's My Chemical Romance, and after break up announcements and years out of the spotlight, MCR's truest fans have shown nothing but the utmost enthusiasm for their upcoming concerts and whatever it is they've got planned next. If you'll be in Australia, New Zealand, or Japan this Spring, the chance to book your tickets and finally see MCR (or see MCR again!) is now.
THE MAINE
2019 was an amazing year for The Maine. With the release of their highly-praised album You Are OK, hosting 8123 Fest and Sad Summer Fest, and fresh-off their North American The Mirror Tour, The Maine aren't taking a break soon. They're transporting The Mirror and bringing their songs to Europe early next year. Stand Atlantic is opening! Don't miss it.
THE BAND CAMINO
With their latest album, tryhard, dominating the hearts of fans all throughout 2019, The Band CAMINO don't shy away from breaking musical boundaries. Having just announced that they'll be joining country duo Dan + Shay on tour next year, they'll also be hitting Europe for a headline tour in early 2020. Get your tickets here. They're going fast.
The 1975
There's a lot in store for pop-rock band The 1975. With their new record, Notes on a Conditional Form, set for release in February, they're spending a lot of time next year touring the world and playing everywhere from Laneway Festival to a headline European tour. Find tickets here!
WATERPARKS
Waterparks just released their album Fandom and are currently on their North American Fall Tour, but in 2020, they'll be heading to Europe for an early winter tour. Waterparks tickets are going fast. Don't wait to get yours!
GRAYSCALE
Grayscale's latest album, Nella Vita, has quickly become a new punk favorite, and back by popular demand, Grayscale are embarking on their SECOND North American Tour. In 2020, they'll be leading The Nella Vita Tour – Part II. Get tickets here – plus, don't miss the chance to buy their amazing merchandise at one of their shows.
5 SECONDS OF SUMMER
5 Seconds of Summer are making their way to Europe next Spring! Starting in May 2020, the band will be on a headline tour throughout Europe, and with their fourth studio album promised for release early next year, a worldwide tour is also bound to happen. Find tickets and keep up to date on their latest news here.
BILLIE EILISH
As one of the hugest stars on the rise right now, singer Billie Eilish is going into 2020 on a full worldwide tour. While tickets are going hot and a few dates already sold out, it's important to not wait around for booking these! Purchase tickets for the Where Do We Go? World Tour here.
BLACK VEIL BRIDES
BVB fans – they're back. With a massive North American tour set from March to May 2020, Black Veil Brides will be on tour with the band In This Moment on the In-Between Tour. Grab your tickets here before it's too late!