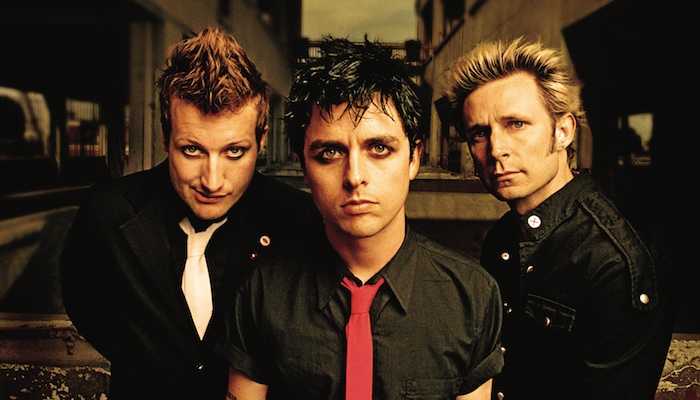 Everyone, no matter what, has that one artist who turned their dad into Archie Bunker.
My parents were relatively cool, and in general, didn't really care what media I listened to or consumed. From searing heavy metal tracks to hypersexualized pop music, there wasn't much that was banned from my lady-bug red Sony walkman.
And then along came Billie Joe Armstrong.
The summer of 2005 was a formative one for me. As an only child, my summers were often spent in front of screens, and as a child of Gen-Xers, those screens often played MTV. My mom would turn on MTV while she went about house chores, and I would sit and do whatever it is 8-year-olds do when left to their own devices.
That summer I was introduced to a lot of the bands that would make me who I am today: My Chemical Romance, Fall Out Boy, The All-American Rejects, and of course Green Day.
For the most part, the eyeliner and skinny jeans aesthetic of early 2000's pop-punk didn't bother either of my parents. They were, after all, children of the 80s. Bands like My Chemical Romance and Fall Out Boy were tolerated, if not mocked. But definitely, tolerated.
But Green Day? That was a whole other story.
My parents (and my father more so than my mother) already had a certain distaste for the East Bay Punkers; my mother was a stoner and a metalhead in her youth and only found them to be annoying — but my republican, blue-collar father had a particular disdain for them on every level.
They were liberal. They had "never worked a real job" a day in their lives. They wore tight pants.
I will never forget the first time I watched the music video for "American Idiot." Though looking back there was nothing particularly subversive about it — it was the most political thing I had been able to comprehend at that age, and it felt revolutionary. Like I was watching a riot on my screen.
A song about how stupid our country was? A music video that ended with the American flag being washed away? Grown men wearing makeup? Visible tattoos?
Every time that music video came on I was enthralled – and any time that music video came on while my father was in the room, he'd give me a speech about how it was "okay to like the music, but don't listen to what they're actually saying – it's bullshit."
Of course, that admonishment was all but an invitation to listen to everything they said. For years, though I had (at best) a base level understanding of politics – I knew that whatever Billie Joe Armstrong was, he was the exact opposite of what my dad was. He hated Bush. He (openly!) smoked weed. He was (openly!) bisexual. And yes – he was a bit of a diva (I think men get called assholes, actually, but that's beside the point) and that attitude of not caring and getting what you want when you want it was particularly alluring to a mixed-race girl in a conservative town. He didn't care if you liked him – and he didn't concern himself with things like decorum or technical skill. And he was doing just fine.
Maybe, for all my rough edges, I could do fine, too.
Though I would grow up, develop my own opinions, and become far more radical than a two-minute pop-punk ballad, Green Day was and will always be a symbol of a sort of anti-conservative rebellion – a punk revolution. They are at least the band that started that journey for me.
But beyond loving them specifically to piss my parents off, Green Day is also a band that has made me friends. Some of my best friends, actually.
Fast forward, far beyond the round-faced 8-year-old with a ladybug red Walkman. I am now 16 years old and in high school. I am predictably a weird kid with a botched pixie cut, smudged eyeliner, and far too much black in her wardrobe. At the time, my favorite band was My Chemical Romance, but my playlists carried an array of artists from that summer of 2005, including, of course, Green Day.
I didn't have many friends, much less people who shared the same interests as I did. So, when a girl transferred into my honors English class wearing a shirt from a recent Green Day show that my parents wouldn't let me attend (they weren't driving three-plus-hours to see a band they hated), I was more than thrilled.
"Hey!" I said, to the girl with long, dishwater blonde hair.
I didn't know anything about her other than she had transferred in from a calculus class that had been moved and that we had shared a homeroom in seventh grade. I remembered she was very smart.
"Did you go to the Green Day concert last weekend?"
I was practically shouting at this point. And,I'm sure people were staring, especially because not much made me smile back then. I don't remember the staring (I was too focused on trying to make a friend), but I'm sure it was happening.
"Yeah," she said, appreciatively, "it was so awesome."
(Again, there were very few people in my horribly conservative town who listened to that liberal propaganda. Green Day was hardly "underground" by 2013, but we were probably two of five kids who listened to that band.)
"Oh, man, I hate you!"
Of course, as soon as my overly-familiar joke was spoken, I remembered the only other thing about her I knew – she was shy.
Yeah.
I had just told a shy kid from a calculus class that I barely knew I hated her when that was probably the farthest thing from the truth. In fact, I desperately wanted to be her friend.
The next milliseconds were spent praying she got my joke, because if she didn't, or worse if she was offended, I had blown my one chance at making a friend who liked the same things I did.
"Ha! I hate myself too," she shrugged.
And as I sat down, sighing the most relief I ever sighed in my life, I knew for a fact that I met one of my best friends in the world.
And, reader, I wasn't wrong about that. To this day, I count talking to her as one of the best risks I've ever taken.
So, say what you want about Green Day. They ruined punk. Billie Joe Armstrong is an asshole. They haven't made a good song since 1994, or maybe they've never made a good song.
But they're the first punk band a lot of kids listen to. They shaped my politics, my taste in music, and were even the reason I mustered up enough courage to talk to my best friend over six years ago – and I know that I'm not the only one who can genuinely say they changed my life.
Green Day aren't just a life-changing band; they're a band for a generation.
(And I'm glad they offended my dad all those years ago.)