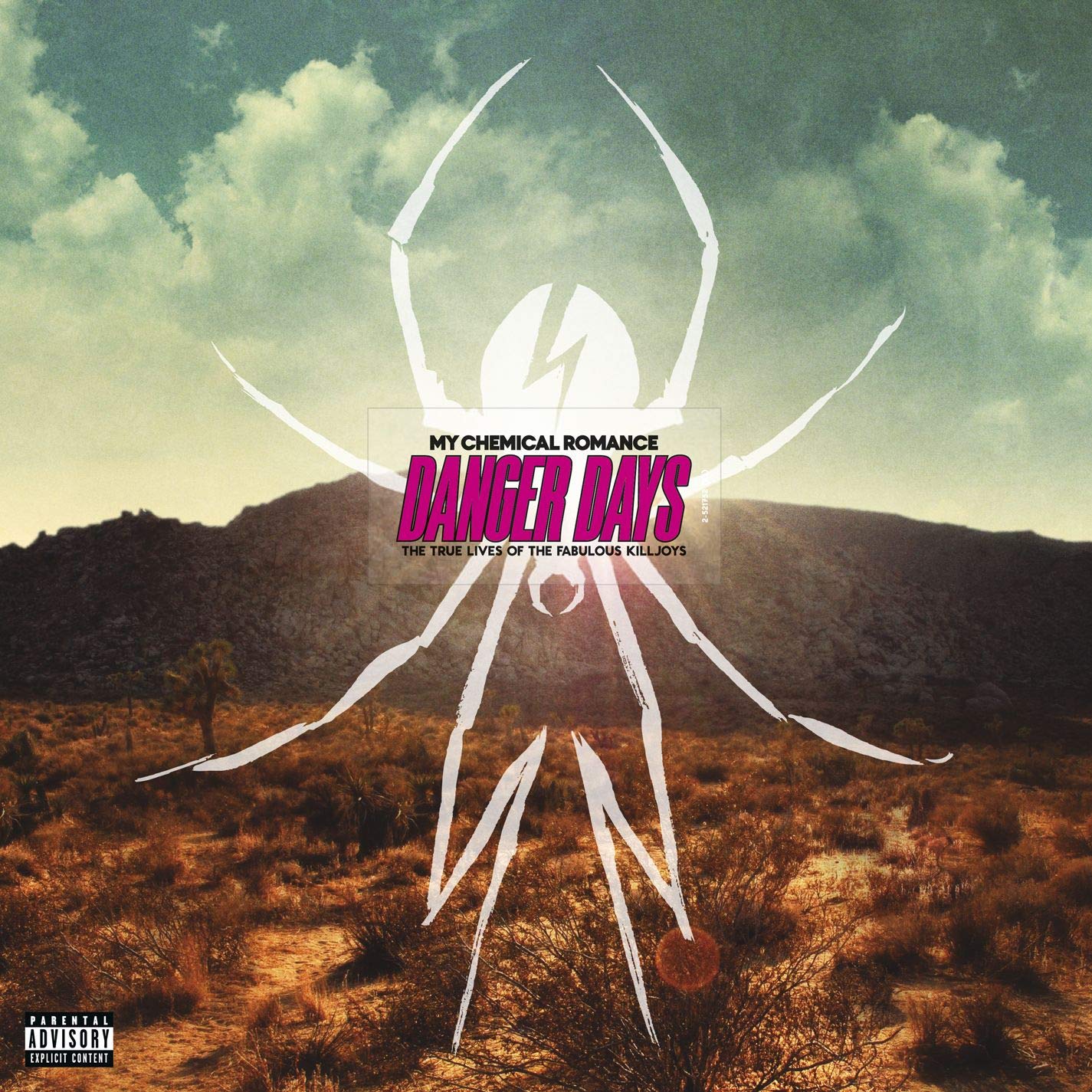 I can hear you all yelling at me right now.
"Nicole. Of ALL the My Chemical Romance albums out there, you're going to write about the one that arguably put a nail in their proverbial coffin? How dare?!"
Yeah, friends, I'm writing about Danger Days as a life-changing album. I know I'm going to have to work to get some of you on board, but that's fine. That's the point, isn't it?
It took me about six or seven years to actually listen to this album. When it came out in 2010, I was a late-teens emo with a superiority complex. I was protective of the bands I loved because they were mine. The popular girls in school still picked on me, called me "razorblades," and then listened to the bands they mocked me for as soon as they got radio play. That made me furious.
I have a very, very vivid memory of smugly telling a popular girl in the locker room before gym class that "Welcome to the Black Parade" was about death. Seemed obvious to me, but she thought it was just about a parade. Needless to say, she was not on board with the morbidity of it all. I'm still screaming internally about it.
This was my territory. I was gate-keeping. I was just as bad as the popular girls in that way.
That's why Danger Days felt like a betrayal at the time. I heard "Na Na Na" and wanted to vomit. I heard "Sing" and nearly did vomit. I called My Chem "sell-outs." I wrote them off. I targeted my anger at them and closed my mind to them completely.
And then they were gone.
I was the one who betrayed them. I turned my back on my favorite band, and they faded away. Obviously, I did not do this by myself. I think this is how a lot of us felt. Yes, there were many other reasons My Chem went away, but I still carried that guilt.
When I started to feel that way, though, I reminded myself that they dug their own grave with Danger Days. That was my go-to answer. "If they hadn't made a bad album and ruined their image and reputation, they'd still be around." (Nicole, you silly, silly, sad little emo.)
Then, it became too much. It was too many years without new My Chem music. I couldn't take it anymore. So, I broke down and listened to Danger Days in its entirety one night.
As soon as the hum of "Look Alive, Sunshine" started, and I heard Dr. Death-Defying for the first time, I was hooked. I was somewhere else. I was in the post-apocalyptic hellscape of 2019 (lol). It was never more relevant than it was at that moment.
This was during the 2016 election. My Chem was talking to me about rebellion, about vigilantism, about corruption in politics and economics, about what it means to be "other" in a society that makes being "other" a crime. It hit VERY close to home.
"Everybody wants to change the world, but no one wants to die."
They looked us in the eyes and asked, "What are you willing to give up to save this world from destruction? From the worst, most evil people on the planet?"
It was the most empowering My Chemical Romance had ever been. They had simply been six years too early for me. That broke my heart.
The other thing that struck me was that I was listening to a comic book. I could literally see the panels and word balloons as I was listening. There is also a Killjoys comic, and it's kind of a sequel to the album. (Read it, it's incredible.)
Comics had become a major part of my life in the years since Danger Days came out, so this elevated the whole experience. I've written about music and comics in the past, so I won't go into it too much, but these two mediums meld together beautifully. I don't know if MCR were the first to make this kind of multimedia experience, but they perfected it.
So how did all this change my life?
It taught me about context. It told me that it's okay to change and adapt and grow over time. It's okay to be different today than you were last week.
In context, "Sing" is an anthem of rebellion, but also of unity. In the music video for "The Kids From Yesterday," the band wrote this to us: "Art is the weapon. Your imagination is the ammunition. Stay dirty, and stay dangerous. Create and Destroy as you see fit." That's what "Sing" is saying, too. We have voices; we need to use them. If we use them together, we're that much stronger. That's badass as hell, and definitely not the commercial bullshit it was framed as.
Yes, Danger Days sounds completely different than anything My Chem did before, and that's the point. Think about it. What was the most badass, punk rock thing they could do after The Black Parade? Making another black, white, and red bleeding heart vampire death record is not it, friends. Instead, they donned the brightest colors they could and made some of the raddest dance tracks I've ever heard. (Try to listen to "Planetary (GO!)" and sit still. I dare you.)
This album is also full of beauty and lyrical genius. "Bulletproof Heart," "The Kids From Yesterday," "Save Yourself, I'll Hold Them Back," and "Summertime" are absolute heart-breakers. The words, melodies, and pure emotion behind them are truly impressive. The lyrics, "You only live forever in the lights you make … You only hear the music when your heart begins to break," are poetry on par with anything from Bullets, Three Cheers, or Black Parade.
Besides, I don't think it's a coincidence that My Chem announced their reunion in the same year the story of the Killjoys takes place. That's pretty damn serendipitous.
There is so much to love about Danger Days. It's a middle-finger in the face of conformity, especially emo-culture conformity. My Chem refused to fit in a box, even one that was monetarily beneficial to them. That's why we love them.
For me, and for every other person who grew up in this culture, Danger Days is required listening. MCR may have learned to embrace color a couple years before we did, but we caught up eventually. Once again, they opened up and expanded my mind in a way I didn't expect them to. They taught me to admit when I'm wrong and to fight my biases as fiercely as I'd fight a totalitarian, oppressive overlord.
So, if Danger Days hasn't made it to your ears in a while, turn your headphones up real loud and run away with me. Killjoys, make some noise.