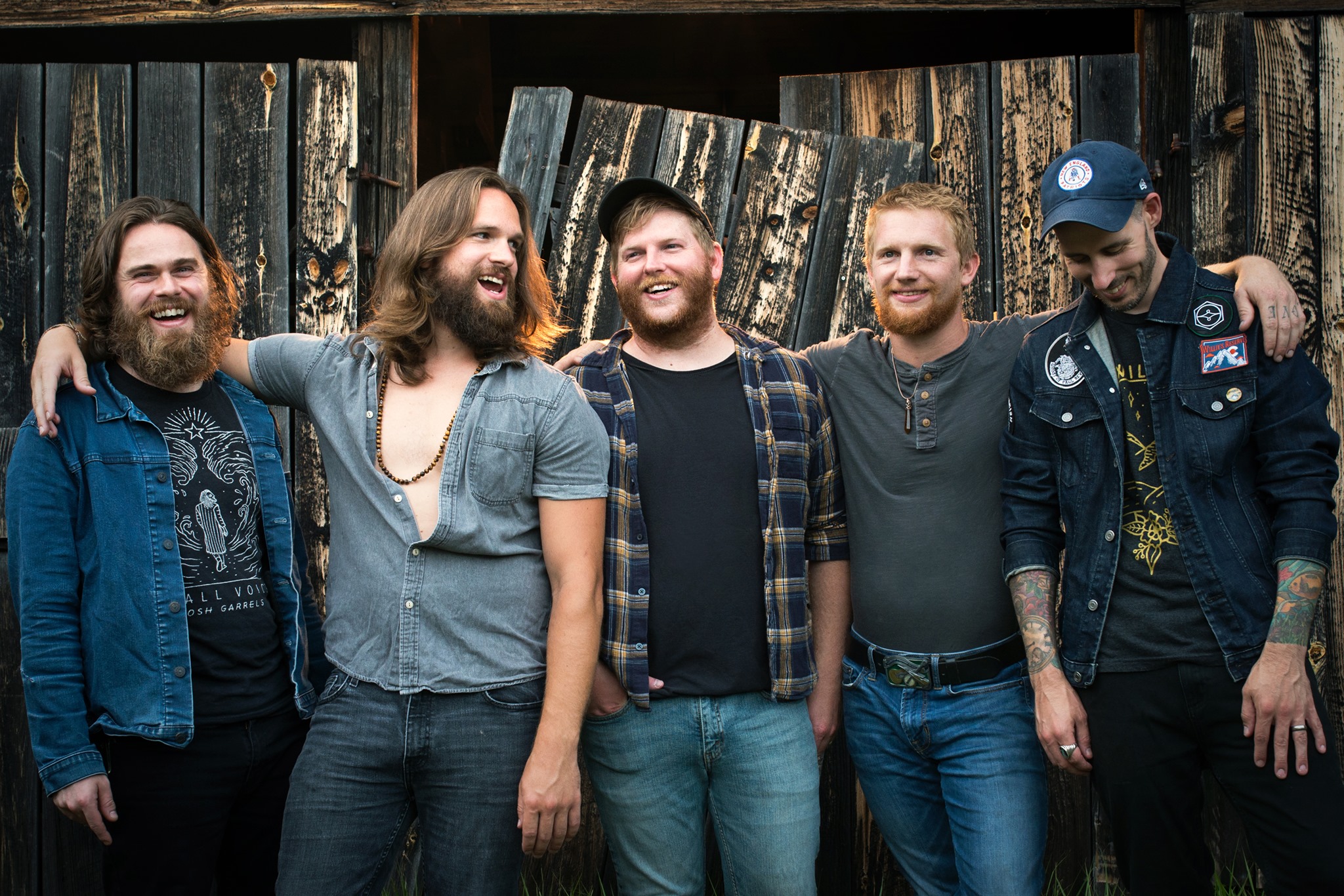 Photo: Angela Ryan
With their blend of reflective lyrics, classic Southern rock, and ambient folk, Boston-based five-piece Town Meeting have been calling to mind echoes of the '60s and '70s, staking their claim in the modern Americana space with heartfelt tracks like "Sometimes the Moon" and the harmonica-heavy "A Goddamn Song." Their third LP, Make Things Better, showcases both strong songwriting and impeccable harmonies. I asked the band about the creative process behind their latest effort, what it's like working as brothers, and what they miss from life on the road
S&S: How does Make Things Better fit in or depart from the rest of your work? 
Town Meeting: I feel like this record is a perfect blend of old meets new. We went through some lineup and instrument changes, so sonically it's different, but the core of our songwriting remained the same.
S&S: What's the level of collaboration in the studio/creative process? Does one person generally write the lyrics, or is it more of a group effort? Lyrics/music first? 
TM: This album was as collaborative as we could get. Throughout the entire process, everyone's voice was heard, and we were really on the same page from day one.
S&S: As a local/New England writer myself (based in Central MA), how was the local scene helpful in starting a band and navigating the career? 
TM: We love the New England music scene. It really is like one big family. We help each other out. Share each other's songs, wear each other's merch. Very thankful to be part of this community.
S&S: For the Condon brothers – I love a lot of bands composed of siblings, and I imagine it could be really great working and performing with your brothers, and a whole lot of fun, but could also be pretty stressful on both the work and family fronts if things aren't going so well. Wondering if you could shed some insight on that. 
Luke: I can only speak for myself, but I love it. We've had some real high highs and some pretty low lows, but at the end of the day, when we're writing or singing or listening together, there's just something cool about that family connection. I don't think it's exclusive to blood, but it definitely helps.
S&S: COVID-19 has shuttered all tours for a while. In an age when we all miss the excitement of a live show, what are some of the nights or venues that stand out to you? 
Luke: I mean we obviously love the bigger venues, but I think we'd all agree that it's the smaller ones that mean the most. One of the first places to ever take a chance on us was The Fitzwilliam Inn in Fitzwilliam, NH. Small room, simple DIY sound system – but the nights were always magical. Great people. I also miss Brighton Music Hall. One of my favorite places to play in the country.
S&S: What's your favorite tour snack? 
TM: Maker's Mark and a block of sharp cheddar.
S&S: What have you been doing in these unprecedented times to relax (besides music)? 
TM: Reading, writing, drinking, smoking, exploring, surviving.
S&S: Where do you all see yourselves in five years?
TM: On the road playing songs in the post-pandemic world.
S&S: What have you been listening to? New favorite music of 2020?  
TM: The new Delta Spirit and Dawes singles are great. New records from Neil Young, Margo Price, Christian Lee Hutson, and the list goes on.
S&S: Who's your dream collab?  
TM: Margo Price, Brandi Carlile, Willie Nelson, Sturgill Simpson, or Neil Young.
S&S: Russ & Luke, why did you choose Neil Young for the subject of your podcast [Long May You Young, with each episode featuring a deep dive into one of Neil Young's records]? 
R&L: Neil's been a major influence on our music from the beginning. His songwriting, performances, albums, career, and uncompromising nature are second to none. We had been wanting to do a podcast anyway, so when the pandemic hit and all our plans got wiped out, it just made sense. Plus, Mike Hsu [host of WAAF 93.7] is probably an even bigger fan than us. It's a great time.
S&S: What was it like having [Young/Crazy Horse guitarist] Nils Lofgren as a guest on your show? 
R&L: Unbelievable. Such a great, down to earth guy. I love literally everything he's been a part of. And man, does he got some stories!
To support Make Things Better (out now wherever you stream music), Town Meeting will be playing some socially distanced shows:
Hollis Hills Farm Summer Tones, Fitchburg, MA (8/22)
Live at Zinger's, Milford, NH (8/28)
Fallout Shelter, Norwood, MA (iVoted Election Night Concert, 11/3)