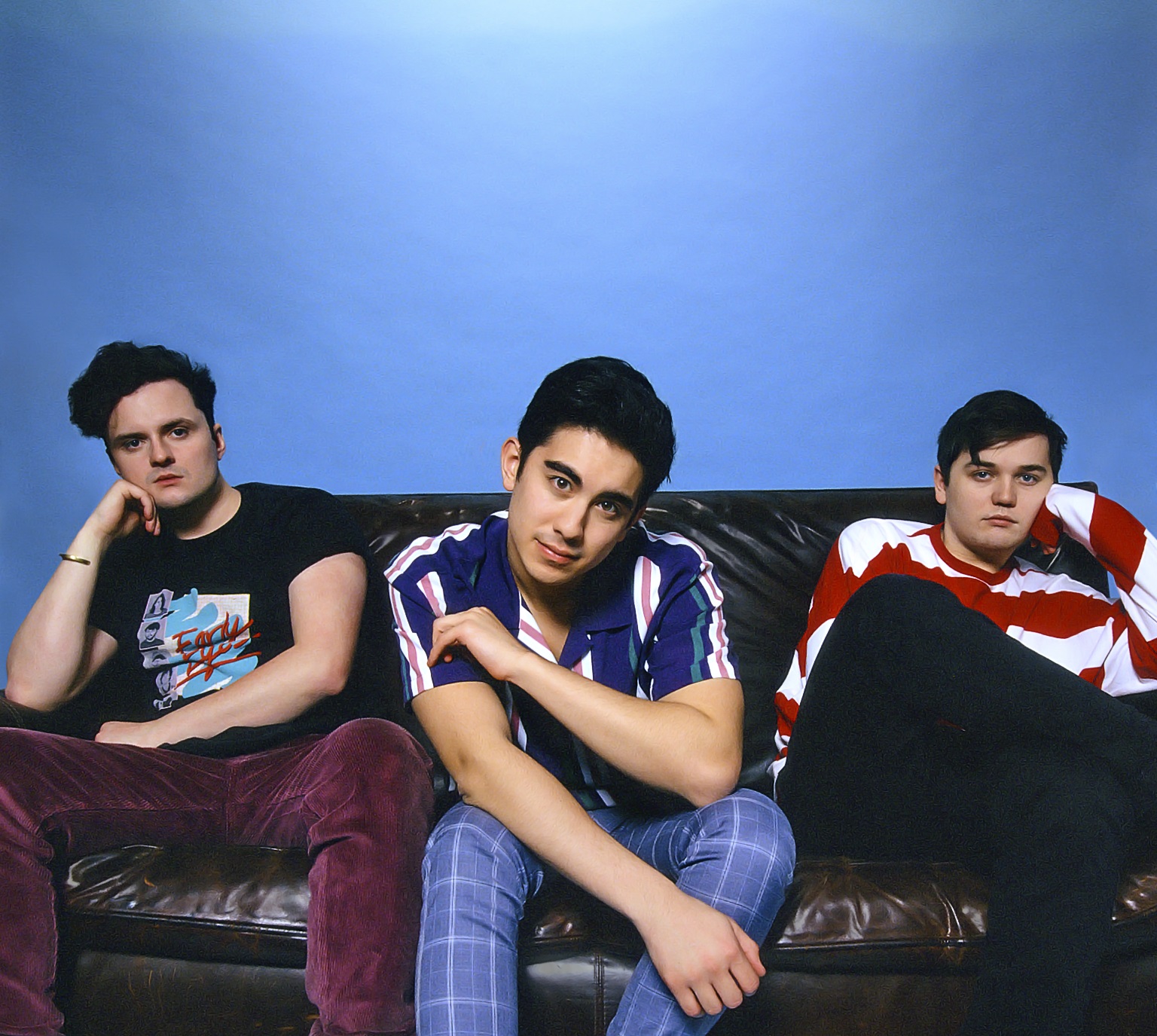 The Happy Fits Are Still Smiling: How The World's Happiest Band Are Still Going Strong
It's no secret by now that plenty if not all musicians had it pretty rough throughout 2020 into 2021. However, despite the many instances of canceled tours, postponed dates, and general uncertainty, there have been some bands and artists that have risen to the challenge and still managed to persevere all while gaining new fans and progressing musically. One such band that's particularly found an effective way to do so is NJ-based, alt-pop three-piece The Happy Fits – consisting of lead vocalist and cellist Calvin Langman, guitarist Ross Monteith, and drummer Luke Davis – who back in August released their second record What Could Be Better after a series of successful EP releases and equally much-celebrated live performances.
The band was slated to tour last year and perform at Asbury Park's prominent Sea Hear Now Festival and despite having many plans shifted in the wake of COVID, they've found numerous inventive and exciting ways of creating content, engaging with fans, and building upon their already impressive brand. In anticipation of their upcoming single "The Garden" and an exclusive live stream performance bolstered by their "Golden Ticket Contest," we spoke to The Happy Fits on the unexpected joys of creating and being a band in this time, and how despite current circumstances, they're just getting started.
Early on in the pandemic, the band was already plotting a proactive response to their current situation. "We all said to ourselves, 'What can we do to promote this record as much as possible during a pandemic?' and we decided why not make a video for every song on the record?" said drummer Luke Davis – a process which prompted them to re-visit "The Garden" as one of the few slower tracks on the record and a shift in pace from their high-energy indie rock.
"Initially, Calvin was hesitant to show us it but after hearing it, we decided this had to be on the album; the song is brilliant," expressed Davis on the decision to release the track and film an accompanying video for it. In addition to revising their material on the record, the band decided now was the perfect time to perfect their ability to promote and seek out new and creative ways to spark engagement. "During this time, we really started exploring the social media aspect of our band – which we didn't have much time for before – and really started figuring out ways to engage as many people as possible. My biggest worry was how do we keep going while we're not touring and as active?" said guitarist Ross Monteith on the band's early foray into expanding their online presence.
This enterprising attitude has resulted in the band creating a diverse and eclectic range of content – from a series of DIY-style music videos ranging in tone and style, weekly high-production live stream performances, and adapting to rising streaming platforms, The Happy Fits have certainly embraced their surroundings with gusto.
"We always want to be the very best we could be, so we thought to ourselves why not create a resume of sorts with videos, live streams, and skits that can serve as a resume in this time. It may be repetitive, but at least it gives us a structure and something our core fans can look forward to," Davis explained of the band's current approach toward content creation.
The fan community the band has created has taken on an impressive life of its own during this time which led to some truly innovative results and surprising inspiration. "Our fans created a community via Discord, and now they're all friends with one another and are from all different parts of the world. We also have a twitch and Minecraft server where fans can come and interact with us," Davis said of how the band has decided to take an active role on dynamic platforms lately.
As the build-up to the album release approached, the band capitalized on their growing fanbase to ensure it would very much still feel like a significant event – "We had a virtual release party, and we had about 2,000 people tuning in which is way more than anybody we've ever played for," said frontman Calvin Langman.
The response since the album released in August has maintained a steady momentum and has encouraged the band to continue to find ways of innovating which has resulted in their latest initiative, The Golden Ticket Contest, which encouraged fans to purchase a 7 inch of the band's previous single "Hold Me Down" in exchange to being chosen to attend an exclusive live stream concert.
"We've had contests before but not of this scale. We had 350 people enter, and we're selecting only five fans to win, so that was very humbling to us. Also, this live stream is going to be our first private one, so it'll be something special for the fans," frontman Calvin Langman said of how this latest initiative differs from their previous.
"It'll be very exclusive, and we'll be to take requests and do some Q&A and have it be a fun little session for the fans," drummer Luke Davis said of how this live stream will stand out as an experience.
The Golden Ticket Contest follows a set of high-production live streams the band has been employing since November and once again highlights their willingness to create high-quality content for their fan community. "We decided we wanted to up our production value and add lights along with multiple cameras. That way, it'd snowball into something that'd entice fans to come back and get something different each time," Davis said.
With their steady activity, The Happy Fits are constantly moving forward but still finding ways to be grateful for their newfound success and achievements. "We got reviewed on Fresh Air by Ken Tucker of NPR, and it definitely felt like once that came out, we skipped a few levels," Calvin Langman said of the unexpected acclaim the record has brought them.
"We've progressed a lot from releasing this record and grown in some unexpected ways. I never thought we'd be at over 5,000 monthly listeners on Spotify because of it," expressed drummer Luke Davis.
While things do remain uncertain for the future of the music industry in general, The Happy Fits are determined to discover new methods of growing and connecting with listeners along the way. "When shows return, we really want to give this album a proper tour and really make it successful," said guitarist Ross Moneith about gearing up for the return of live music.
In the meantime, the band plans to stay busy with a slew of live streams, covers, videos, and most importantly, spreading positivity in the process. Be sure to follow the band on all forms of social media and stream What Could Be Better available on all streaming platforms now!