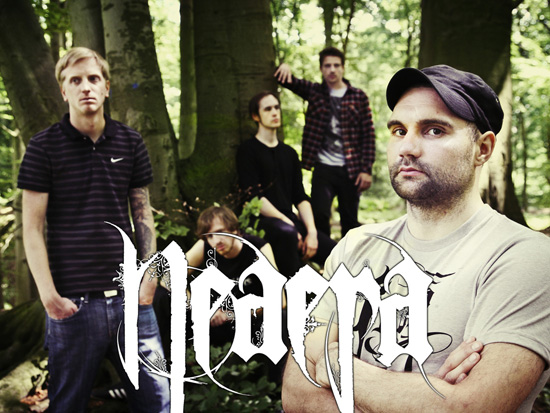 The fans have spoken, and Neaera have answered the call. Back with their first head-nodding, guitar-shredding single "Torchbearer," Neaera are returning with their long-awaited self titled album due out on February 28. I was fortunate enough to chat with the band about their forthcoming seventh record and what the album-making process was like after being away since 2015. Without further ado, check out the interview.
S&S: Very excited for the opportunity to talk with the one and only Neaera. Guys, it's a pleasure. First and foremost, how does it feel to be back?
Neaera: Hey! Well, it feels quite exciting but also, we feel much older now. The first couple of rehearsals were so much fun. Replaying the old songs as well as practicing the new material felt really refreshing and brought back some good memories.
S&S: What made you guys want to return to shred new music?
Neaera: Two years ago, we got the opportunity of playing two shows as part of a big indoor festival tour as kind of as a surprise act. The audience welcomed us back in such an overwhelmingly positive way, we simply had to consider returning for some stage time in the future. So, we figured we should try writing new songs, in order to make a proper return as a band, along with a new album.
S&S: How challenging was is it as a band to make this new record? You guys put out some serious metal classics like one of my favorites, "Synergy." Did you feel intimidated at all to try and outdo some of your previous songs?
Neaera: One major influence for us is our own work from the past and songs like "Synergy" or "Armamentarium" are among our most played and certainly a favorite of many. However, rewriting those exact songs for the sake of popularity feels too cheap and also pointless because they already exist. That doesn't mean we are avoiding similarities at any cost though.
S&S: Your new album is simply titled Neaera. Why did you guys decide to make it a self-titled record?
Neaera: This was one thing we always had in mind. Neaera, being a historical figure, is a symbol of personal strength and freedom. She has been such a big part of our lives that we feel like honoring her with this self-titled album.
S&S: What was the writing process like?
Neaera: Tobi, our lead guitarist, laid out the new songs mostly by himself. Over the course of one year, he pre-produced each track at our friend Tristan Hachmeister's studio. Once in a while, the band rented a rehearsal room to get some inspiration by jamming, so we could put in some final touches and ideas before finally hitting the studio.
S&S: "Torchbearer" is a relentlessly intense and insanely good song that sounds like a lot of your older songs. Seeing how you're working again with Jacob Hansen, are you guys going back to your old roots?
Neaera: That is absolutely intended. Jacob Hansen is a beast. The first time we met him was in 2005 producing our album Let the Tempest Come. Back then, we were already fans of his work. This time, he knew exactly what sound we were going for. And we are so happy to have him back on the knobs and switches on Neaera. "Torchbearer" was to be the first vital sign from the band after our break. It is accessible but also very distinguishable.
S&S: How long did it take to produce Torchbearer?
Neaera: The song really didn't take us longer than any of the other songs to produce. It was among the first three songs written for this album.
S&S: How many tracks will the new record have?
Neaera: Ten songs and a short intro. As a special edition, we are releasing our complete demo CD from 2004.
S&S: Will We see Neaera tour somewhere down the road soon as well?
Neaera: We have confirmed the Impericon Festival Tour, consisting of five big shows around Germany and Austria. We are also preparing to play Wacken and Summerbreeze Festival in Germany and Resurrection Festival in Spain this year. We will see what the future holds after that.
S&S: What can fans expect when they listen to your new album?
Neaera: Good old 2000's metalcore with hints of black and death metal. The album is meant to be a big thank you to every band that influenced our sound and every listener and critic along. But most importantly, to our friends and fans that have been supporting us. Cheerz to you!