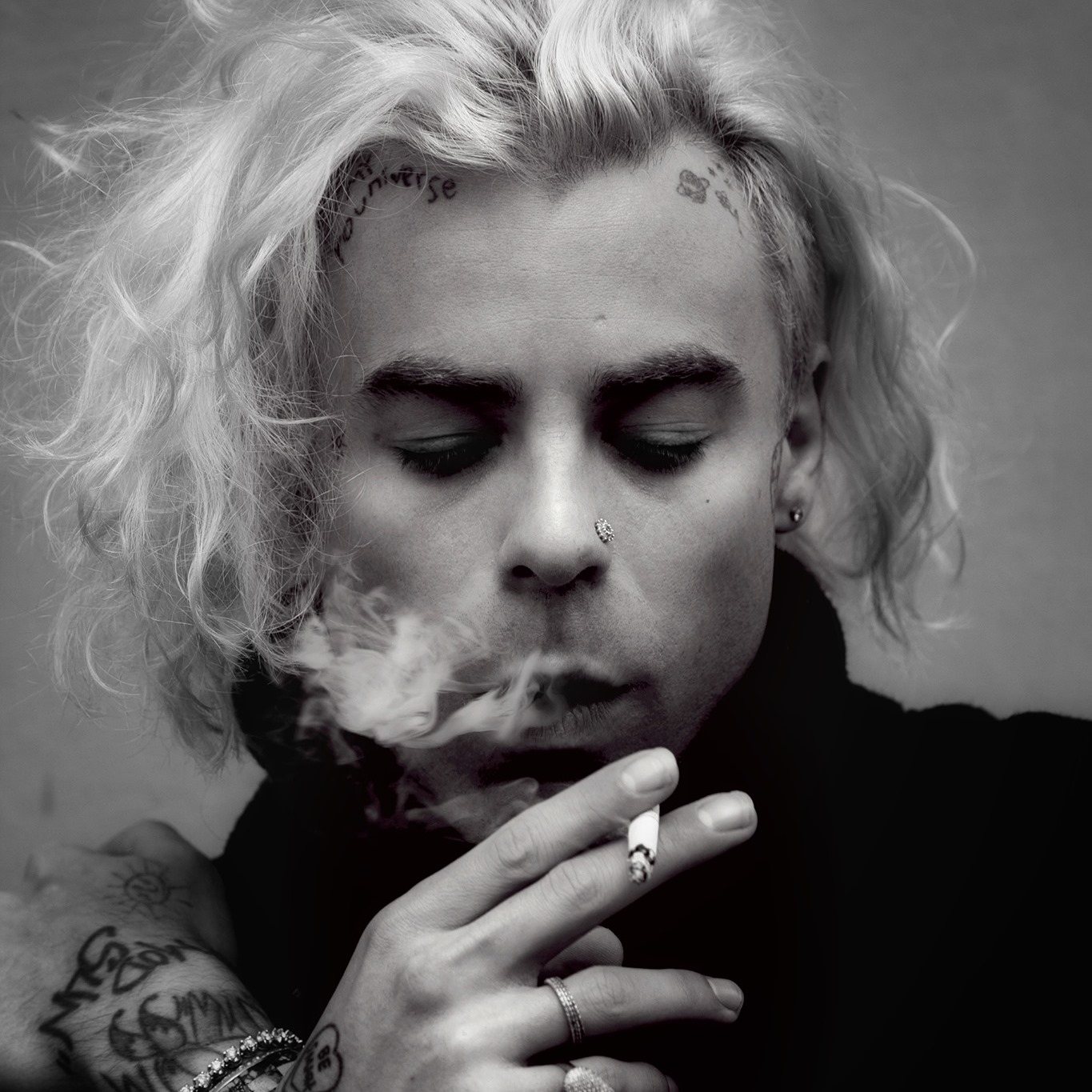 It was two years ago that I stumbled upon an artist whose vibe, energy, and songs would change the way I looked at music forever. That artist is Mod Sun. If you're not familiar with him, you should be. Combining some of the most hippy trippy sounds you'll probably ever hear on a track, he's a one-man army who can rap, sing, and play a variety of instruments. His spirit is so full of life, and his musical message reminds the world to enjoy it while you're here. With catchy and meaningful songs like  "I Remember Way Too Much," he looks to not only entertain his fans but inspire them as well.
His last album in 2017 titled BB left us with great songs like "HappyBB" and "#Noshirton" Now, he's back working on new material for a new album and a tour that starts in March. I was privileged enough to chat with Mod Sun about his tour, music, and where he gets the inspiration for all those snazzy clothes he wears. Check it out, and make sure to grab your tickets to his upcoming tour coming to a city near you.
S&S: Thanks so much for taking the time to chat with me. I know you're a huge Bob Dylan fan. If you could write a song with him, what would it be about?
Mod: It would be "The Times They Are A-Changin' Part 2." With the changing of times right now, it feels very proper.
S&S: So, you've been in the industry for quite a bit now. What motivates you to keep doing music?
Mod: It's not really hard for me to be motivated to do music; fortunately, it's my favorite thing to do. I've had to work hard at things to be good at them. But music, it's kind of a natural thing for me. And I don't have to work that hard to want to do it. I wake up every day, and I feel like its part of my purpose.
The current motivation is that I really want to take things to another level, and I really believe in the whole idea of they will be done. If you work hard enough and you deserve it, you will get it. So, I'm setting myself up to deserve things right now. Another thing is too is I really, really want to be able to take care of my family and my friends. And the way that I can do that is through what I do with music and stuff. So, that would definitely keep me motivated, you know?
S&S: You have a new tour beginning in March. Will we see a new album as well?
Mod: The tour yeah, but the album won't be coming out yet. But we'll see what happens.
S&S: What sparked the idea for a new tour?
Mod: Well, I've never gone as long as I have without doing a full tour, but it's been about, I wanna say almost a year – maybe even more – since I've gone on the road. And I'm the kind of guy who's spent usually half the year on tour every year for the last 15 years. Like I kind of touched on earlier, I'm trying to graduate, you know what I'm saying? I played in these same venues that are on my tour lists for this tour for the last 15 years. I've been in these rooms. I've played. I mean some of these rooms I've played 35 times, so I'm really trying to graduate. So, I just feel as if there is a need for what I do more than ever musically. I think there's kind of a Renaissance going on with music right now, just in terms of almost like bands are coming back and guitar and all this stuff is kind of being a revival of what I did when I was a teenager.
S&S: You mean in the same sense that all the original tv shows are coming back?
Mod: Yes! Facts, facts, it's really crazy. So, I feel like this is really the best time for me to make the biggest impact I can. I'm a person-to-person kind of kinda guy. So, the best way that I can do is to go out there and try to build this army even bigger, you know?
S&S: What prep work goes into preparing for your tour?
Mod: Promo is crazy. It's all about promo. I'm promoting this to tour every single day. I'm super hands-on with everything, so I build my whole entire set. So, choosing the songs that get played and how to intertwine old stuff and new stuff into each other. I got this month and a half gap right now until I leave, and I am trying to find this middle ground. I'm kind of a polarizing artist,  where you either really f*cking love Mod Sun or you f*cking hate Mod Sun, and I need to find that middle ground. That's what I'm gonna try to do within the next month and a half – I'm trying to add listeners here, and find new people. In the last year, I've been putting out a lot more – a lot more singing and guitar and rock-on music, which is like the essence of me in a lot of ways.
S&S: Do you decide 100% what cities you travel to?
Mod: Oh yeah, completely. Midwest is like my bread and butter. That's where I do the best. I have a lot of consistent shows in cities that I play a lot. So, I kinda know my routing right now of where my best cities are, and on this tour, I'm trying to really hit like all my hotspots. So, if you look at the list of shows, like literally the tour would have been twice as long as that. But I cut it down basically to the ones I've really killed at before or done really well. I'm totally independent – no record label, no management, nothing like that. So, everything I do is literally either out of pocket, or it's not on my mind.
S&S: What's the best thing about being back on the road and touring? The worst thing?
Mod: Best thing about touring I get to see these people that I've created some kind of relationship with. These people mean a very large amount to me. I don't call the people fans; I call them friends. I always have, and I've created relationships with them and I've looked over them. And in a way, I've been like a protector of them. At least I've been an intellectual protector of keeping their minds right. I like to see that, I really do. And I like to see the looks on their faces in the crowd when I'm playing these songs. I like them screaming the words back to me, and there's just a special place inside me that lived on that stage.
The worst is it's a giant world of temptation. It's hard to stay healthy and in the right mindset. I'm pretty fortunate because I have a good group of people around me, you know – I've changed my life a lot. So, going out on this tour, it's going to be a big change for me. Like I don't drink or do drugs anymore. So, having my friends around me is going to be the thing that keeps me able to get up. But yeah, it's a world of temptation.
S&S: What's your coolest fan experience?
Mod: You know, I love it because my people listen to me, and they know what I love and who I love. So, I get so many Andy Warhol gifts, and so many Jim Morrison and Bob Dylan gifts. Books, poetry books, and all this stuff. I'm a collector. If you ask my sister, she'd say I'm a hoarder.
I'll cry when people get tattoos. There are probably 5 to 10,000 Mod Sun tattoos out there in this world. And that's something that gets me and keeps me going, you know.
S&S: You have a pretty cool fashion sense. Is that your own doing or do you have any influences?
Mod: Thank you, first of all. Second, I would say I'm a fashion savant in the way that I study and research. I've always felt like clothes are a direct representation of art and such a great way to show people how you feel. I've studied people like Vivienne Westwood – that would probably be my favorite designer. I've also studied Queen and a lot of amazing designers that have happened in history. I look at them the same as I would Warhol or any other artist that I like – it's a direct representation of art. I'm not really into the fashion scene per se or stuff that goes on today. I'm into archive pieces and fashion that happened in times before. I'm a big proponent of wanting to feel like I'm in a different time period. Like I drive old Cadillacs for the simple reason of feeling like I'm back in the day. So, that's really why I love fashion. It feels like your traveling in certain time periods.
S&S: Are you a film buff at all? What're your favorite types of films?
Mod: Oh god, yes! Movies that make me cry. I love to feel the connection to a character. I was raised by two women, so I have an incredible openness about emotions and feelings. When I went to the Titanic in theaters with my mom and my sister when I was a kid, I think I started crying before they did. My mother and sister never did anything but pushed me to be emotional and sensitive and caring for other people. Like if you're one of those people that are sensitive and really care for other people, it's undeniable to watch a film and you feel a connection to someone else if you go through their current state of emotion. Then I like films that have a big message like Garden State.
S&S: Do you ever think outside of music, you'll get into acting?
Mod: Yeah, I'm reserving my forties and fifties for acting. I'm very conscious of not pulling the trigger too early on stuff like that.
S&S: So, going back to your music, are there any collaborations you can tell us about possibly on your next album? And who's someone you'd want to work with in the future?
Mod: Well, I can say I have a song with G-Easy. I have a song with Machine Gun Kelly. I have a couple of others, but I'll save those. People that I'd like to work with – I'm a really big fan of Trippie Redd. I love Trippie Redd. I love his music, and he's an incredible artist, a renaissance artist. I'm very gracious and fortunate enough to be working with like a lot of people that I really look up to just in general. I keep saying this word Renaissance. There's an Emo Renaissance going on right now that's clear and obvious, and a lot of these people that are making this happen are fans of it. Whereas, I was a f*cking pioneer part of emo music. I was in legendary emo bands 12-15 years ago. So, I was a part of this scene, and now that the whole genre is coming back, there's not a lot of people that do it better than me, to be honest. So, when people hear the music I'm making, they're immediately like okay, yes bro. You are not only a part of this, but you're in this, you know?
S&S: One of my favorite lyrics is from your song "Happybb." It goes "Used to flip packs in Mankato, now I whip down Rodeo on the daily." So inspiring.
Mod: That's so funny because that's like the hook of the song. I'm shouting out Mankato which is a very very small city in Minnesota. And I love that.
S&S: Mod, for all your fans out there and to inspire artists, what encouraging words do you want to leave them with?
Mod: First and foremost, you must absolutely believe before anyone else does. I mean, if you're the type of person waiting on other people to say, "Your sh*t is awesome, you can do this, you are special," then it's not the thing for you. You need to understand that. Music is something that's very dear and close. It's a representation of results speaking, and not everyone is supposed to understand that and not everyone's going to understand that right away. You're going to be met with criticism, and the job of an artist is to fearlessly weave in and out of constant criticism. And that's like something that I have within my style; I look in the mirror and I put my clothes on, and I know if I like what I look like, I don't walk out of my room and say to my friend, "Jody, you like this outfit?" And that's the separation of society – people that know and have vision and people that don't have a vision. When I hear a song, I see a movie in my head – that's vision. I understand from the roots of something. I see a tree out of a seed, and my vision will get you farther than talent ever can. You got to see it and believe it before your peers, and that'll take you somewhere. And if you're looking for someone else tell you that you're good enough, you really gotta do another part of life – which is finding out who you are.
S&S: Thanks so much for your time.
Mod: Thank you. We'll talk again.