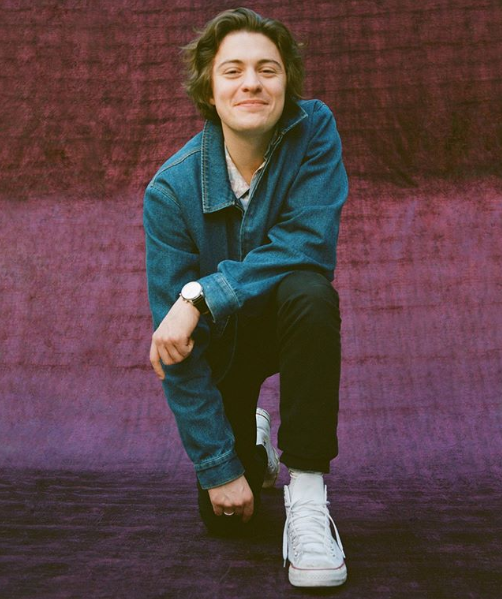 Johnny Cattini has an indie heart and a smooth pop dream. The Berklee-educated guitarist of Boston-based retro-rock group Morningbird is striking out on his own this year with his forthcoming EP Soul Ride Along. We talked about navigating quarantine, honesty in songwriting, and how he's been using this weird summer to recharge and reflect.
S&S: How are you? What have you been doing during quarantine? 
JC: Really just spending a lot of time with the family, I feel like this is maybe the most time I'll spend with them for the rest of my life, so that's been nice. Other than that, just writing and taking walks. I've been teaching some kids guitar lessons, and they're as young as 8-years-old, so it's hard to keep their attention. But if you know anyone who wants to learn, let me know!
S&S: I've picked up the ukulele during quarantine, so that's like my new hobby.
JC: The uke is so fun; it's small enough to chill and bring around in a van or just around a campfire.
S&S: Has Boston still been your home base in all of this?
JC: Yeah, I'm still in Boston. I went down to Austin and quarantined there for a bit, and wrote and recorded an EP with some other songwriters. It's always cool to meet new people.
S&S: These times have been so uncertain for everyone, and small music venues are really struggling. A while back, you posted about some fond memories from Great Scott in Boston that was forced to close because of losses from the pandemic. What are some other favorite places you've played?
JC: The Royale in Boston opening for Mt. Joy was probably our best show, with a decent crowd. I also love the Mercury Lounge in New York City. There's a place in Brooklyn called Baby's All Right with a really cool backdrop and lighting.
S&S: What's the craziest/silliest experience you've had at a show or on tour?
JC: Oh man, it's hard to pick one. Being in the van with the guys is always a great time, and even though there is a rush to get to the next place, it's always fun to just, like, stop at a gas station… we can drive around and visit different friends' places that we can crash between shows.
S&S: Morningbird recorded a cover of "Band on the Run" from home and broadcasted it on Instagram Live. What was that process like? 
JC: So, that was Max [Challis, lead singer of Morningbird]'s idea. At Berklee, we would have to do sound-alikes where we would pick a song and try to mimic the original as much as possible. So, you'd find a singer that you could sound like, a similar bass line… and we picked out that Paul McCartney and Wings song. We tried pressing record and recording it live [from everyone's homes], but I kept getting a little perfectionistic about everything sounding exactly right. S,o we started with a drum track that we'd mic'ed up and then recorded from there with everything synced.
S&S: How is your solo stuff different from Morningbird? How do you decide if a song you're working on is for yourself or the band? 
JC: I didn't start out really thinking through whether a song was for me solo or the band. I just saw both as ways to get more music out and develop more of my own style. And as I've done that, I'm starting to see that my solo stuff is more poppy, upbeat, and complete. A song I might bring to Morningbird might be a little more unfinished so everyone else can put their own spin on it, even though I always record with a band.
S&S: "Whole Love" is out now! Does the EP have a definite release date? What are your plans around that?
JC: I'm aiming for the full EP to come out in mid-September. I had put out a song with my buddy Isak Thomas [as Isak Thomas & the Stoop Boys, "Feels So Good"], so I kind of wanted to ride that wave. I own all my music, so I've already pushed it back a couple times for various reasons, but I'm hoping that can be a good timeframe to finally get it out.
S&S: "Soul Ride Along," the EP's title track, sounds like one of the most personal songs on the EP (and it captures your vibe really well). As a writer of my own poems and stories, I'm always curious about how other people do it. When you're writing, do you usually start with the music or lyrics first? And how do you know an idea is working? 
JC: Usually, I'll try to write music and lyrics simultaneously so they'll fit together into the same mood, so that's all right. But that was a song I started writing about three years ago, and I changed all of the lyrics. It definitely is one of the most personal songs I've ever done; it was the first song that got me choked up.
Listening to some of my older songs, I'd realized sometimes, I didn't have any idea what they meant. They didn't really have a clear message. So, one thing I want to challenge myself to do is figure out what I want to say with a song. Fran Healy from the band Travis described songwriting as making the scenery, and then the words will just fit. Neil Young also said he always finishes a song right when he starts it.
S&S: What else have you been listening to? New favorite music of 2020?
JC: I listen to a lot of older stuff, but I also like new indie. I've been listening to Phoebe Bridgers' new record, especially "Kyoto." It's funny because that song is the most upbeat moment on the record, but if you listen to the word,s it's still really melancholy.
S&S: Yeah, I feel like what makes her songs so powerful is the way she makes specific experiences so universal, so you can relate even if you don't know exactly what she's singing about.
JC: Going back to what you were saying about honesty in songwriting… yeah, it always helps to take a step back and see what you have.
S&S: If you could pick anyone, living or dead, which artist would you love to collaborate with? 
JC: Someone like John Mayer, probably, because you can see not only his songwriting skills but also his guitar work, or Frank Ocean, people who have almost invented their own genre. And George Harrison was able to say so much in so few words, so he'd be cool, too.
S&S: Where do you see yourself in five years? 
JC: Actually, I was planning on moving out to L.A. this year, but [after COVID-19] I've stuck around Boston. I like owning my own music, but I'd love to sign with a label and have those resources and a more sustained income. I'd just like to keep doing what I'm doing, keep making music with my friends, and always get better.