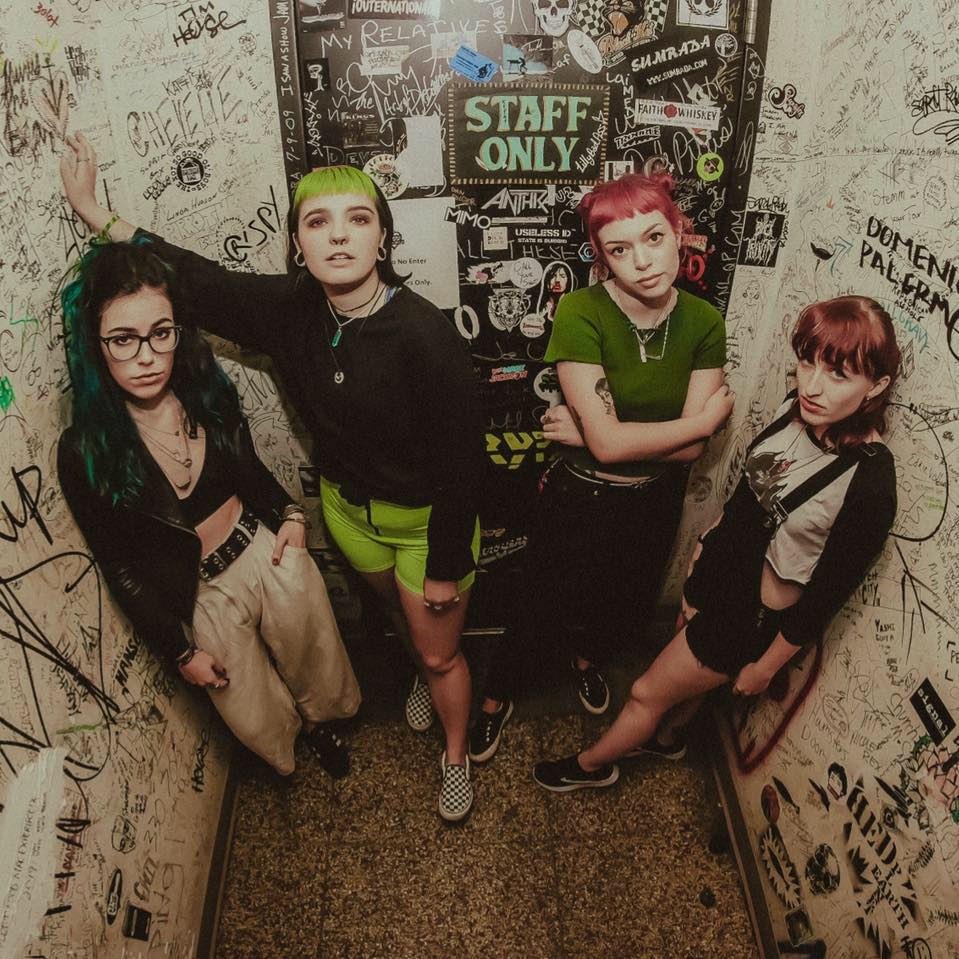 If you haven't heard of Doll Skin yet, I have some sobering news for you: you may be living under a rock. Self-professed "glitter-fueled, teenage, punk-rock superheroes," Doll Skin consists of four incredibly badass women from Arizona. They recently released a full-length album on Hopeless Records, Love Is Dead and We Killed Her (brb, making my appointment to get that album titled tattooed on my body, thanks). The 11 song collection is everything we've been missing in the scene: heavy rock instrumentals with angsty yet empowering lyrics and completely female-driven. Recommending a song is hard, but if I had to, check out "Outta My Mind."
They're not singing about being lovelorn or lost or damsels in distress – they're singing about saving themselves. I had the chance to photograph them opening up for the latest New Found Glory tour and was immediately struck by how cool they looked. As the set progressed, I realized that they are absolutely the hottest girls in punk music right now. I recently had the opportunity to ask lead guitarist Alex Snowden and drummer Meghan Herring some questions about everything from the origins of the band to how they connect with fans and stay grounded as loud women in such a male-dominated scene.
S&S: Did you know each other before starting the band? How was Doll Skin born?
Alex: Doll Skin came together when Meghan recruited the four of us for a battle of the bands at her high school. Sydney, Meghan, and I had previously played together with the School of Rock 'House Band,' and we met Nicole through another School of Rock program.
S&S: Where does the name "Doll Skin" come from?
Alex: The name doesn't have much of a story behind it. It came together pretty sporadically, throwing out words trying to fit this vibe of creepy, edgy, but with some femininity to it.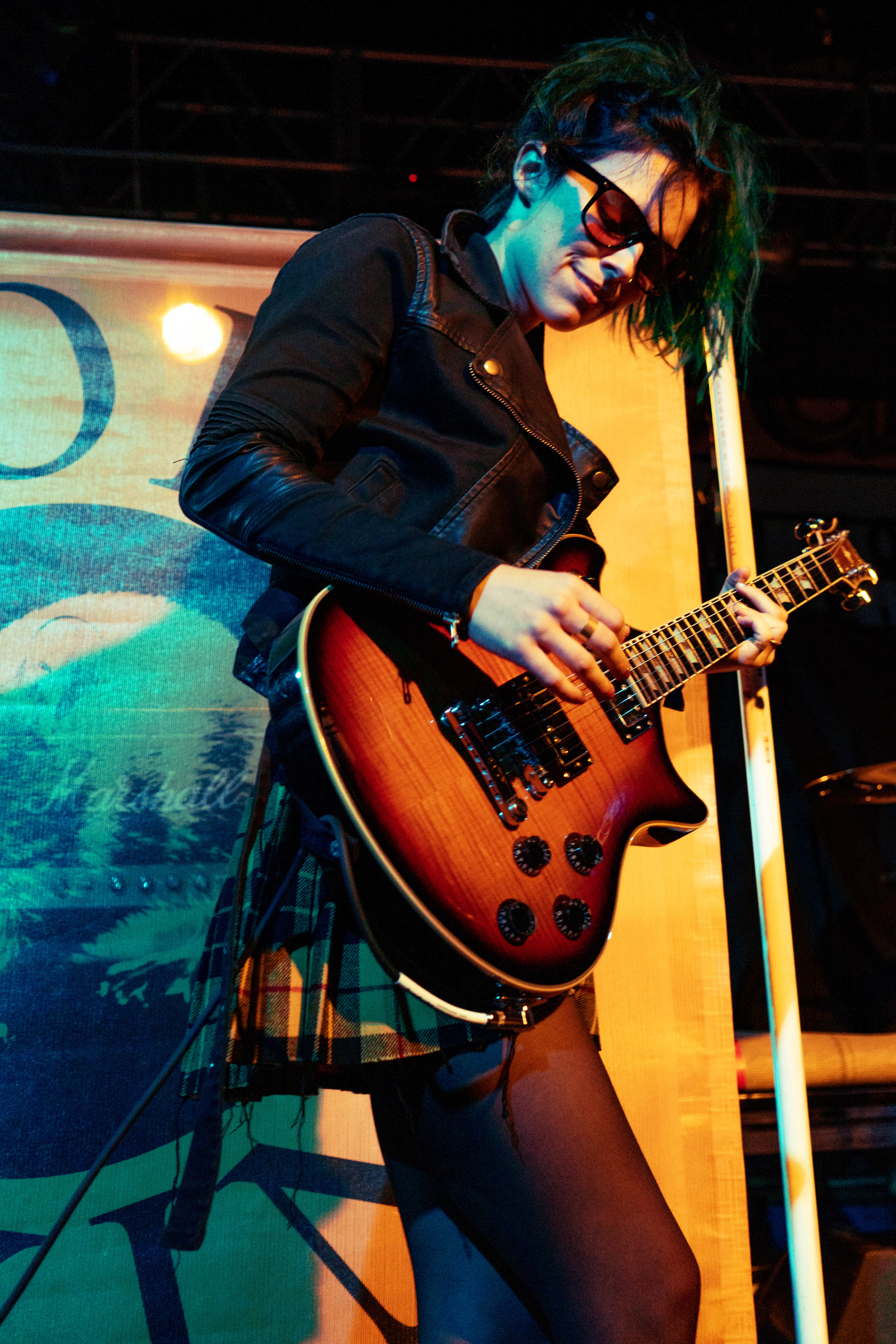 S&S: If that's what you were going for then you definitely nailed it. For a relatively new and young band, you guys have a lot of dedicated fan pages. What do you think makes your fans connect with you so intensely?
Alex: We draw in a lot of young music lovers and further connect with interaction on social media and spending genuine time talking to fans at shows. I think age has a factor in the attraction as well; we can easily relate to young fans and our lyrical content definitely proves so.
S&S: You're tackling big-ticket issues like racism and gender power structures in your writing – it feels so raw and real. You just released a full-length record (congratulations on that by the way!). What was the hardest part of that process?
Alex: The hardest part of this record's process was giving control and trust to an outside writer who was also a key producer. We had also never experienced being isolated for an extended time to focus on writing – we gave the 'cabin retreat' technique a try for this album.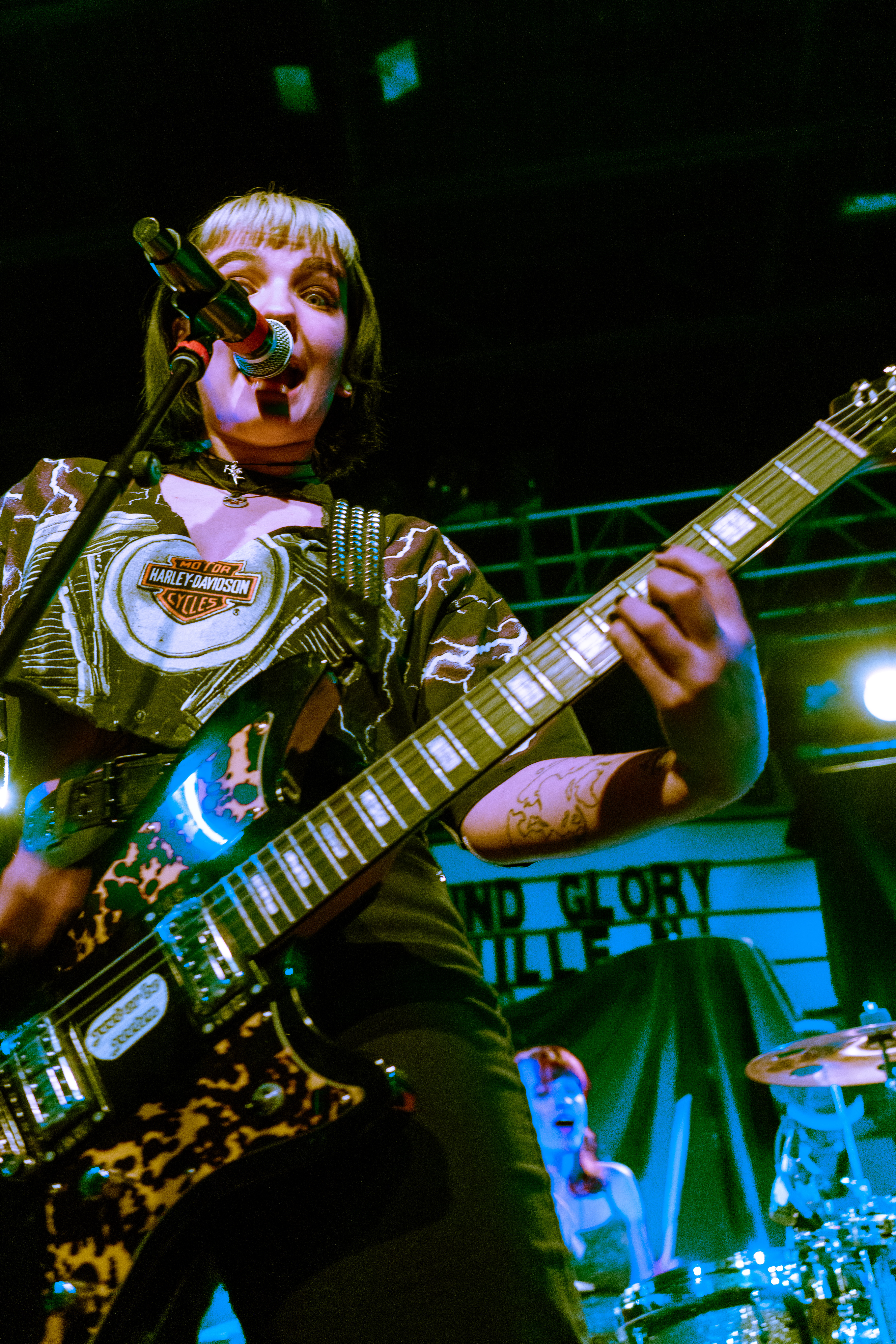 S&S: Let's talk about something I'm sure you get questions about all the time: What's the worst part of being an all-female band in a largely male-dominated genre? The best part?
Alex: The best and worst part is standing out. If we can use that platform to bring positive power to the all-female title, then that's incredible. But it's a double-edged sword for sure – that label is often diminishing in the eyes of people who aren't familiar with the band. The negative stigma shows up every so often, and it's never a good time.
S&S: Let alone in this music scene, it's really hard to be a woman in the world overall right now. What keeps you guys going? What are the small victories and little ways you see change happening?
Meghan: Women really are suffering in our social climate right now. Luckily, there are many powerful women speaking up and out about how they feel and how they would make a change. Something very frustrating is our reproductive rights being taken away in some states in the US. We see these things in the media and as much as we'd rather shut our eyes, we keep them open and use our voices the most we can. As much as we're "nasty women," we can change the world.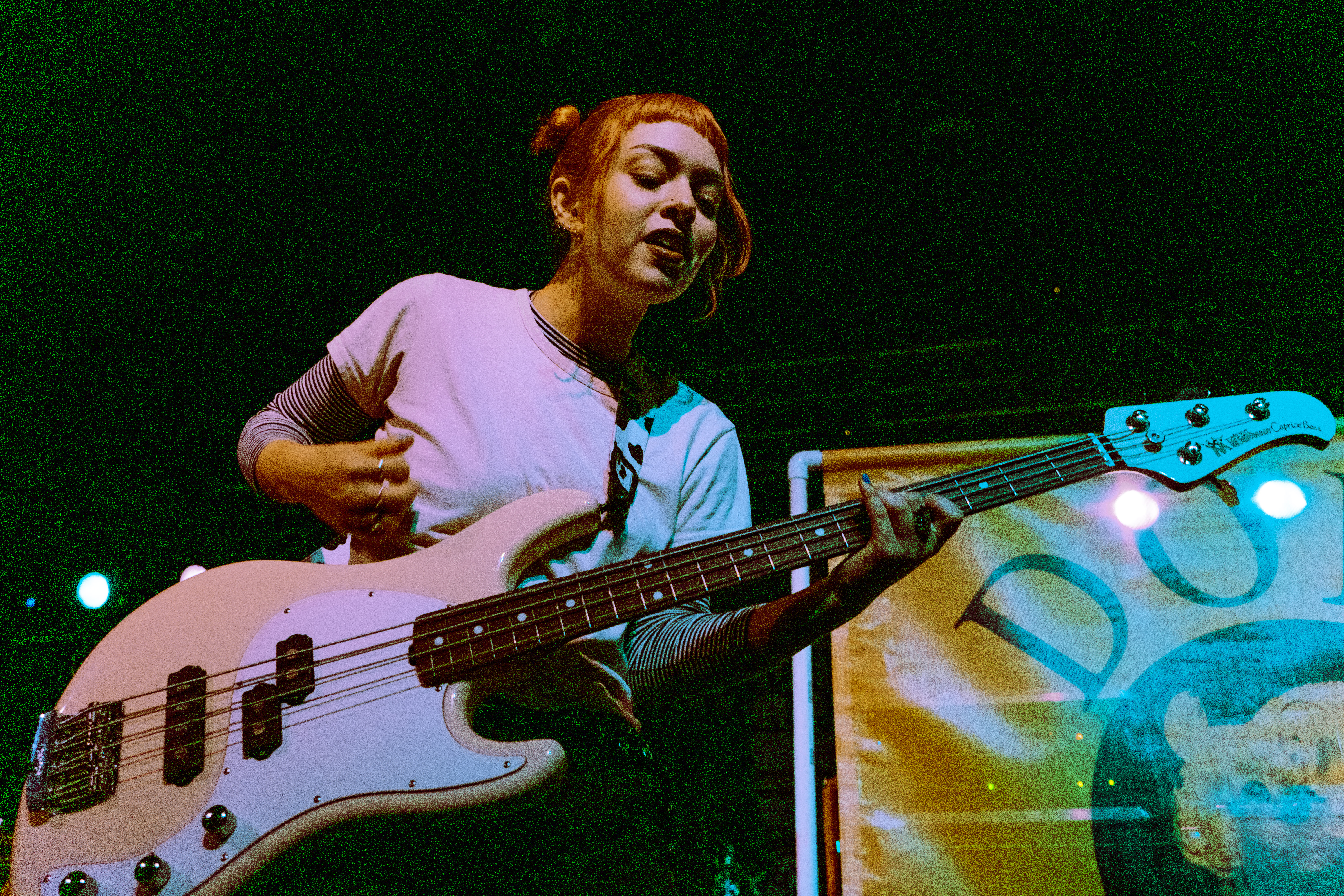 S&S: I'm sure looking out and seeing a crowd really react to you is a winning moment. Tell us about your most memorable set – where was it and what made it so special?
Alex: We have had lots of memorable sets all with different contributing factors, but our most recent hometown show in AZ on this summer's New Found Glory run was a knockout set. We were all so pumped to play this rad new venue and see our families – there was a perfect energy in the air, and the crowd reflected that…loudly.
S&S: What's your favorite song to perform?
Alex: "Love Is Dead" and "We Killed Her" – at least as of now!
Meghan: "Puncha Nazi" or "Don't Cross My Path."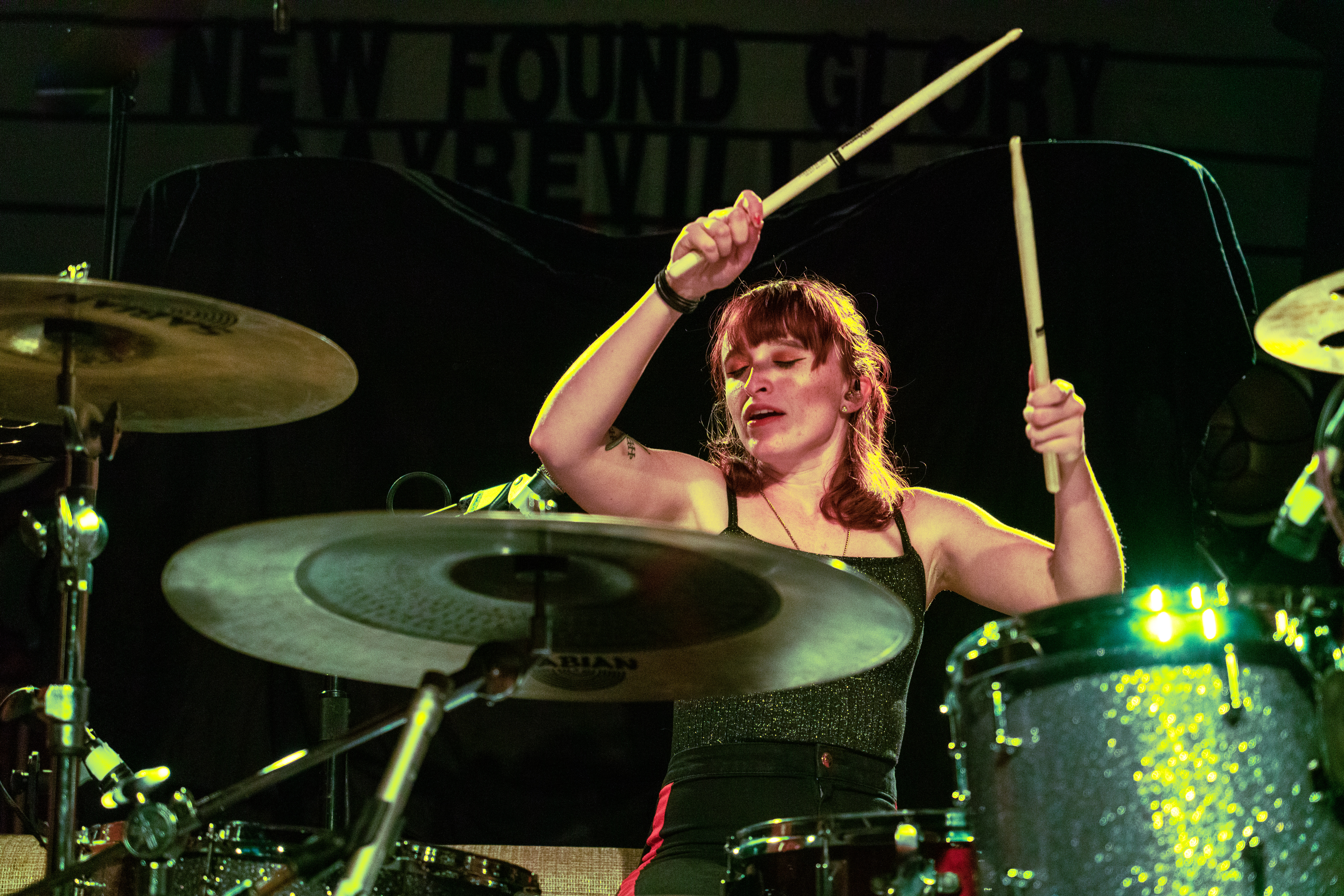 S&S: Do you have any special pre- or post-show rituals?
Alex: I have to make sure I have a lonely spot to be with my guitar and a metronome and focus on warm-up exercises. I'll do some stretches, listen to music, and get in the zone.
S&S: Who are your musical inspirations? Who do you look up to when you're writing or performing?
Alex: My biggest inspirations are Slash, Eddie Van Halen, Scofield, Satriani, Petrucci, Nita Strauss, the Gorillaz, Avenged Sevenfold, Tool, Vein, Orthodox, and Post Malone.
Meghan: My Chemical Romance, Underoath, Refused, Florence + The Machine, Radiohead, Tool.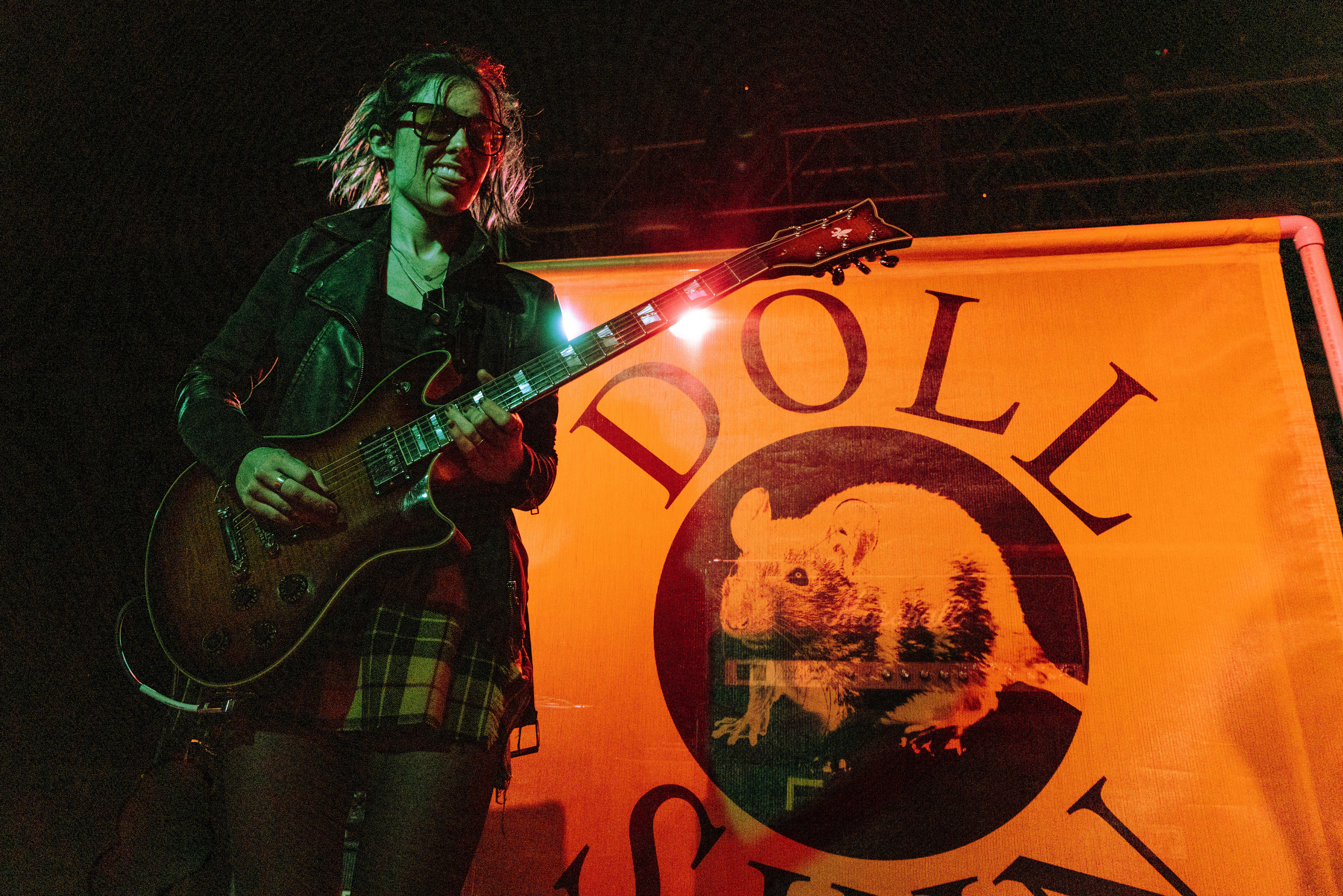 S&S: What's the best concert you've been to as attendees?
Alex: The Dillinger Escape Plan's very last show in NYC with Code Orange was a game changer. Avatar and Sons of Apollo have also blown my mind recently.
Meghan: Recently, NOFX's set on the final Warped date (and The Used too). Nine Inch Nails at the Comerica Theater. Underoath at The Marquee Theater. My Chem and Blink-182 in 2015 in San Diego. The 1975 at Comerica Theater earlier this year.
S&S: If you could put together a tour (including Doll Skin or not), what's your ideal lineup?
Alex: I'm not sure how this would roll into a feasible tour lineup, but I'd love to play with the Struts, the Distillers, and YUNGBLUD.
Meghan: Totally unlikely lineup but… My Chemical Romance, Underoath, Radiohead, and Paramore.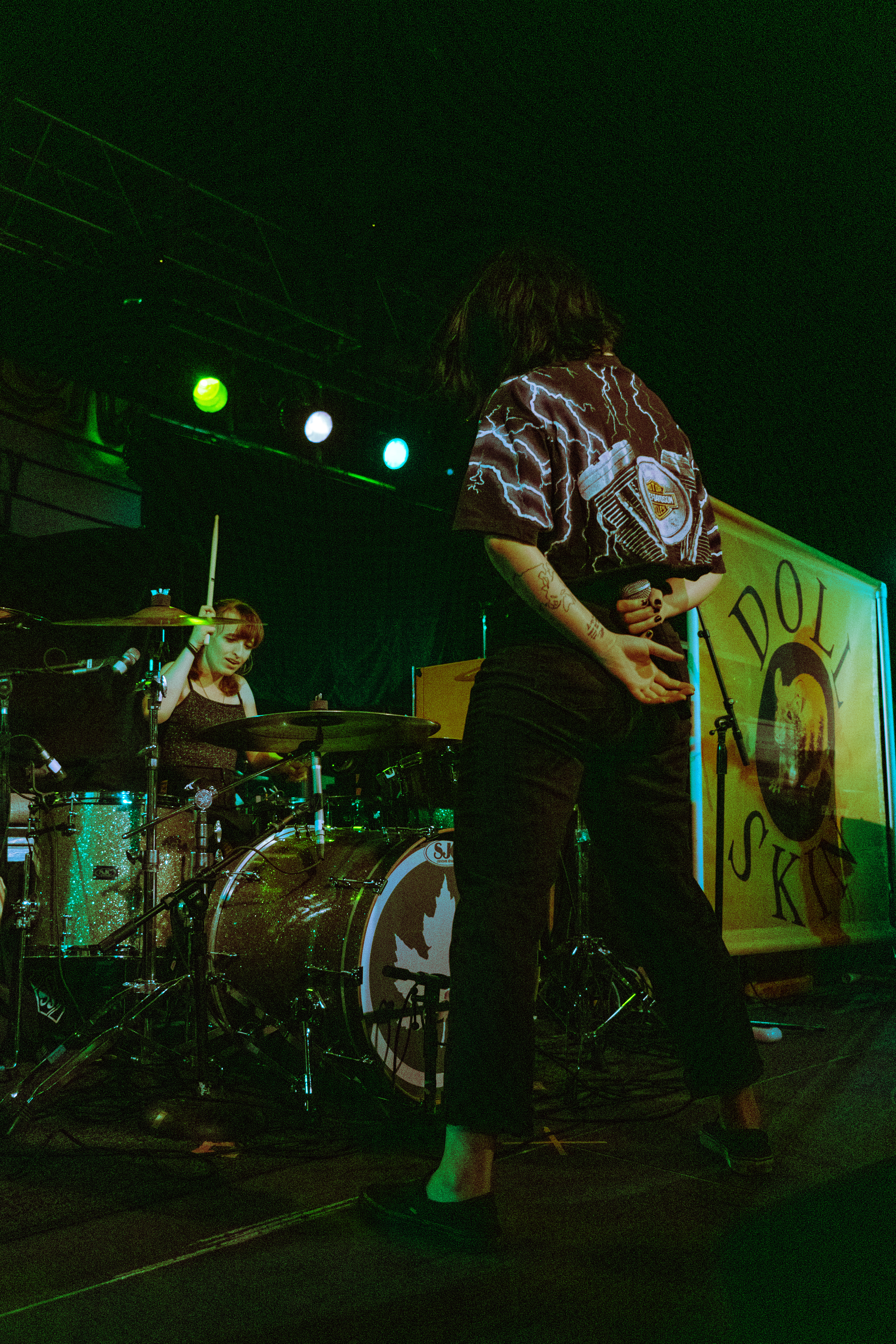 S&S: You have such a distinct style as a band – where does that come from? Who are your style influences?
Meghan: Are we talking clothes? Because if so, we bounce our styles off of each other. We share clothes with each other all the time. We love color, but at the same time, we LOVE an all black outfit. It's a daily struggle!
S&S: What's the number one takeaway you want people to get from a Doll Skin set?
Alex: I want people to be energized and excited about music after leaving a Doll Skin show. I love knowing we've inspired someone to play, create, or express in their own way.
S&S: What are your big goals for the future? Where would you like to see Doll Skin in the next five years?
Meghan: I would love to see us enter the festival circuit. Playing Glastonbury and Riot Fest are on my bucket list! I would love to expand our fanbase any way we can. We are already amazed by how many people we've reached in such a short time. It's a blessing.