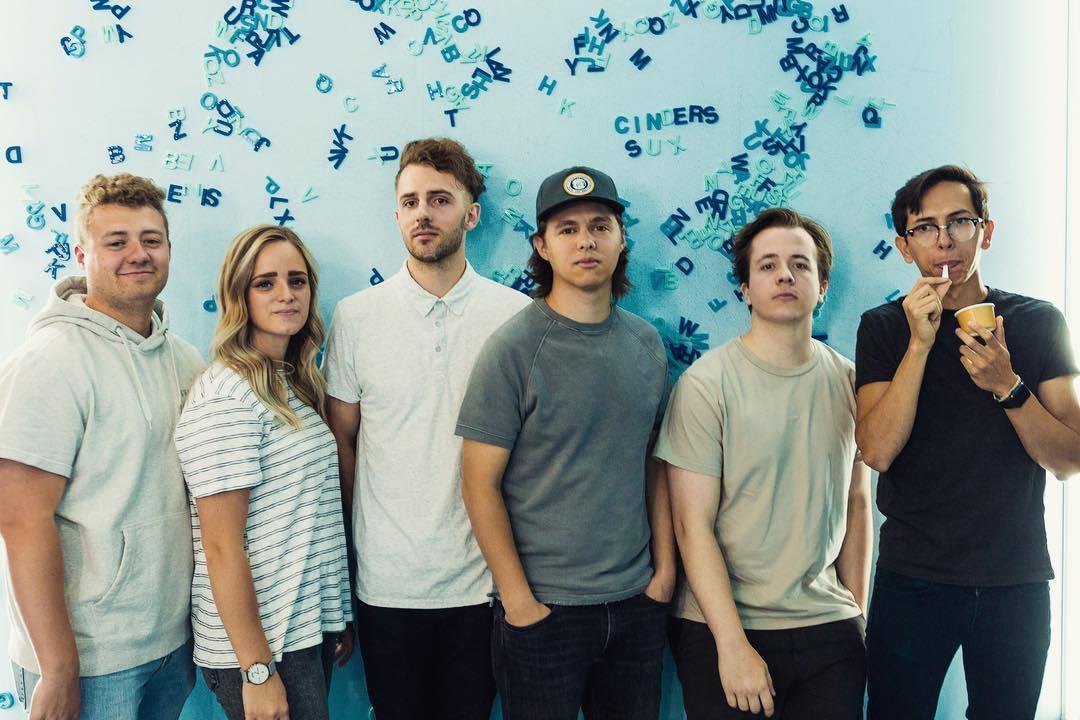 Cinders' newest album, Looking Forward to Looking Back (LF2LB for short) has been out for a little bit over a month now, and I still can't get enough of it. Words literally can't even hype it up enough. So, of course, I had to interview one of my favorite bands and get the inside scoop on recording their new album, plans for the future, and their personal vendetta against Amazon. I know you're intrigued now, so keep reading.
S&S What was your favorite part of making this record?
Brad: My favorite thing was getting many friends and fans involved in recording group vocals, screaming, and yelling to fill in the tracks. We want to connect with fans and help people be a part of this album because it makes it that much more special to us.
S&S: Was the process of recording this album the same as the first or was anything different?
Brad: Well, we were excited to have drums recorded at such an amazing studio this go around. Everything else was still recorded at our own studio. The biggest difference was the process of really being able to work together as a band on each song. We were still kind of a fresh band when we wrote the first album, and some of us were a little bit less involved while others carried a heavy load on each song. Now, we are all very much involved and we each influence each song so much. So much personality in each song!
S&S: Were there any songs on this album that ended up being completely different than how they started out? Any that didn't make the cut at all?
Brad: There are a few songs that sound very very different! "Tree House"'s first demo used to be a lot more chill, swingy, and acoustic. Now it's big, fast, and has a lot going on. And then there's this one part of a demo (that didn't make it) that I still have stuck in my head when Chelsey is harmonizing singing something like "paper scattered on the floor." Haha, it's catchy but wasn't a full idea.
S&S: How do you decide what the order of songs on the album will be?
Brad: Honestly, I think Jordan and Montana already secretly know what the order is going to be, and we pretend to discuss it and talk about why songs should be where they are and then we all agree on "the perfect song order."
S&S: Has there been a show that sticks out to you guys for any particular reason?
Brad: Well, there was this one show we headlined on July 4 this year that had 25,000 people there. So, we like to brag about that. But it is still more rewarding to sell out a venue by ourselves and play for hundreds of screaming fans as we try to sing louder than them.
S&S: How do you decide on what songs make the setlist?
Jordan: Picking a setlist is very similar to picking the album track listing. We want to make sure it has the best flow possible. From start to finish, we aim to get the crowd off the ground with us and invested emotionally with all of their energy. With the release of our new album, it has been more of a challenge for us to create the best setlist possible since there are so many songs to choose from! We try to play all of the fan favorites that we can. If our set is longer, we will also try to include a few songs like "Fools," "Call It Home," and "Unhinged." Playing those songs live have made some of our favorite memories. If we have a shorter set then we stick to the "bangers" as Brad calls them!
S&S: Are there any future tour dates in the works?
Jordan: With the release of the new record, we have been touring all over the Western United States! Along with a hometown show, we have Phoenix, AZ and Las Vegas, NV coming up next. It has been awesome to return to some of our favorite cities and play in a ton of new places. We are really looking forward to the warmer weather of Arizona and Nevada this winter because driving in snow is the absolute worst.
S&S: Any new songs (other than yours) that you can't get enough of?
Jordan: The Collection just released a new album called Entropy and it is incredible. We can't get enough of it right now! Seriously every song from front to back is so sick. If you are looking for a new band to geek out over and show off to your buds, you need to check out The Collection. Justin Courtney Pierre just dropped a new record In The Drink as well that is worth listening to many times. Lyrically, it is one of his best projects he has ever done.
S&S: Is there any particular way being from Utah has shaped your band?
Brad: I'm not sure. Salt Lake has every type of music you can imagine, and several of us are not from Utah. We don't feel like our music is basic or typical or similar to bands that we share the stage with. So, short answer, heck no. We are more heavily influenced by our hero bands we listened to growing up more than the bands around us!
S&S: If you had to describe Utah in three words would what they be?
Jordan: Utah in three descriptive words would probably be active, open, and lively. If I had to use only three words to describe it, it would be "lots of mountains."
S&S: Would you ever put out another acoustic EP or album?
Jordan: I think there is definitely a good chance that you won't have to wait too long for Acoustics Vol. 2. We loved working on the first one and feel like it brought a different kind of feeling and emotion to our songs. It was awesome to experiment with some new songs that were much softer that didn't quite fit the flow of the first album. We are stoked to work with songs off of LF2LB and strip them down. I would personally love to hear more raw and mellow versions of "Walls" and "Illinois."
S&S: Your band's bio on Twitter is "Looking Forward to Looking Back – out now on all music platforms except for Amazon because we have a vendetta against them." Can you explain said vendetta?
Adrian: It's just a (dumb) joke we made as a band. We really don't have anything against Amazon at all!
S&S: Are you guys doing anything special for the holidays coming up?
Adrian: Over the past two years, we have toyed around with the idea of making a Christmas themed song but nothing yet. As friends, we tried Secret Santa once, but that didn't work out the way we wanted to.
I mean, I'm a little disappointed that the vendetta between Cinders and Amazon is just an inside joke, but I can look past it. I will definitely hold them to an Acoustics Vol. 2 because that's something we all need in our lives (Look up Cinders' acoustics on YouTube to see just how well their music sounds stripped down). It's always a pleasure to interview this band, and I promise one day I'll make it to a show!