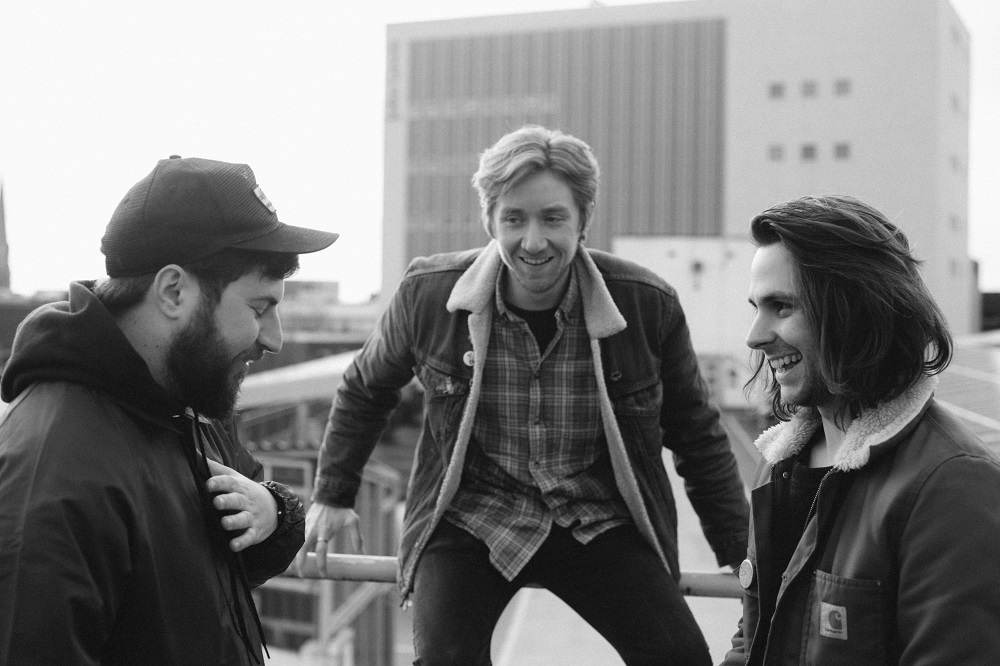 Prior to their recent performances at Slam Dunk Festival, we caught up with Black Foxxes frontman Mark Holley to ask a few questions about what the three-piece have been up to lately.
I managed to catch the guys' set in between my busy festival schedule – an impressive, vibrant performance. They were playing on the indoor Key Club Stage which, having seen a few bands there, I quickly realised wasn't the easiest stage in the world; the music often echoes and reverberates around the vast space. That type of environment, however, really lent itself to Black Foxxes' atmospheric sound, and the trio rose to the occasion, delivering a well-chosen set with just the right balance of slower and upbeat songs to keep the audience constantly on their toes and engaged with the music. They had plenty of energy and enthusiasm, and Mark Holley's easy relaxed manner and banter with the crowd just goes to show he is really coming into his own as a frontman.
S&S: Is this the first time you've played Slam Dunk, and how excited are you about appearing at the festival?
Mark: It is! I've been going as a fan for years though, so it feels great to be able to play as a band.
S&S: What other bands are you looking forward to checking out while you're here?
Mark: It's a great line-up this year. Against Me!, The Bronx, Citizen, Turnover, Sorority Noise! Those are the holy grail right there.
S&S: Last year saw the release of your excellent debut album I'm Not Well. What's next for you guys? Have you been working on new songs? Got some new music in the pipeline?
Mark: Absolutely. We've been making sure nothing is left to the last minute, so we're well on our way to the second album. We've already gone in and done pre-production for a bunch of tracks, so we just need to write a couple more, and we're all set. We'll record it this year and hopefully have it out the start of next!
S&S: Your previous output contained a lot of darker, deeper type of content and was obviously a comment on mental health issues. Do you plan to write some happier songs in the future, or will you be continuing in a similar vein?
Mark: I don't think it's quite as simple as "happy & sad." A lot of our songs are written on the premise of hope and overcoming adversity, so I don't think you can just flip a switch and suddenly change the whole genre and style of a band to writing "happy" songs. We're Black Foxxes – we get into a room and write music that sounds like Black Foxxes. If you were to ask, "Will you be evolving as a band musically, stylistically what can you expect?" I would tell you the evolution of this record has been a joy to see. It all still sounds like Black Foxxes, but it feels so much more mature. I can see this new record appealing to a huge array of people. Happy AND sad.
S&S: You guys are hitting a lot of festivals this summer. Apart from Slam Dunk, which other festival are you most looking forward to and why?
Mark: Bestival will be really cool later in the year. We're off to Europe a couple of times as well which will be nice for Download Paris and Lowlands.
S&S: What are your plans for the rest of this year after your current run of dates comes to an end? More touring or taking time out for other stuff?
Mark: This year is mostly going to be spent focusing on our second album, spending the time in between that at selected festivals, and then playing a couple of smaller, headline shows at the end of the year.
S&S: Who have been some of your favourite bands to tour with so far?
Mark: The You Me At Six guys were lovely, really decent guys that were very approachable. Other than that, No Devotion were incredible people, and Milk Teeth were lovely and all.
S&S: Are there any bands you've seen or played with on the road that you would tip for success in the future?
Mark: Nothing But Thieves, for sure. The majority of the time I'm saying,  "How on earth have this band got to, or are going to get as big as they are?" But Nothing But Thieves' success will be completely deserved. They're future Reading headliners, no doubt about it.
S&S: When you guys were just an up and coming band struggling to make an impact on the scene, what kept you going and inspired you not to give up?
Mark: I think we're still that band. I don't think we've made any impact on "the scene" like we should and will. We'll never stop making music, so it's just a matter of when as opposed to if.
S&S: What's the funniest or most embarrassing thing that has happened to any of you whilst on tour?
Mark: We're not really that kind of band. We tend to like a good country ale, some decent food, and exploring the places we're staying in. If we do have funny and embarrassing stories, they all involve Tristan.
Thanks, Mark – I'll make sure to interview Tristan next time to see if any of those funny or embarrassing stories hold out!