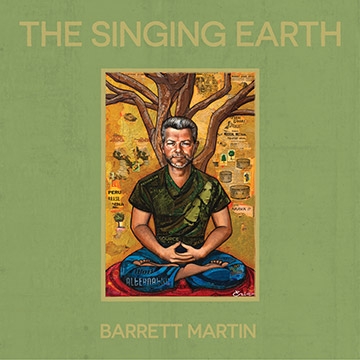 The Singing Earth is a collection of musical adventure stories from musician and writer Barrett Martin. The book chronicles Martin's musical work on six continents starting with his involvement in the 1990's Seattle music scene, and then explores song lines and sea trails in Australia and New Zealand; trance drumming in Central America; Griot music in West Africa; musical diplomacy in Cuba; touring with a Brazilian rock band; recording shamanic music in the Peruvian Amazon; playing the blues in the Mississippi Delta; recording in the Palestinian West Bank; the power of resistance in American music; and the ancient influence of Asia in music and culture. There is also a companion CD soundtrack that comes with the book, which contains rare, unreleased songs from Martin's various bands, as well as field recordings from the incredible musical environments he has visited.
Pre-order The Singing Earth Book & CD Soundtrack and receive a signed 1st edition copy of the book from Barrett, plus all five of the Barrett Martin Group CDs mailed directly to your home.
Watch The Singing Earth trailer which includes appearances by Kim Thayil from Soundgarden and Mike McCready from Pearl Jam.
S&S: When did you decide that you wanted to write The Singing Earth? Was it a project you planned on spearheading for a while as you journeyed through your own musical endeavors?
Barrett: I started writing The Singing Earth right after I finished graduate school in 2009. I had just finished my master's degree in Ethnology & Linguistics and moved back up to Seattle when I began to write it. For my masters, I had done fieldwork with the Shipibo Shamans in the Peruvian Amazon, and that trip really made me want to write a book. It was just such an incredible experience. In addition to the Amazon, I had also been in West Africa, Cuba, Central America, Brazil, the Mississippi Delta, the Alaskan Arctic, Australia, New Zealand, and Southeast Asia. I wanted to write about all those experiences and the musicians that I found in those places. Also, and perhaps more importantly, I have seen the worsening climate situation around our planet, and I felt that I needed to write about what I had seen within those various environments. Because in so many ways, the environment of a culture is what shapes it people and their music – the two are inseparable. I had additional music projects going on around the globe at the same time I was writing the book, so it took me quite a bit longer than I expected to write it, but those additional experiences made for a more encompassing book -14 musical regions across six continents.
S&S: Watching The Singing Earth trailer made me realize what your travels and experiences have revealed – that music connects all of us. This is a universal truth that I quite honestly don't give much thought to on a regular basis yet found myself in awe ruminating on. What even deeper connections did you find while compiling the book? For example, similarities in lyrical content or rhythms across countries, or even generational heart ties to this auditory art form?
Barrett: There is a saying that music is the universal language, except that it isn't really true at all. The first thing you learn in ethnomusicology is that every culture makes music, but every form of music is different. Just like language, because music is a language. The cultural meanings and references are so vastly different, that none of it can be said to be universal except that it usually includes rhythm, melody, and after that, it's particular to the region it comes from. There are general similarities in regional styles, of course, but the only universal thing you can really say about music is that human beings are compelled to make it, in every corner of the globe. So, depending on where you are standing on the planet, that form of music will be different from every other, and it will be localized and particular to that place. And that's the most exciting thing about it, the "non-universality" of music, and that fact that it appears to be an infinitely creative art form that is always changing and evolving. Just like our languages, music is a living, evolutionary form of communication.
S&S: I'm sure all of the people you met (or reconnected with) and places you visited while gathering stories for the book were special in their own way. Is there any one memory that tops your list as a favorite?
Barrett: I honestly can't think of any one memory that stands out more than any other, because all of the 14 musical zones that I write about are all incredibly beautiful and complex. None is more important than any other. But I do think that my fieldwork with the Shipibo Shamans in the Peruvian Amazon made me want to write the book in the first place because the experience was so beautifully intense. My thesis and field notes from that expedition were more than 100 typed pages, which I condensed down to just 12 pages for the book.
S&S: How did you decide what recordings to include on the soundtrack? How are they especially meaningful to you?
Barrett: When I was doing the soundtrack, I listened to several pieces of music and field recordings that represented each place, and then I picked 1-2 songs for each verse that best fit the way I wrote about that particular culture. I also approached the entire book like a piece of art, where the book is a series of musical stories divided into "verses", and the soundtrack goes along with those verses, like one enormous global songline. All total, the soundtrack has 27 songs and soundscape pieces, so it's like "reading a movie" with its own original soundtrack.
S&S: What is the most important takeaway you'd like readers to gather from the book?
Barrett: That music makes us more human, more compassionate, more intelligent, and definitely more fierce. It helps us to protect our cultures and our personal identities. It's what keeps us alive!