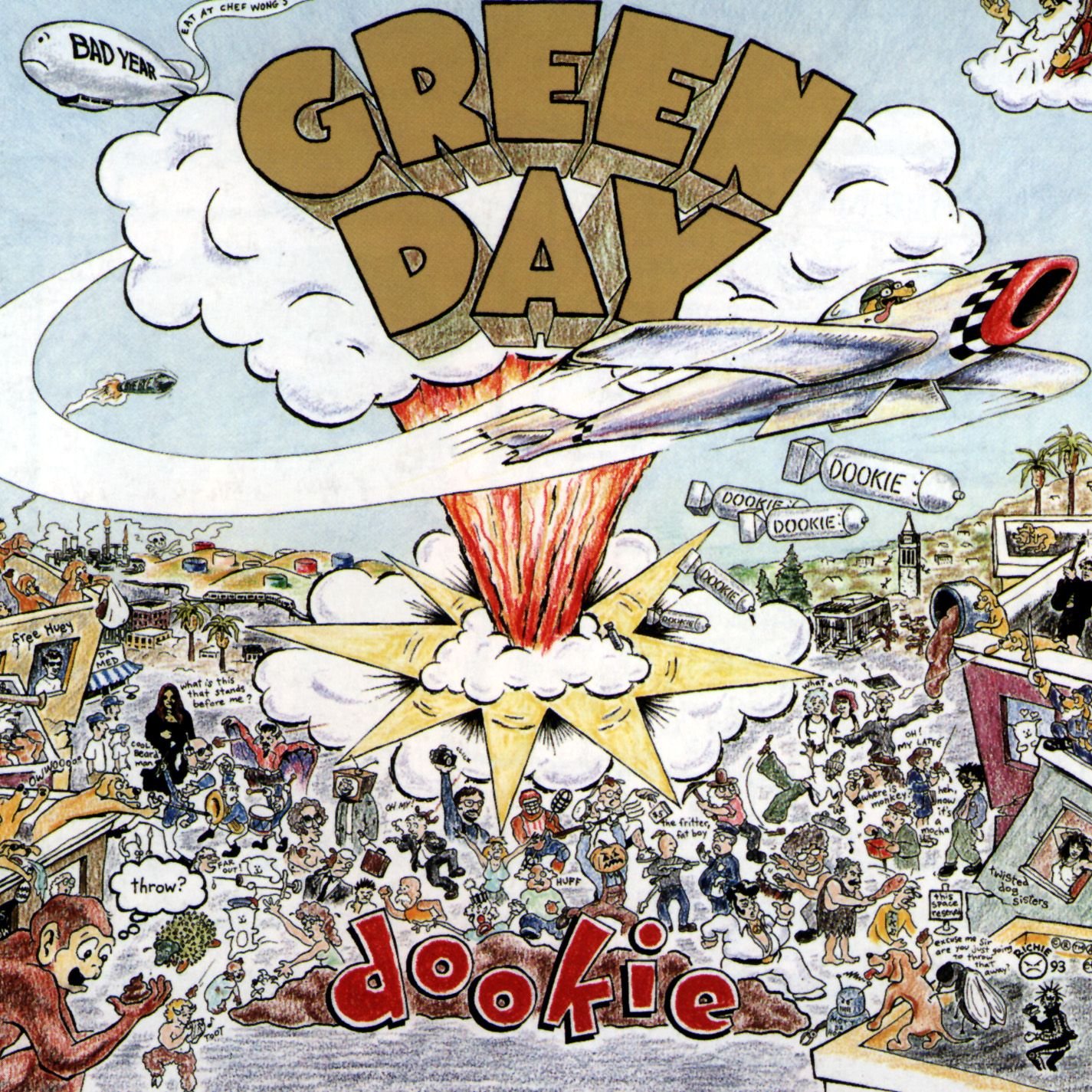 1994 – Green Day, Dookie
"Do you have the time to listen to me whine, about nothing and everything all at once?"
So begins "Basket Case," the second single from Green Day's landmark 1994 release Dookie. A self-conscious cry of pain, sarcasm, and adolescent angst, it's perhaps the perfect lyric to summarize the genres we call "pop-punk" and "emo."
Although bands had been combining elements of pop and punk-rock since at least the 70s, pop-punk didn't have a name until the 90s, when Dookie hit the scene. The album that catapulted Green Day to fame, Dookie is also often credited with bringing the pop-punk genre into the mainstream consciousness. So if you've ever called yourself "emo," or longed for the style of a Scene Queen or spent a summer day rocking out at Warped Tour, you owe a little something to Dookie.
Here at Stars and Scars, we're all about remembering the era of the "emo kid." We grew up shopping at Hot Topic, wearing too much eyeliner, and going all out for every concert that rolled into town. We were outcasts and artists and misfits and dreamers, all connected by our mutual love of music. We grew up in "The Scene."
Welcome to The Mise(ry)-en-Scene, a new column where I'll be looking at the history of what I'm calling "The Emo Scene" by discussing one of the most significant albums to come out within it each year, beginning with the first surge of pop-punk in 1994 and moving towards the present
Now, what's "The Emo Scene," exactly? Well, it's a loose umbrella term for the myriad of bands and genres that live within that 2000s-emo aesthetic. It includes pop-punk, hardcore, metalcore, ska… basically anything you'd find on Warped Tour. Music genre definitions can be controversial and hard to nail down, which is why I'm choosing to work with "The Emo Scene" as the broadest descriptor I could think of. Please note that existing within the subcultural "Emo Scene" does not necessarily relate to musical genre; I am not suggesting that every band discussed here should be defined as "emo" or "scene."
It's easy to get into debates about exactly which bands belong to which genres and which subcultures. So the purposes of this column, I'll be using the following eligibility requirement.
To qualify for The Mise(ry)-en-Scene Album of the Year, a band must have:
A) played at a Warped Tour show, at least once and anywhere in the world.
And/or
B) at least two songs total included on the official Emo Nite LA and Emo Night Brooklyn
This way, we're centered on the tour that was the hub of the emo world, but still have a finger on the pulse of what's new and what people are nostalgic for.
But the Emo Scene isn't only the music — it's also the subculture that builds up around it. It's the skinny jeans and studded belts, black nail polish, and Chuck Taylors covered in Sharpie song lyrics. It's watching The Nightmare Before Christmas for the millionth time and tweaking your MySpace profile. It's screaming your lungs out at a concert, showing up at school the next day with an "x" on your hand and a song in your heart.
Through this year-by-year retrospective, I hope to take a look at the history of punk rock, at alternative fashions and subcultures, and at what it means to be an "emo kid."
So back to Dookie. In 1993, Green Day was a Berkeley-based band gaining footing within the California punk scene. After releasing two albums via independent labels, they landed a major-label contract with Reprise Records. The band recorded Dookie in the span of three weeks and released it on February 1, 1994.
Unlike the grand epics of Green Day's mid-2000s career, Dookie has a more unpolished, recorded-in-the basement feel. It's DIY punk — authentic and unapologetic, all roughed-up and ready-to-go. And unlike the grunge music that dominated the rock charts in the early 90s, it is upbeat, catchy, and wild. Drawing on 70s and 80s punk bands like The Sex Pistols and The Replacements, Dookie tends towards pop-like hooks, bouncy melodies, and tons of attitude. It burst onto the scene like a pipe-bomb, taking pop-punk out of its California enclave and into the music world at large.
Thematically, Dookie's world is pure teenage angst. Take its lead single "Longview." A self-deprecating ode to boredom and weed, "Longview" finds lead singer Billie Joe Armstrong complaining about a town with nothing to do and a mom who doesn't understand, all while longing for happiness he only finds while high. While the punks of 1970s London were writing about urban unrest, early Green Day was more preoccupied with suburban ennui — a theme which would become central to pop-punk in the early 2000s. As music critic Jon Pareles wrote in his 1994 review of a Green Day show: "Punk prevails not as revolutionary music — the hope of its British wing — but because it's bratty."
And that brattiness took it far. Dookie received widespread critical acclaim and sold over three million copies within its first year. It earned Green Day the title of  Best New Band in Rolling Stone's 1995 music awards and won a Grammy for Best Alternative Album. It made sure everyone knew just what "pop-punk" was.
So to answer that question from the beginning of "Basket Case" — yes, the world did have time to listen to Green Day whine. And it was ready for more.
——
Also in 1994…
-Several notable pop-punk acts dropped their first album this year, including Jimmy Eat World, Bowling for Soup, and Weezer.
-Grunge and industrial were still at the height of their popularity, with major releases from Nirvana, Hole, Soundgarden, Veruca Salt, and Nine Inch Nails all charting on Billboard's Top 200.
-Kurt Cobain died on April 5, 1994. A crucial figure in rock music history, his contributions to grunge and alternative created a lasting legacy and influenced rock artists for years to come.