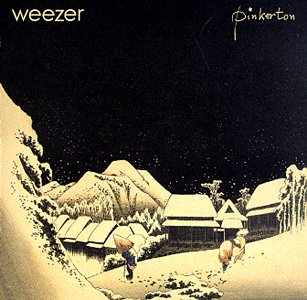 Twenty-three years ago, Weezer at once solidified and nearly destroyed their career. The online world wasn't about to let the latter happen.
There's no unanimous agreement on the best record Rivers Cuomo and company put forth, but it might be fair to say there's a war. In the distance, there might be a few who say it's The Green Album, or even one dude in the corner chugging Baja Blast, listening to his iPod Nano, and swearing Make Believe was underappreciated. By and large, though, it's a toss-up between their debut The Blue Album and 1996's Pinkerton.
One is the classic choice; the latter is the brooding-cool choice. I'm not here to make either argument, but instead just take a moment and look at how Pinkerton has evolved over time: over two decades later, it's the exact same record, in a vastly different cultural context. It's when Weezer got all gooey and angst-filled, sure, but it's also when they got so earnest that Cuomo very nearly scared the world into thinking he was not only a lost songwriter but a depressive sex maniac. As one does.
So back to 1996: yes, there was internet in 1996, but not enough internet for kids in their bedrooms to hoist up Pinkerton as their new screed and make it a hit immediately. None of the singles had pleasant fates on the radio, and it would be half a decade before Weezer dropped a follow-up. By all accounts, it flopped. At first it did, at least. It was less about the music itself and more about the unflinching lyrics. In chronic pain from surgery and frustrated by the enormous jump into fame his life took, Rivers penned a Madame Butterfly-inspired depiction of sexual dysfunction, alienation, and self-loathing.
And yet there was never a consensus on why this was bad – just that it was starkly, squirm-fully honest. Rivers himself would call the project "embarrassing," which is a valid thing to say after ripping yourself open that publicly. But by the turn of the millennium, feedback on Pinkerton was already taking a shift.
Hindered in no way by the rise of the internet and newfound ease of sharing music, the record grew a sort of underground cult following. "I don't really know what emo means," Cuomo said in 2001. "But apparently I had something to do with it."
Pinkerton was not the only album to be embraced because of its oddities rather than in spite of them by the below-ground music nerds emerging online. It was around this era that In The Aeroplane Over The Sea, Neutral Milk Hotel's own strange magnum opus, gained traction within the alternative scene. It wasn't standard traction. It was almost a cryptid of rock music, just like Pinkerton grew to be. It's also worth mentioning that emo was still in that young stage of underground existence: Pinkerton was released the same year as Texas Is The Reason's Do You Know Who You Are? and Static Prevails by Jimmy Eat World. Both evading mainstream notice and yet becoming seminal classics in their own niche, by 1996, the staying power of emo was looking pretty strong.
Sure enough, as the community pulled itself together in time for bands like Jimmy Eat World – as well as Thursday and Taking Back Sunday, and so on – to take to the radio, public opinion on Pinkerton
gradually shifted. Raw and revealing, it had been shoved to the wayside by its creators. In 2001, The
Green Album harkened back to the "Buddy Holly" and "Sweater Song." As far as the members of Weezer were concerned, the best course of action was to pretend it didn't happen. And when asked about the album? Lambast it. For many years, this was the coping technique Rivers Cuomo leaned into wholeheartedly, but the baby elephant in the room was starting to grow into an adult.
The young people of the internet saw Rivers and his Frankenstein's monster of a record as their feelings transplanted. Speaking to a vast number of people while all the while flying under the radar of
appreciation, Pinkerton was increasingly referred to as people's "favorite Weezer album," or as
"influential," of even as having "laid the groundwork" for the emo rock boom of the 2000s.
Debate still exists over whether Pinkerton fits the genre of the enthusiasts who nursed it to health. Emo or not, what is undeniable is the full 180 that it's undergone. Over a decade later, Cuomo gave up on calling it a "diseased album" or a disgrace. Instead, he sat down with Pitchfork and called it "great…super brave, and authentic."
From the standpoint of a listener, and someone who cherishes what Pinkerton put forth into the world, I don't buy his past hatred of the album. I buy his shame or his humiliation when in it faltered, but I believe this was always the album he wanted to make. Cuomo set out to write a story as twisted and emotionally jarring as Madame Butterfly, and as honest and awkward as his own life could be. He sat out to write Pinkerton. When you write something that indelible – and that good – I find it hard to believe you didn't have at least a little faith in it. That doesn't matter now though. Weezer has plenty of reasons to be proud of it two decades on, and the band finally seems to have realized that. At this point, I think we can all agree that's how it should be.