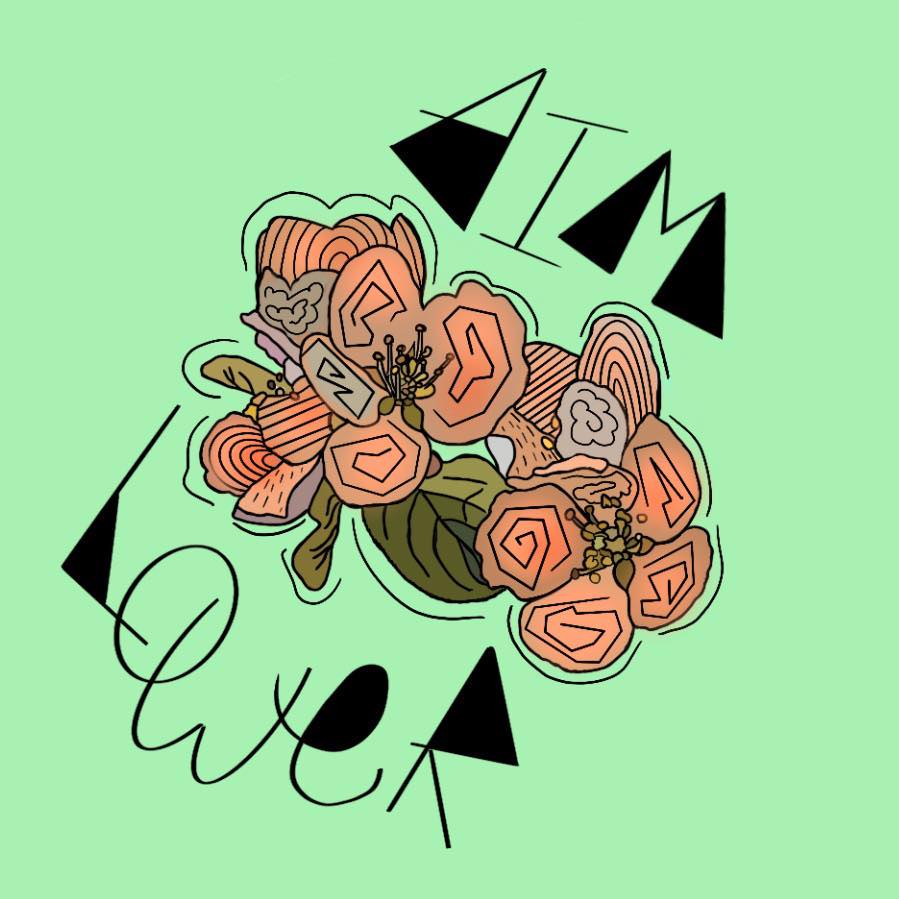 Genre: Pop Punk / Alternative
Band Members: Steve – Vocals, Brian – Guitar / Vocals, Nick – Bass, Jake – Drums / Backup Vocals / Piano, Chris – Guitar
Location: Westland (Metro Detroit), Michigan
Listen: Spotify, Youtube, Youtube Music, Apple Music, Deezer
Opening bands rarely get the recognition they deserve. If anyone deserves to be trending, it's Detroit pop-punk band, Aim Lower. My teen daughter got me excited about this band when they opened for MAKEOUT in Detroit two years ago, and I've been hooked ever since. A super cool, fun bunch to chat with, they remind me much of my own friends.
With a sound that's their own, it's hard to compare them to any other artist. Asking the guys themselves was a bit unfair but they came up with some influences that may pop out at you as you listen. A Day To Remember was a huge influence to everyone in the band, as we talked about them quite a bit. Taking Back Sunday, Blink 182, and Brand New are a few others you might hear hints of in their albums Long Story Short and My Mistakes.
"We've been wanting to 'elevate' our writing, you could say. In the past, we mostly just wanted to get on stage and play some catchy, fun stuff. While we definitely still want to do that, we're wanting to experiment more. Whether it be with lo-fi, more piano/keyboard, more ambiance, I'm not sure. We've been playing around with different styles, and it has been a lot of fun so far," said Brian about new music on the horizon.
Chris added, "We plan to write and release a bunch of new stuff with a fresh sound in the next year." The band teased us with their new line up when they released their cover of Lizzo's "Good As Hell," which is currently featured on Got You Covered Vol. 5 through We Are Triumphant. Coming out in time for the holidays was their latest song, "Christmas To Me." As Aim Lower grow and evolve, they are hoping to give us new music as early as this summer.
The name taken from Brian's previous band, Aim Lower was started in October of 2015 by Brian, Steve, and former guitarist Travis. After writing a couple of songs, the three took off to Toledo, Ohio, and recorded with Jordan DiSorbo with Brian also playing bass and drums. Nick came along in 2016, learning a whole set on bass in just a week before his first show. After a few more line-up changes, Jake took over drums and back-up vocals in September of 2019. Chris stepped up and impressed the rest of the guys when he picked up a whole set merely days before their Halloween show that same year and became the newest guitarist.
The last time all the members were on stage together was that Halloween show where they played an A Day To Remember cover set. Brian, Nick, and Steve were able to play an acoustic show at the end of 2019 just months before all of the venues got locked down. Like most bands, the guys are itching to get back up on stage, especially in the place they call home, The Token Lounge. As so many of us do, they worry about the future of the venues and what, if any, limitations will mean for small shows. All we can do is wait and see how the next few months go.
"We are very much still around and active, even though we haven't been on social media as much. I feel like quite a few bands have been trying to do everything they can to remind people they still exist during this pandemic, but we've really just been trying to focus on ourselves and figure out our next steps," said Brian, encouraging us to keep our eyes on them.
While we long for venue doors to open back up, I asked the band about their ultimate lineup for a show, but they may have created a new festival tour. With bands like The Wonder Years, State Champs, Taking Back Sunday, Blink 182, Holding Absence, Silent Planet, Incubus, Gates, Bring Me the Horizon, Dance Gavin Dance, Circa Survive, New Found Glory, Hot Mulligan, Silverstein, and In Her Own Words, we'd need a few stages. Their faux tour would undoubtedly include our favorite locals such as Common Ground, Fit The Bill, One Up, Sincerely, So Called Ghosts, The Thought Life, Almost Made The Mixtape, Painted Friends, and A Year In New York. One day, guys.
I'm stoked for new music and the exciting future of Aim Lower, but we do still have to ask the important questions that every fan wants to know.
In the case of a zombie apocalypse, who is the leader of the group, the medic, the muscle, the hunter/gatherer, and the one that's just along for the ride?
Jake: I'll definitely hunt/gather
Been doing that my whole life 🤠 *spit* TING.
Steve: I'll be the medic until it's time to actually BE the medic…
Jake: I'll probably end  up doing that too while Steve is in the corner puking.
Brian: I'd like to think I'd be the muscle lol
Nick: LOL So would I be the leader.
Brian: Yes haha
That just leaves poor Chris following along for the ride.
I'd like to thank Aim Lower for having a good old back and forth with me so I can share them with the world. Be sure to check them out on Spotify and Youtube. As always, stay strong and stay safe.