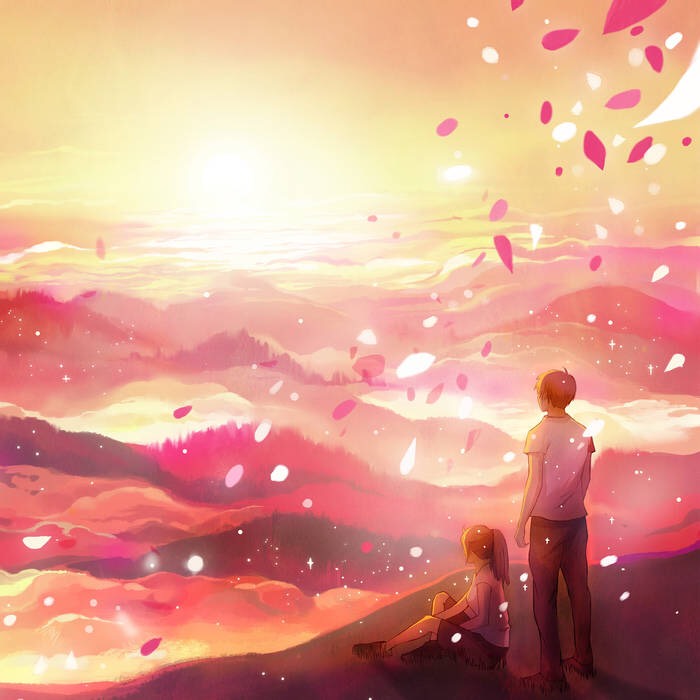 The cover of Morning Sun reads like a scene from a romance anime: a boy and a girl on a hill overlooking a sun-drenched sky as a whirlwind of cherry blossom petals dance overhead. Warm with pastel pinks and bright flares of white, the scene seems peaceful, maybe even triumphant. It's the story's reflective conclusion, the sun rising on our heroes' hard-earned new day.
The music on Morning Sun— the new release from progressive rock band With Sails Ahead — isn't quite so joyous, but it is just as cinematic. For their third EP, the New Jersey five-piece has compiled a six-song suite of pulse-pounding, breakneck post-hardcore; if the cover image is the happy ending, then the music is the action movie that led up to it. Full of massive melodies and unstoppable emotion, Morning Sun is a thrill ride from start to finish.
Like the cover art, the luxurious opening number "Disappear" immediately establishes Morning Sun's dreamscape atmosphere. A drifting mix of synth, electric guitar, and violin, the song threads a gothic note that borders on shoegaze. The arrangement is captivating, as is lead singer Sierra Binondo's graceful soprano. As a female hardcore fan, I'm always excited to hear from female-fronted bands, and "Disappear" showcases how well Binondo's voice suits the genre. She swings from lilting high-notes to grunge-worthy growls with impressive ease and wrings aching feeling out of both extremes. I think she could be one of the greats.
"Willow," a raging takedown of clique drama and toxic former friends, reminds me in both sound and theme of Tonight Alive's "Lonely Girl." The song was selected as the album's lead single, and that is a smart choice; tough as nails and anthemic, "Willow" is an instantly memorable track full of relatable angst. Lyrics like the chorus's wailing "stay away from me" and the snarling bridge — "don't want a part of your social scheme/you aren't the company you keep/you are the problem"— reverberate with righteous anger, and the melody is ferocious and catchy. Like "Lonely Girl" before it, this is the sort of song a teenage girl would mosh to in her bedroom at midnight, and I could see it being a huge hit.
"Pixelated" also rails against a bad social scene, although this time it's with less anger and more jaded eye rolls — "you never say hello/when you see me at shows/it's arrogance, we know," Binondo sings like she's been through this a thousand times before. There's nothing quite as memorable as the hooks from "Willow," but "Pixelated" is still an intriguing composition. A mash-up of growls, taunts and jaunty guitar riffs with no chorus to speak of, the song contains a funky, quirky arrangement reminiscent of Dance Gavin Dance, who the band often cites as an influence. Short and toothy, "Always Clouded, Never Clear" is similarly freeform and boasts some gripping guitar work.
If Morning Sun were a movie, then the explosive headbanger "Synapses Fire" would be the main character's mid-story breakdown. True to its title, the song is wall-to-wall snare drums and staccato guitar, and every note lands like a fist through glass. It moves at a dizzying pace — Binondo at one point calls to "speed up the tempo," but it's hard to imagine they actually could — and the plaintive lyrics — "look at all the people/so healthy and pure/I just want to be cured/I just want to feel better"— turns the album's socially frustrated rage inward. Thematically it's something of a foil to the self-righteous "Willow," and it's just as powerful and cathartic.
The EP's final song, "Beesly," is probably my personal favorite. The song alternates between passages of roaring hardcore and ones of near-ballad quiet, a back-and-forth contrast that emphasizes the tumultuous relationship detailed in the lyrics. At over five minutes long, it's a sprawling, swooning mini-epic. Bolstered further by Binondo's gut-wrenching vocal performance — the refrain goes "the fear of losing you is haunting me," and like a desperate ghost she serenades it and screams it with equal fire — "Beesly" is a breathtaking grand finale.
Morning Sun was my introduction to With Sails Ahead, but the band has been brewing in the New Jersey scene since their 2014 formation. Fresh off a September 2017 gig supporting Emarosa, they seem poised to break into the big leagues, and based off their fantastic work on Morning Sun they have more than earned it. All six songs are arresting and lingering, proof that With Sails Ahead have some serious talent. I hope that it takes them far. If this is the morning sun rising, then the day to come is looking bright.