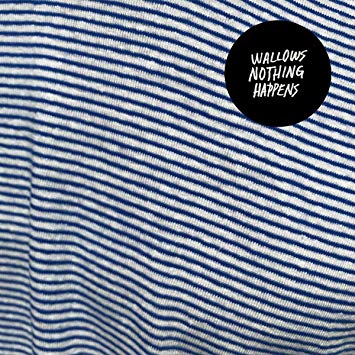 The indie genre is always host to a quite a bit of upcoming talent, so much so that it can be hard to keep track of it all. One such new act, indie outfit Wallows, are building a steady momentum for themselves. Their debut album Nothing Happens hits upon a sound that's fresh, emotional, and full of unexpected range and depth. The group take on a variety of styles and sounds from dream-pop, shoe-gaze, punk and synth-pop, all with their own vulnerable yet organic perspective. Wallows set themselves apart with their sophisticated pop touch and honest yet accessible delivery, allowing for an engaging and welcoming body of work. Their songwriting is sweet, sad, funny, and relatable – the songs feel like they're coming from a more authentic place than just the usual run of the mill release.
The band's signature sound reveals itself on opener "Only Friend" which kicks off a bright and vibrant mood with a pronounced indie edge to it. The songwriting addresses themes of loneliness and connection directly and does so in a sincere and straight-forward manner. This approach gives the album a sense of fluidity and carries through to other stand-outs such as the intimate bedroom pop of "Are You Bored Yet?" featuring Clario. "Ice Cold Pools" offers a bit of funky jazz energy to liven up the proceedings. The unity of the band's performance on each track allows for each member's style to shine through. Production-wise, the album conjures up a hazy and understated atmosphere but is well-rounded enough to contain moments of hard-driving rock and fun.
In terms of subject matter, Wallows aren't afraid to get personal as they deal with heartbreak, friendships, loneliness, and being young. Such themes are indie staples, but thanks to their candid songwriting, these topics feel distinct. Some of their strongest lyrical moments occur on highlights such as "Worlds Apart" and "What You Like" which benefit from their passionate performances. Even when lyrics veer close to cliché, Wallow's diverse approach keeps their subject matter from feeling one-note.
What's ultimately most refreshing about Wallow's debut is the exuberance and enthusiasm they possess toward making music. That sense of joy and excitement is apparent on tracks like "I'm Full" and "Sidelines," which are upbeat and high-energy and will most definitely go over well live. The warmth and passion displayed in each performance help the band reveal a strong sense of confidence in their choices. For the closing track "Do Not Wait," the band create a stunning ambient epic that's ambitious, hard-hitting and spontaneous, hinting at their underlying ambitions. This closing track is a strong showcase of Wallow's musical curiosity and adventurous spirit.
Overall, as a listening experience, Nothing Happens proves that Wallows have plenty of promise as a rising act. Their music is not just fun and lively but personal and intimate as well, creating a strong balance. Nothing Happens is a satisfying debut full of exciting potential and enjoyable moments. Contrary to the title, there's definitely something happening here.
Songs to Spin: "Are You Bored Yet?," "Do Not Wait," "Ice Cold Pools," "Only Friend"