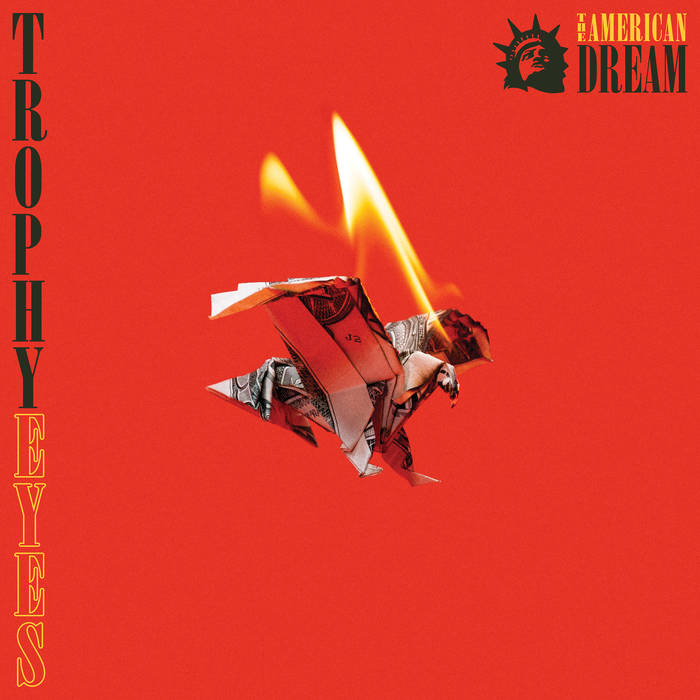 The long-awaited follow up to Trophy Eyes' 2016 release Chemical Miracle is finally here, and it was definitely worth the wait. The band's third album, The American Dream, has a notably different sound from their prior releases. Listening to Trophy Eyes' discography in order is like listening to them grow up in front of you. The anger and hostility in songs like "Bandaid" off 2014's Everything Goes Away EP or "Family Name" from their first full-length release Mend, Move On give way to Chemical Miracle. Chemical Miracle is an album that is chock full of anger but presents it in a more melodic, less angsty way. Even more, the difference between Chemical Miracle and The American Dream is astounding.
It seems like Trophy Eyes' lead singer John Floreani has traded in a lot of his crescendoing anger for melodic hopefulness and sung promises on this 12 song collection. The upbeat tone of the album as a whole is refreshing in a way that their previous records are not, especially in the album's opener, "Autumn."
If you're still looking for a taste of their old sound, tracks "More Like You," "Miming in the Choir," "I Can Feel It Calling," and lead single "You Can Count on Me" are elevated versions of what the band used to sound like. "More Like You" has that same shout-style vocal in its middle verse, which is the highlight of the whole song. "Miming in the Choir" opens slowly but explodes in its verses to the familiar punching of John's raspy voice. These songs have a kind of attitude in them that makes me think even if this review was negative, Trophy Eyes wouldn't give a shit.
The majority of the album, however, is shockingly gentle for a band that used to sound so aggressive. Gems like "Broken" and "Something Bigger Than This" are so sweet that they're almost love songs. In "Broken," John sings "I'm your son / I'm okay mom" like a hushed apology, and listeners everywhere get chills. Both songs build to an almost classical crescendo.
The most surprising tracks on the album are stripped down even further. "A Symphony of Crickets," "Tip Toe," and "A Cotton Candy Sky" are quiet, raw, and honest. "A Symphony of Crickets" is backed by, quite literally, a symphony of crickets. It swells with stringed instruments and harmonies and fades away at the end to the quiet of dusk. "A Cotton Candy Sky" is even more stunning. It's the most relaxing song I've ever heard, be that because of the quiet vocals or the sound of the rain falling in the background. Staccato piano and a rolling thunderstorm accompany John's low growling voice, which sounds like an old beat up pickup truck rolling down a gravel road. This song feels like home and might actually be my favorite overall. Both tracks are no more than interludes – they come in just under two minutes – but they showcase the range in sound that Trophy Eyes can pull off so successfully.
It seems the days of Trophy Eyes' gritty, hardcore style have given way to something new. While this album hits most of the necessary pop punk checkboxes – gang vocals, an undertone of wanting to be somewhere else, references to other radio heavy hitters (see the reference to Sam's Town in "Autumn") – it still doesn't sound anything like what any other band is doing. They've combined the speed and lyrics of their old days with a brighter sound, and the result is something that demands several full listens. An old Trophy Eyes fan? There's something here for you. Never heard of them before? This album will give you a taste of their range. The American Dream is growth done correctly.
Songs I've got on repeat: "A Cotton Candy Sky," "Lavender Bay"
A song I could do without: "Tip Toe"