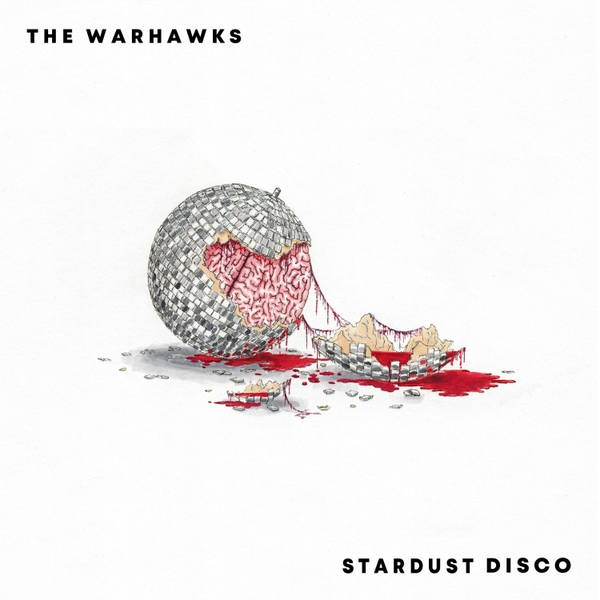 New Jersey natives The Warhawks are back and better than ever with their brilliant new EP release Stardust Disco. It's an incredible six-track record written by the band that draws you in from the start with cool tracks like "Hang Around" and "Other Side of Life." What's great about Stardust Disco is The Warhawks trade in their heavier punk rock sound for a more melodic pop/dance approach while still managing to retain the true essence of their music. Comprised of guitarists Matt Orlando and John Bilodeau, bassist Tom Lipski, and drummer Patrick Bilodeau, The Warhawks deliver another solid music effort that's courageous, fun, and entertaining to listen to.
I think it's always fantastic when a band tries to take their sound to new heights. It's also a gamble if received wrong by fans. Luckily for The Warhawks though, that isn't the case at all. You can tell that Stardust Disco was developed from a place of personal growth, and they wanted to explore what they are capable of producing as a band.
Most of the songs have a faint resemblance to bands like The Smiths and General Public. "Deliver" opens the EP, making a strong statement that their punk roots remain intact with a head-nodding guitar beat and barrage of drums that would make The Ramones proud. By the time you reach the third track, "Dire," you'll be air-guitaring in your living room. It boasts some of the coolest guitar riffs on the record.
Stardust Disco solidifies The Warhawks as a versatile band that I believe will continue to explore mixed genres of rock. It's 19-minutes of heavenly bliss that pulls from a very diverse assortment of influences that all define punk rock music. I'd have to say my overall favorite track is "Don't Give Up Your Heart" because it transports me back to high school and makes me think of all the girls I use to like and the thrills of finding that special someone without sacrificing everything that makes you, you. It's definitely a step in the right direction following their last LP, Never Felt So Good.
The same heart, energy, and determination that The Warhawks created on all their previous songs can be felt on Stardust Disco. It's very well produced and was a lot of fun to listen to. My only critique is that it's way too short as it left me wanting more. If you like The Hives or The Strokes, you'll love The Warhawks. Check out their latest record now!