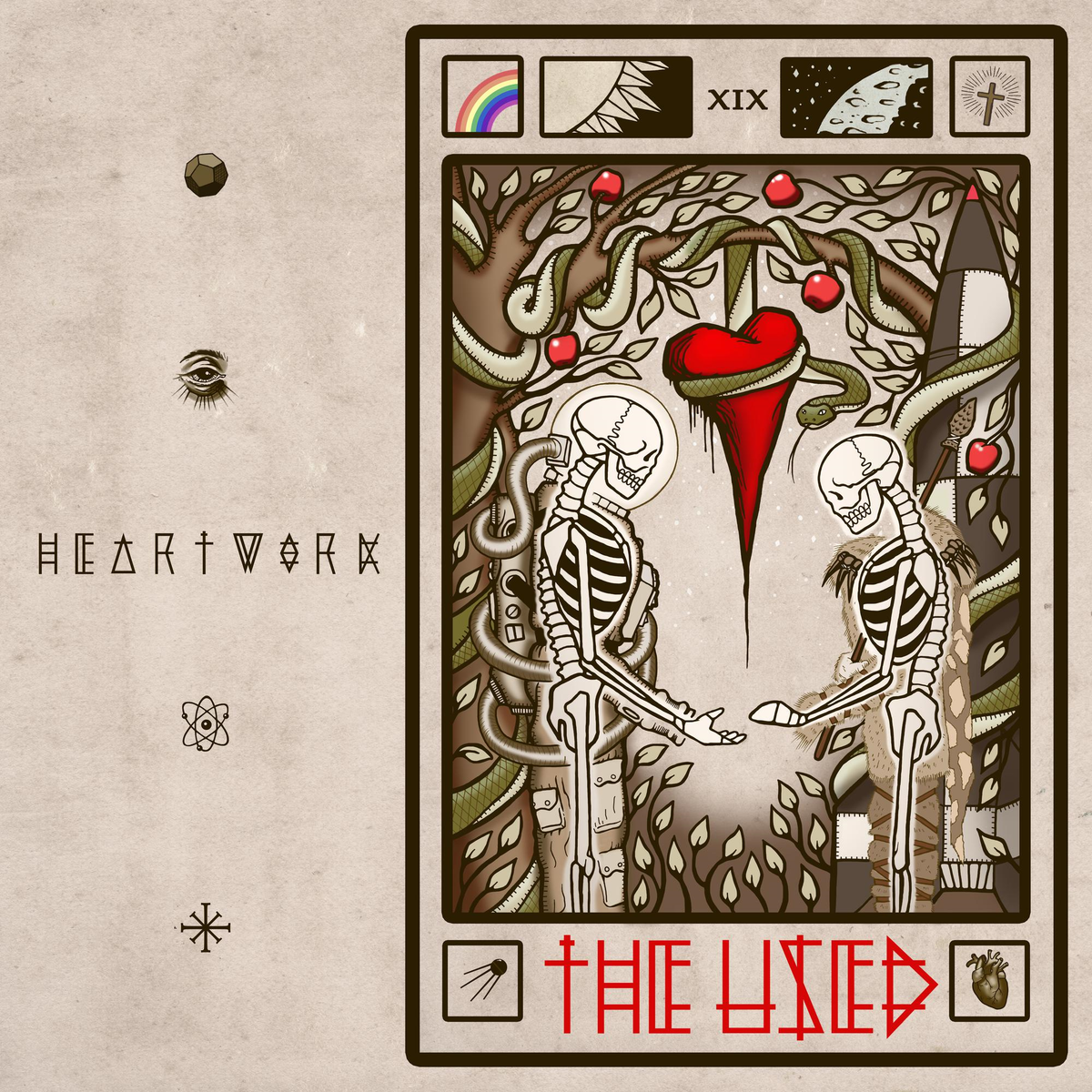 I'd like to get something out of the way before we begin here: I've been listening to The Used for about fifteen years. You may be sitting there saying, "But Jacq! You're only 24! So young to discover such heavy music!" to which I would tell you that you're correct, but I have a brother that is both into heavy music and also about five years older than me, so my fate was sealed from the start. Before I digress too far, my point here is that when I first stumbled upon the fantastical music video for "All That I've Got" at the tender, impressionable age of nine, I fell hook, line, and sinker (for both the band and also lead singer Bert McCracken, but that is neither here nor there). 
I'll be upfront with you: in the overarching conversation about The Used's work, I'm in the camp that prefers their older albums to their newer ones. While I respect the change in tone and understand its link to the changes in the band's personal life – lead singer Bert McCracken got clean, sober, and married between 2012 and 2013, the same time they released 2012's Vulnerable – the newer records just don't smack me in the face the same way. Maybe it's a fair shake of nostalgia, and I still get a little tinge of the excitement that I felt when I was young and new to the scene when I hear the older stuff now. 
I'll admit that 2012's Vulnerable had some high points. 2013's The Ocean of the Sky EP got a little weird, a bit experimental, but it was just an EP, so it wasn't enough to really consider in the grand scheme of things. 2014's Imaginary Enemy was honestly… a little poppy? And 2017's The Canyon was a collection of left turns for me – even frontman Bert McCracken called it an "art experiment." As an album about grieving loss, it's incredibly personal, and I view it more as an outlet for the band than something for the fans. Gun to my head, I'm not sure I could sing the words to more than three songs between the three releases to save my life. Now that I've gotten that off my chest, it should come as no surprise that I was nervous in the lead-up to this new album release. All that being said, my journey with 2020's Heartwork has been a bit of a rollercoaster. The album is jam-packed with a whopping 16 songs, so buckle up. 
The two lead singles, "Paradise Lost, a poem by John Milton" and "Blow Me" featuring Jason Aalon Butler of Fever 333 (formerly Letlive.) were so, so promising. In them, I found the remnants of The Used that I've been missing over these last eight years. That first explosively-shouted line of the chorus in "Paradise Lost" brings me back to the frenetic intro of "Paralyzed" on 2007's Lies for the Liars (which is on the shortlist of albums that I can listen to front to back without skipping, mind you). There's a grit there, in both the instrumentals (hello Mr. Joey Bradford, the newest addition to the band on lead guitars! So nice to meet you!!!) and in the vocals that I've been waiting to hear again.
They kept that grit coming in the second single track, "Blow Me," which would fit quite nicely amongst 2009's Artwork, even with it's more uptempo vibe. The music video is an explosion of color and texture. 
On album release day, I got myself settled into bed, watched the clock tick down to midnight, and started my first listen-through of the album. I'm not entirely sure what I was expecting, but if I'm being completely, thoroughly honest with you – and I always am – this album was far from it. Stay with me here, because the rollercoaster comes back down at some point, but my first gut reaction upon finishing the album was distaste. In my late-night, overwhelmed, there's-a-brand-new-album hazy mind, this album was too much new without enough old roots to ground it. The next day, in talking with my brother and giving him a play-by-play, I realized that I liked quite a few more songs than I didn't like. My second and third play-throughs were, to my relief, better representations of the album as a whole. 
Track three, "BIG, WANNA BE" is the first introduction of something a little new to the album. The opening instrumentals are so interesting that I started the song over before I got even 30 seconds in. They're slow, deliberate staccato, synthy sounds, and I thought it wouldn't work. I was, quite pleasantly, incorrect. Bert's vocals kick in and compliment the almost industrial vibe of the song perfectly. The track is a little slower than I would expect, but it works. 
Track four, "Bloody Nose" is a wonderful return to form. The intro guitar and vocalizations make me feel right at home, and overall the song sounds like Shallow Believer and Artwork had a lovechild – not overly biting but has a definite edge. The bridge around the two-minute mark makes this song something truly special. I've found myself singing this absently-mindedly countless times since the album has been released, it's insanely catchy.
I had to listen to "Wow, I Hate This Song" a few times over to really get a feel for it. It's got sweeping choruses that amp up into upbeat refrains. There are some screaming vocalizations hiding in the background that play with the almost theatrical foreground of the song really well. It's a bit long and maybe just a bit repetitive but an attention grabber for sure. It's not the only song on this release that feels more than a little bit theatrical – track eight, "1984 – infinite jest" opens with a few lines of lyrics that are verging on spoken word poetry over some very creepy-crawly, plucky piano. Honestly, this could be a musical number in a punk rock Broadway show, and I wouldn't bat an eye. It's exploding with personality and switches tone and tempo so fast it might make your head spin. If anyone out there is working on a musical, get in contact with The Used immediately. 
If you've seen The Used live in the last few years, you should be used to theatrics. Lead singer Bert McCracken often delves into the recitation of entire verses of poetry in between songs. It should come as no surprise that there are a few moments on this album that act as spoken word poetry. The title track, in slot 11, is a mini song that's really just Bert speaking over some indie-rock instrumentals. I can already hear this live, except in my head it leads into something more explosive than track 12's "The Lighthouse."
Overall, The Used did a wonderful job of pulling some of their newer elements throughout the entire album. That synth-based, almost industrial instrumentation I mentioned earlier carries through the album quite a bit. It features lightly in the opening moments of track six, a mini-song called "My Cocoon" – short, slow, and mostly very sweet. The staccato beat lays down most of the groundwork for the rhythm in "Cathedral Bell," which is one of the more easy-going songs on the album. It's a song I think my normie friends probably wouldn't mind listening to. A handful of songs on the album overall have an electro-pop undertone. I catch bits and pieces of it in the intro to "To Feel Something" but it almost overpowers me in "Clean Cut Heals."
Let's talk about that track for a second – track 10 is the outlier here. "Clean Cut Heals" is confusing. I'm confused. I'm the first to admit that songs with electronic undertones are not my cup of tea. They always make me feel like I'm in a club, and that's never a good thing in this camp. This song feels like The Used sat down and said, "How do we make a song that'll get us into nightclubs?" I can practically hear a radio remix. This almost is a radio remix. I like the lyrics, and I like the vocals (you'll never hear me say I don't like Bert's vocals). But overall, it just doesn't fit. Don't get me wrong, this is a song I'll add to my going-out playlists – which most of the time sit unvisited, gathering dust – but it feels like it's a song written and recorded by someone else.  
There are a few songs that have poppier overtones, significantly less than "Clean Cut Heals," mind you. Track seven, "Cathedral Bell" has a little bit of a mainstream feel, with less overt electronic notes but a really fun double-vocal effect to add in some low tones amidst the twinkling instrumentals.
Track 12's "The Lighthouse" has a feature by none other than Mark Hoppus. That alone should give you a good grip on what to expect before you listen – blink-182's recent work has a massively different (read: much more mainstream) feel than their earlier, frenetic punk music. That being said, "The Lighthouse" is by no means a bad song. I really love the contrast between Hoppus' steady, dependable voice and Bert McCracken's wild, all-over-the-place cacophony. The beat is a little weird and the lyrics are maybe a bit sugary, but the song is sweet. I'm not mad at it. 
This album absolutely shines in tracks 13 through 15. "Obvious Blasé" featuring Travis Barker on drums just might be my favorite track on the album. It feels like the cool and collected instrumentation of "Lunacy Fringe" (forever swooning over the vocals in that track) made modern and mixed with a punchy hook a lá "All That I've Got." There's a piano trill in the verse at the 1:00 mark that absolutely melts my heart. It feels out of place in a way that highlights it perfectly. I feel like the "feat. Travis Barker" speaks for itself but I'll mention it anyway: the drums here. Let's all say, "Thank you, Travis." 
Track 14 opens with an explosive scream. "The Lottery" not only reminds us of McCracken's lower vocal register but brings us a tasty little feature from Caleb Shomo as well. Formerly of Attack Attack! and currently of Beartooth, Shomo's vocals are honestly a little hard to tell apart from McCracken's at points. But then, after the heaviest breakdown The Used has given us in nearly a decade, he opens his mouth to let out a deep scream. Mixed in amongst the heavy vocals and the intense drums are vocals from McCracken that drop to whispers – I get shivers every time. In line with Bert's passion for literature, this song is inspired by one of the most iconic short stories in the American literary catalogue – The Lottery by Shirley Jackson.
In track 15, the band takes those heavy instrumentals, mixes them with fast-paced electro elements, and wraps them up with a bow for "Darkness Bleeds, FOTF". In this track, McCracken casts us back to "I Caught Fire" with the lyric "I'm fine with all these cuts not healing" – a small detail that made my day. The tempo change around the 3:00 mark takes the song and spins it on its head, giving it a whole new level and a much softer, sweeter light. The background vocal outro is almost religious. 
The closing track of the album, "To Feel Something," is a euphonic mixture of styles and textures and sounds. The intro, a brief moment of electropop; the main body of the song, a contemplative and gentle soft-rock song; the crescendo in the final third of the track, a return to hugely explosive vocals that bite you on their way down and messy, loud instrumentals. The final notes fade out in static and suddenly, the journey is over. 
Is it a cohesive album? Mostly. Are there some standouts that don't totally make sense? Absolutely. In the end, do I hate it? Absolutely not. It opens strong and it closes the same way, the middle just meanders a bit through some moments that feel out of place. If you're a purist, you're going to want to stick to the beginning and end of this release and ignore the middle bits. Somehow, there's something for everyone here. It's a healthy dose of old style moved in a newer, more modern direction. It's not perfect, but it's got enthusiasm and heart, and it's fun. I welcome this record into The Used's oeuvre with open arms. 
These tracks SLAP: "The Lottery," "Bloody Nose," "Obvious Blasé"
I'm not mad if you skip: "Clean Cut Heals," My Cocoon"