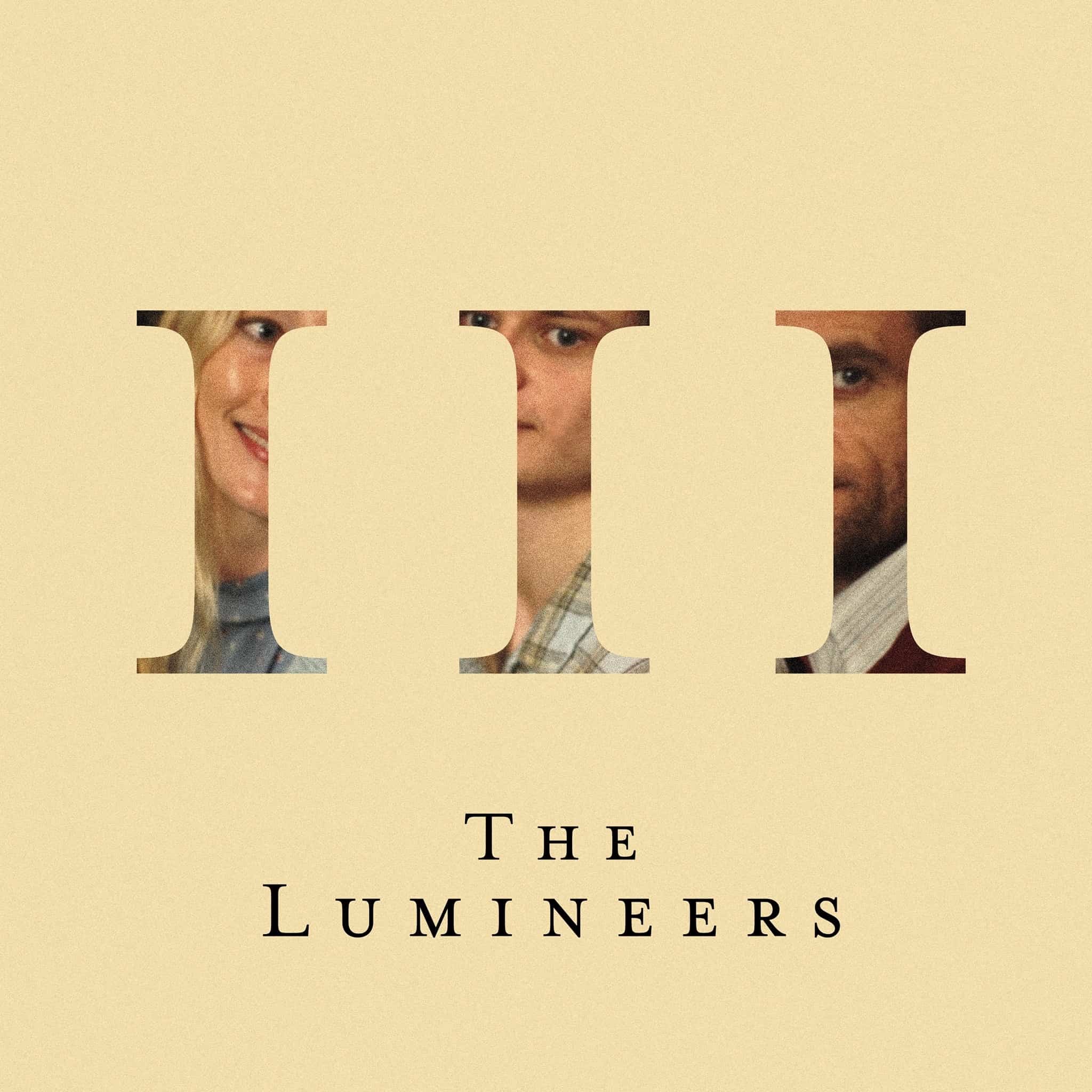 The Lumineers are one of those bands who take three or four years to make a new record, but that time spent waiting is so worth it once the album drops. That being said, III is finally here, and it does not disappoint. Not only does this title represent their third studio album, but it actually plays a major part in the structure of the songs. The record is broken up into three sections: Gloria Sparks, Junior Sparks, and Jimmy Sparks respectively. Each character represents a different generation of this fictionalized family. And each section aims to tell the story of an individual character while clearly demonstrating the chaotic overlap that comes from the character's choices. The common theme that binds these stories together is the struggle of addiction.
I already know what you're thinking. Yes, it's complex, dark, and disturbing. If you're looking for that well-balanced line between happiness and sadness which Cleopatra so gracefully embraced, you won't find it here. What you will discover though are songs so raw it's impossible not to be touched by them. Musically, lyrically, and even visually, The Lumineers do an outstanding job of dissecting the emotions that come with addiction. They look at it from multiple angles while still being able to tell a cohesive story. Though the plotline is clearly fictionalized, Wesley Schultz and Jeremiah Fraites acknowledge that the concept was based on real experiences regarding their own families' struggles with addiction. As a writer, I'm a sucker for a good storyline, but to know that the album is based on reality really makes it that much more impactful.
Let's do a track by track breakdown so I can fully express my thoughts. The first song off the Gloria Sparks section is "Donna." The dark tone of the album is immediately set by a chilling piano refrain that's so simple yet equally beautiful. One of my favorite parts about The Lumineers' music is how vivid their lyrics often are. They add just the right amount of details so the listener can paint a picture in their head but still interpret it individually. Some of my favorite lines from this song have to be, "It's not the words you say, but how you say it" and "You loved to judge strangers' karma."
"Life in the City" was my favorite single released, and it's probably still in my top three on the entire record. Though the lyrics are tinged with darkness, this is one of the more upbeat sounding songs. It's hard to describe without listening to it, but the instruments in this track are more present. Because of this, it kind of gives me an overwhelming city vibe with that distinct Lumineers sound coming through. If you've listened to Cleopatra tirelessly like me, you'll notice that the final bridge of the song is also the chorus from "Sleep on the Floor." I find it so interesting when artists use this crossover technique, and it works particularly well in this instance.
"Gloria" was the first single that immersed fans into the world of III. I think it was the perfect choice, too. This is probably the most upbeat it gets on this album despite the lyrics being some of the rawest. "Gloria, you crawled up on the cross. Gloria, you made us sit and watch." Instant chills. Another one that makes me shudder is, "Gloria, there's easier ways to die." The song is pretty much composed of acoustic guitar, piano, and drums, but it feels so full yet empty at the same time. One second, it seems like so much is happening and then another, there is just a break of piano. If you can't tell, I love it.
Now onto a song that's not so much my favorite. There's nothing "wrong" with "It Wasn't Easy To Be Happy For You," it's just not a standout track. I actually do like the acoustic beat of it and the lyric, "Wrapped my neck and prayed that you'd feel the noose" is significantly haunting. I still recommend giving it a listen to understand the complete story, but I'll admit that sometimes I skip it. How daring of me?
"Leader of the Landslide" is the song that made me invested in this album. It's one of the most complex tracks both lyrically and musically. I can't even pick out isolated lyrics because they kind of feed off one another. This is also one of those instances where the way Wesley sings certain lyrics seems to be more impactful. The number one reason why I admire this song so much is that it takes multiple twists and turns. It starts off slow, gets faster and faster, and finally finishes off slow again. These constant changes keep the song interesting and actually makes it feel like the story is progressing forward.
If you're a Panic! at the Disco fan, you may be very confused when you first hear "Left For Denver." I swear that the backbone of this song is SO similar to "Northern Downpour." If you don't believe me, listen for yourself. That being said, every time this track plays, I'm completely thrown off. Maybe I'll get used to it one day. Other than that little hiccup, I feel kind of indifferent towards this song. It's not the worst, but it's not the best. Again, as a whole, the song is crucial to the story, but I don't feel like I'll spend hours listening to it.
Wesley's vocals really make "My Cell" the song it is. I don't know if it makes sense to describe his voice as weathered, but that's the best adjective I can think of. There's just something about the way he drags out certain notes, specifically when he sings the title of this track. The lyrics are pretty basic, but I think it works with the simplicity of the beat as well.
"Jimmy Sparks" is THE track for me. There is so much going on in this song, yet it's balanced between the shift in instruments and vivid lyrics. It actually reminds me of a cautionary tale, maybe because it's narrated in the third person. Like "Leader of the Landslide," the pace continuously changes, and there's even a quick instrumental part. The guitar and violin pair up to create a really rugged feel. Meanwhile, the lyrics in this song are pretty easy to follow along and boy, do they tell a grim story. Despite how sad the plotline might be, I stand by how beautiful the result is.
"April" is a 50-second instrumental song, and honestly, I wish it was five hours. It is more than apparent that The Lumineers carefully select the instruments that go into each new idea. I think it's this ability that allows them to create some of my favorite instrumental tracks. "April" is definitely one of them. It also seems to be the perfect bridge between "Jimmy Sparks" and "Salt and the Sea." The isolated piano reminds me of the opening to "Donna," but the piano in this one is even more chilling.
"Salt and the Sea" is technically the final track of III (There are three other bonus tracks I'll briefly touch on). The same beat from "April" carries into this song with the piano being replaced by acoustic guitar. However, the beloved piano does make a return, chiming out a different refrain. The lyrics in this one are especially daunting. For me, the chorus is easily the most emotional part, and the music only adds to that eerie feeling.
Ok, I'll keep it short regarding the bonus tracks because I feel like none of them really fit in with the rest of the album. "Democracy" is a Leonard Cohen cover, and I much prefer The Lumineers version. I think they did a really good job at making it their own while still allowing a bit of the original to shine through. "Old Lady" is a pretty simple song, and I'd deem it as just ok. I don't think it tilts the album one way or another, especially since it's a bonus track. "Soundtrack Song" sounds like The Lumineers circa their self-titled album. I like the beat of this song, and I much prefer the lyrics to this one than "Old Lady." I definitely see myself listening to "Democracy" and "Soundtrack Song," just maybe not along with the main tracks from III.
I can see a multitude of different people loving this album. Whether you're a fan of The Lumineers, lover of sad songs, or somebody who has dealt with a family member or friend struggling with addiction, I think at least some part of this album will touch you. I know it's definitely evoked a wide range of emotions in me. Like all of The Lumineers music, III takes you on a beautiful journey even if the story doesn't have a happy ending. Sometimes, art is better that way though.
Also, The Lumineers have created a 10-part music video series that will accompany each song. I highly suggest taking a look into that too. The entire project was also shown at the Toronto International Film Festival, which is pretty cool if you ask me.