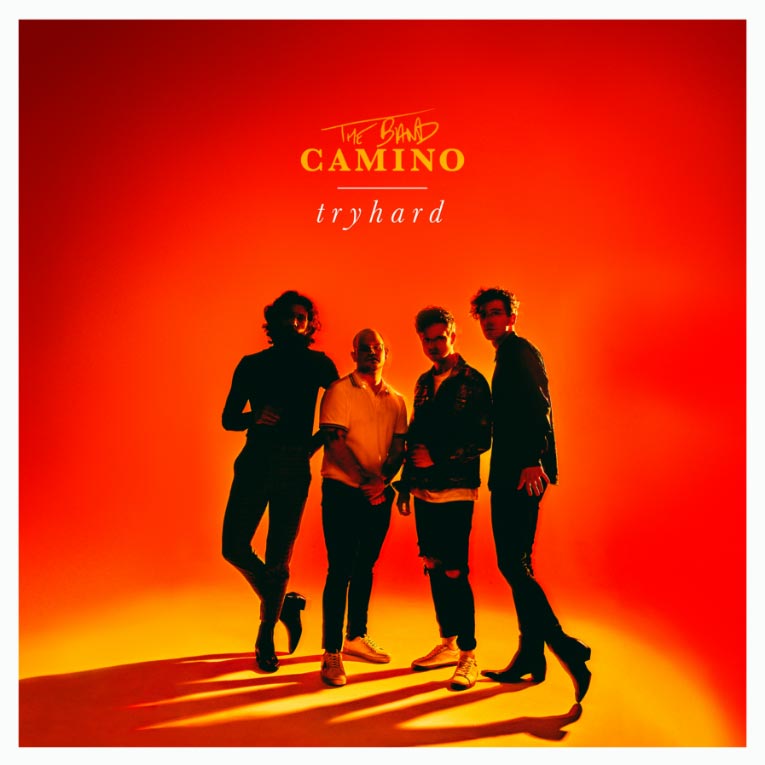 Despite the fact that it's 2019, the 1980s seem to be creeping into popular music more and more these days. While acts like The 1975 have taken their love for the era and ascended it to stadium-level stardom, other emerging acts have embraced the 80s from a more intimate and organic angle. With their latest EP tryhard, The Band CAMINO show affection for and understanding of the era, adding a modern flair and sophistication all their own. The album's eight tracks are a strong and balanced mix of full-on rockers and dreamy pop numbers with a vibrant approach throughout. Tryhard on the surface may seem like a simple release, however, it has plenty of strengths such as crisp pacing, tight song structure, and polished yet energetic presentation. All of this make tryhard a satisfying, engaging, and promising showcase for The Band CAMINO and their sleek, lush style.
The album gets off to a rollicking start with the bombastic-sounding "What I Want." The track recalls the new wave style rockers of the past such as Duran Duran but still manages to pack a contemporary heft thanks to some impressive guitar work from Spencer Stewart and a passionate performance from frontman Jeffery Jordan.  The band further prove their chops with emotional and insightful songwriting, providing not only strong hooks but also relatable lyrics about relationships, heartache, and personal struggles. Thankfully, the band aren't afraid to embrace their love of pop music which results of the album's most enjoyable moments. Standout tracks "Daphne Blue" and "See Through" indicate The Band CAMINO's effectiveness as a unit and illustrate they're more than capable of an exhilarating and well-crafted pop song.
Production-wise, The Band CAMINO delve deep into new wave and synth-pop but also have one foot in the contemporary indie and alternative scene. Their musical dynamics solidify tryhard as a fresh and exciting listen. This diversity is apparent in the alt-pop stylings of "Haunted." The band also combine aspects of their retro and modern sensibility on highlight track "Farsighted" which boasts one of The Band CAMINO's most vigorous all-around performances. While the group lend a heavy emphasis on style, their music isn't lacking in substance. The transparency displayed on songs such as "See Through" and closing track "Break Me" demonstrate that The Band CAMINO's main objective is to create music that is sincere and human in addition to being euphoric and high-energy.
For many up and coming acts, it can be hard to distinguish one's own sound or objective right out of the gate. While they're still relatively new, The Band CAMINO are already beginning to establish their own personal sense of artistry on tryhard. The group have successfully integrated their old-school and current influences with a keen sense of songwriting and performance throughout the album. While the group haven't unlocked every aspect of their potential just yet, The Band CAMINO's debut full-length offers more than enough promise of genuine, dynamic, and vibrant talent. If they continue like this in the future, they won't have to try too hard at all to set themselves apart.
Songs to Spin: "Daphne Blue," "What I Want," "See Through," "Haunted"