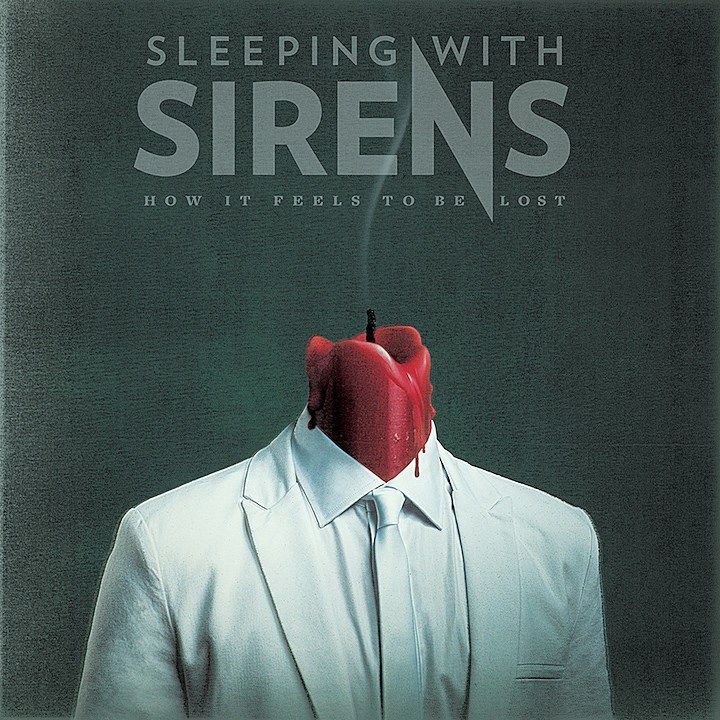 For some bands, being signed to a major label is huge step forward. But for Sleeping With Sirens, it was the beginning of a massive rough-patch. In 2017, the Orlando metalcore band signed with Warner Records, began work on their fifth album, and had their song "Legends" featured as Team USA's official song for the 2018 Olympics. It was clear they were trying to move into a more mainstream space — until their 2018 album Gossip, which saw them shifting from hardcore to a more pop-inspired sound, was both a critical and commercial failure. Behind the scenes, tension was also rising between the band's members as frontman Kellin Quinn developed an issue with alcoholism.
So in the last year, Sleeping With Sirens have put their efforts into turning things back around. After leaving Warner, they signed with Sumerian Records — a metal-focused label that better fit the heavy style of their best-known work. And as Quinn entered Alcoholics Anonymous, the band began writing about depression, recovery, and strength. The result: their sixth full-length album How It Feels To Be Lost, which sees the band returning to an aggressive sound and emotional themes.
Opening track "Leave It All Behind" starts the album on a strong foot. Featuring thundering guitar riffs and piercing shrieks and screams from Quinn, the song makes it clear that How It Feels To Be Lost intends to reclaim Sleeping With Sirens' status as a metalcore giant. Soaring, melodic, and larger-than-life with a headbang-inspiring beat, it is reminiscent of the band's 2013 album Feel in all the right ways.
The album's most successful songs tend to be the fast, angsty ones. "Never Enough," for example, is an energizing and catchy anthem for self-realization, heavy on hook and gritty resolution. It features some fantastic production and makes excellent use of both Quinn's signature agile tenor and guest vocalist Benji Madden's voice. Lightning-fast "Break Me Down" is mosh-pit ready with a killer breakdown, and single "Agree to Disagree" is a fun, head-bopping take on a "hater-takedown" song; Quinn's rap-tinged vocals on both work surprisingly well. And although the rap verses on "Blood Lines" are more awkward, the song's eerie, distorted breakdowns and building-sized drops are arresting enough to make up for it. With lyrics focused on broken homes and overcoming the cycle of abuse, "Blood Lines" is a worthy successor to the band's similarly themed 2011 hit "Trophy Father's Trophy Son."
The slower songs, on the other hand, are a more mixed bag. "Ghost," for example, attempts to portray a fraught break-up as a horror-movie tragedy, but its plodding tempo and vague lyrics feel more sluggish than haunting. And while "PS Missing You" seems to be striving for the heightened combination of love-struck lyrics and glass-shattering melody that made With Ears To See And Eyes To Hear feel so epic, it is neither grand nor ferocious enough to match that album's peaks. As with the work on Gossip, these songs are stadium-friendly in a way that feels a bit too safe.
But when Sleeping With Siren's ballad-like songs shine, they shine bright. Title-song "How It Feels To Be Lost," for example, twists its violent imagery and themes of depression into a breathless, forward-moving melody at once forceful and elegant. Electronicore-styled "Another Nightmare," meanwhile, is a wrenching apology song studded with breakdowns, distortions, and teary-eyed pain; structurally unique and emotionally evocative, it sticks in the gut. And final track "Dying To Believe" is the album's slowest song, alternating heavy hardcore sections with the kind of quiet, guitar-driven emotion seen on the band's much-loved acoustic EPs. Vulnerable but not fragile, hopeful, and carefully composed, it's a "keep fighting" song that ends the album on an uplifting high.
How It Feels To Be Lost isn't a perfect album, but it's a thoroughly enjoyable one — and a serious return-to-form for a band that once seemed to have lost its mojo. Though it doesn't quite reach the cathartic, emotional highs of early albums like With Ears To See or Let's Cheers To This, it is certainly Sleeping With Sirens' best work since Feel, and makes me optimistic that the band will continue to push themselves moving forward. Fierce, vibrant, and emotionally-charged, How It Feels To Be Lost proves that Sleeping With Sirens are back in the metalcore game.