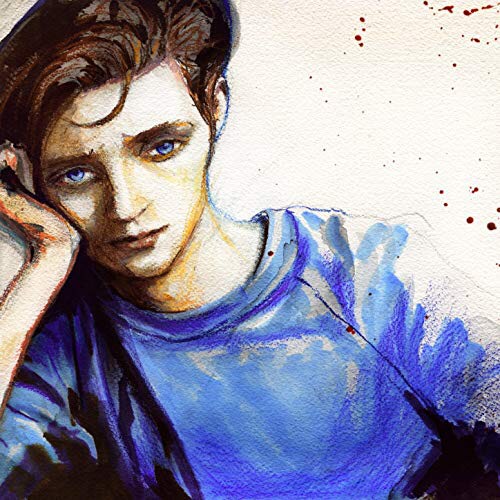 Once upon a time in 2004, in a sleepy suburban town somewhere in the United States, there lived a singer with a modestly successful band. One night, the singer discovered he'd been cursed with an unusual affliction: whenever he felt anything with particular strength, he would spontaneously burst into song. Suddenly able to produce radio-ready pop-punk hits without even trying, the singer used his magical new power to bolster his band, and soon the band skyrocketed to fame. The singer then focused his songwriting on anti-capitalism, determined to use his powers of Truth, Justice, and Rock-n-Roll as a means of fighting The Man… But unfortunately, he was not immune to the pitfalls of stardom. As his ego grew, so too did his love for parties, drugs, and fangirls. Slowly but surely, he found himself alienating everyone around him and losing all his artistic integrity.
This is the story of …Is A Real Boy, the 2004 concept album by California post-punk band Say Anything. The brainchild of singer-songwriter Max Bemis, Say Anything was one of the quirkier acts of the 2000s emo scene — they were known for their lyrical wordplay, offbeat humor, and larger-than-life personality. Their second full-length album and major label debut, …Is A Real Boy was originally planned as a full-fledged rock opera, and although the concept was pared down during production, the story was still printed in the liner notes. A cautionary fairy tale about fame, hedonism, and art-making, …Is A Real Boy reads like the bratty younger sibling of Green Day's American Idiot (coincidentally, also a pop-punk rock opera from 2004). It is loud, sardonic, vulgar, obnoxious… And often deeply insightful in its commentary about a generation of teens frustrated with their inability to speak truth to power in post-9/11 America. It's a cult classic now, and hits like "Alive With The Glory Of Love" and "Wow, I Can Get Sexual Too" have become staples of emo night playlists.
And now, for their seventh album, Oliver Appropriate, Say Anything is returning to these high-concept, theatrical roots. Conceived as a sequel to …Is A Real Boy, Oliver Appropriate is a rock-opera in miniature. Picking up 14 years after …Is A Real Boy, we find the singer —now given the name Oliver— living in Brooklyn, New York. Now a pill-popping, womanizing thirty-something, his fame has faded, but his hard-partying ways have not. One night, he meets a man named Karl at a bar, and the two engage in a cocaine-fueled hookup. Unable to accept that he might be bisexual, Oliver rejects Karl the next morning. Later, after being fired from his day job, Oliver becomes obsessed with Karl, stalking him until Karl turns down the advances. In a fit of rage, Oliver kills Karl and then commits suicide, drowning himself while tied to Karl's body. After death, Oliver ascends to the afterlife and comes to terms with his actions.
Musically, the album is a highly unusual one. All but two songs clock in at less than three minutes, and many reject standard pop music conventions — there are few verse-chorus-verse structures, rhyme schemes, or hooks. There are definitely some standout tunes — lead single "Daze" is a dizzy, high-flying delight, while lustful ballad "Mouthbreather" pulses with blues-y, boozy breathlessness. But for the most part, the songs on Oliver Appropriate aren't built to be taken out of context.
That said, as a function of the storyline, the music is highly successful. With their short runtimes and stream-of-consciousness lyrics, the songs play like monologues and dialogue — tiny snippets of Oliver Appropriate: The Play. And Bemis's chosen sound —a twee indie-rock vibe more Belle and Sebastian than Green Day— is a perfect counterpoint to the narrative's Brooklyn setting. Bright and cheery even as the storyline darkens, flecked with rotten smells and populated by "Amazon drones," and "gyro salesman and a stranger in my blankets," Oliver Appropriate's music makes a dystopia out of post-hipster Bushwick.
As for the story itself… Well, it's more than a little pretentious. But I think that's the point. As he harks on his daddy issues, complains about Coachella headliners, and smugly declares that he is better than hard-drug using friends because he is "a pill man," Oliver stands out as a caricature of hipster self-righteousness. A misanthropic, cheap-thrill-seeking burnout, he snarks on peers who "faded into the liberal bourgeoisie"… And yet, he himself has failed to establish anything resembling a functional adult life. He holds tight to past glories, "[hopes] the girls clinging to the bar know who we are," can't move on, and ultimately, he destroys himself. When the pop-punk of the early 2000s was anti-establishment, it was often out of fear of falseness — of a glossy corporate mainstream that seemed to ignore harsh realities, of growing up and selling out. But Oliver has managed an opposite extreme. In attempting to maintain his youthful ideals of authenticity without any compromise, he has become bitter, self-centered, and unstable. For the millennial protagonist of …Is A Real Boy, Oliver Appropriate represents an unexpected worst-case scenario, and as a pair, the two albums present a compelling look at a generation still grappling for stability.
In August of last year, Bemis released a nine-page statement on the band's official website detailing struggles in his personal life as well as his decision to place Say Anything on indefinite hiatus. Though the band may eventually return in another form, he wrote, the release of Oliver Appropriate would mark the end of Say Anything as we know them. While it's certainly sad to see them go, they are leaving on a very strong note. Creative, intelligent and enjoyably odd, Oliver Appropriate is a meaningful full-circle finale for a band that has always been one-of-a-kind.