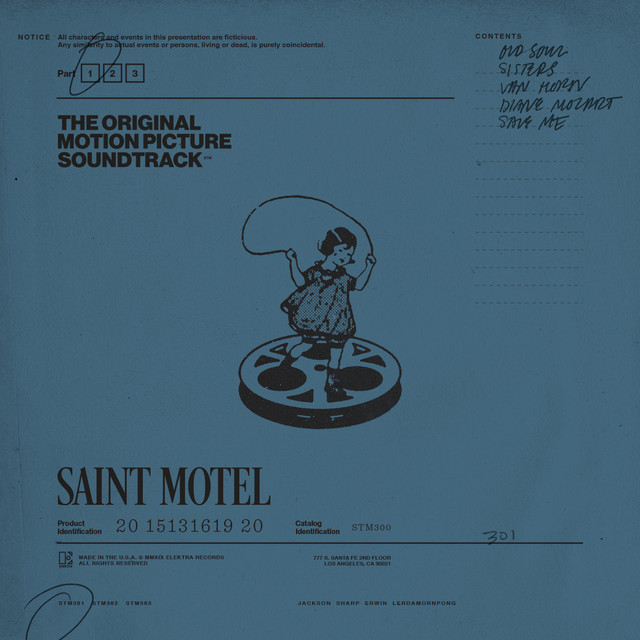 Between Saint Motel's cinematic sound and innovative storytelling (they made a virtual reality video for every song off their last album Saintmotelivision), I really should have guessed what was next. If they didn't make a soundtrack centered around a fictitious plotline, they would have missed out on a prime opportunity. Luckily, they know what they're good at and have so far used that as a major advantage. The Original Motion Picture Soundtrack is supposed to be the soundtrack to a fake movie that I assume Saint Motel also developed.
The other unique part of this album is the fact that it's going to be released in three different parts. This is sort of similar to the way The Lumineers marketed their latest album III. Instead of releasing each section, however, The Lumineers released singles until most of the album was already out by its official release date. Saint Motel don't even have an official release date which makes me laugh because that's the most Saint Motel thing ever. This is also why I'll be breaking down each part individually.
The first five songs released show an evolved yet classic Saint Motel sound that is unique yet cohesive. If you name your album The Original Motion Picture Soundtrack, each track better flow from one to the other. According to their Instagram,"you can also listen to the album in 'Cinematic Mode' with film score transitions between each song" via YouTube. I hope that option eventually makes its way to Spotify as well. Now that I've given you all the info, let's break each song down a little more.
The song that starts the album is "Old Soul." The title is extremely fitting since it sounds like it's coming straight from a jazz lounge. From the way A.J. Jackson croons to the subtle saxophone in the background, this relaxed track sets the pace for the cinematic structure that encompasses the album.
"Sisters" is by far my favorite of the bunch. It's exactly the fun little pick me up you need right after feeling mellowed out by "Old Soul." According to a Billboard interview, Saint Motel sampled The Shepherd Sister's song, "Alone," and the influence is clear. The beat of "Sisters" is pretty much the same as "Alone," just sped up and updated with a modern twist. Saint Motel did such a great job at fusing old with new, which resulted in a pretty unique song. I also just love the lyrics, especially the very first verse.
"Van Horn" sounds the most like Saintmotelevision mixed with a bit of country influence but in the best way possible. Also, the title screams Saint Motel to me despite it just being the name of a town. I'm actually obsessed with the variety of instruments used in this song. The bassline meshes so well with the use of electric guitar. I also LOVE the little electronic bits in all of the choruses except the last. I know you're probably like, "How do country and electronic mesh together?" I don't know, but somehow Saint Motel made it work. Then, almost out of nowhere, they just decided to add trumpet in the very last part. The integration is masterful. I can't hype it up enough.
Saint Motel didn't say whether they sampled Mozart in "Diane Mozart," but the piano sounds vaguely familiar to my uncultured brain. Let's not forget their song "For Elise" which samples Beethoven's song of the same name (Also one of my favorites, but I might be more than a  little biased). Therefore, I wouldn't be surprised if they did indeed sample Mozart. Anyway, the lyrics make me feel like suspense is building in the plot I have yet to identify (I'm hoping they release actually music videos instead of visualizers because they didn't give me much to work with). "Diane, what's the plan," and "red rovers and Mozart, over" make me feel like I'm in a spy movie. Despite that very lacking educated guess, I really dig this song, especially the bridge.
"Save Me" is the perfect song to end the first part of the album. It's somewhat similar to "Old Soul" in the sense that is has a much slower pace. The lyrics sound very foreshadowing, and I'm hoping I'm right when they release the second section. If "don't cry baby, you'll be the one who saves me," doesn't make you excited to see how this situation gets flipped around, you're lying. Soundwise, the trumpet is solid in this track, and A.J.'s vocals become more powerful as it progresses.
Saint Motel is off to a great start! I'm hoping part two has some even slower songs, and maybe the plot will become a bit more obvious. Until then, I'll continue to replay these five beauties.