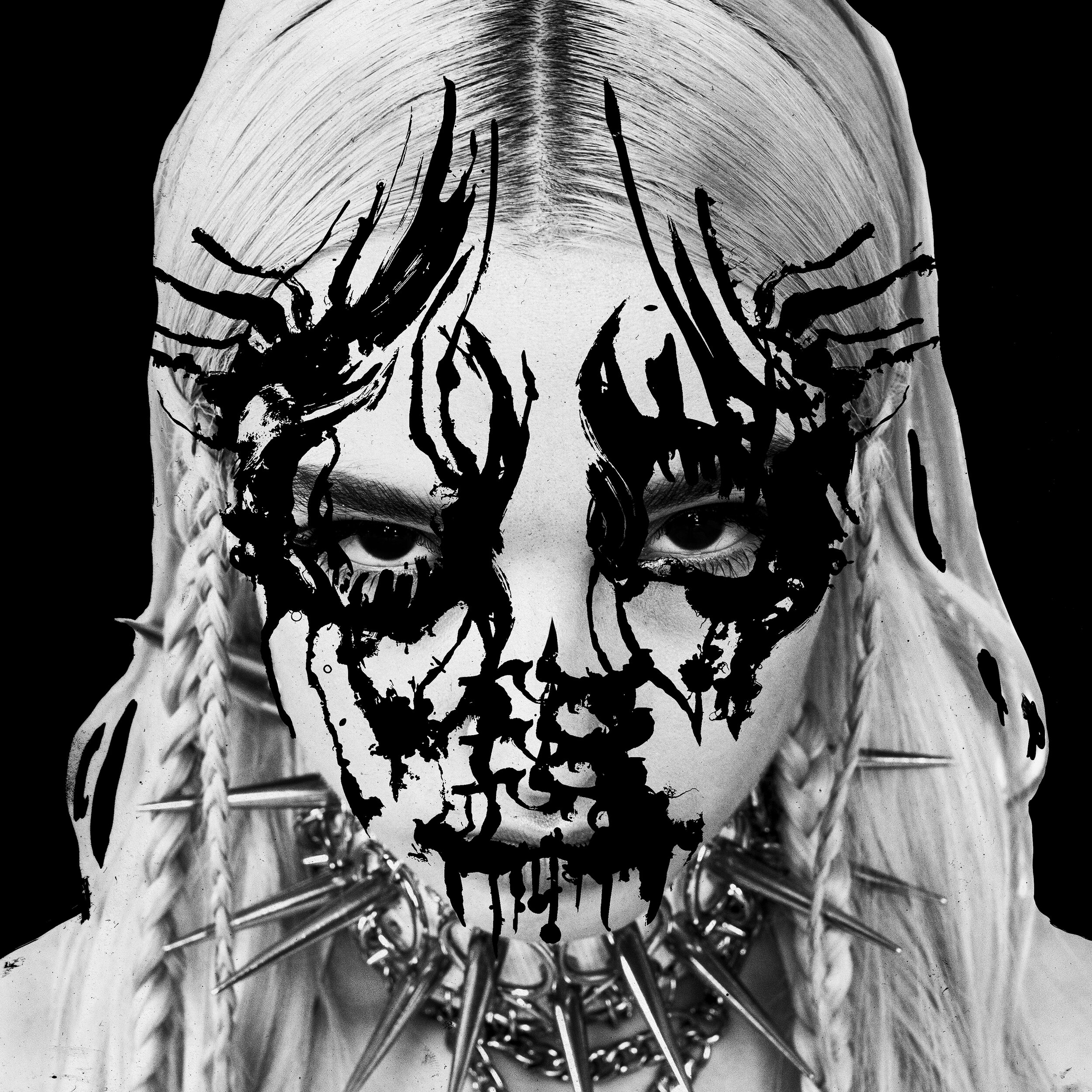 On a recent YouTube binge, I came across this Refinery29 video about "Yami-Kawaii" (literally "Sick-Cute"), a Tokyo-based fashion and art movement that combines Harajuku styles with gory, macabre accents. Intended as a commentary on mental health issues and the Japanese healthcare system, the style portrays cutesy anime characters in dark situations—wounded, crying, expressing depression and suicidal thoughts.
The phrase struck me as the perfect description for Internet-meme-slash-musician Poppy. Also known as That Poppy, Poppy first became famous thanks to her short-form Youtube videos. Surrealistic morsels of content, these videos thread the line between saccharine and sinister— Poppy eats cotton candy, says her name over and over, takes selfies, reads the bible, is not in a cult. Played by Moriah Rose Pereira, Poppy is a fictional character sometimes implied to be a robot or alien, and a commentary on celebrity culture and falsehood in the music industry. She is also a singer, with four albums and three EPs released since 2016.
Up until recently, Poppy's music leaned towards electronica and bubblegum-pop—fitting, given her name, her robot-like speech patterns, and her pastel princess appearance. But in the last year, she has been veering into different genres—2019 EP Choke, for example, is a dark alt-pop work in the vein of Billie Eilish. And for her latest release, she's partnered with rock label Sumerian Records to create a metal album titled I Disagree.
I Disagree establishes its yami-kawaii aesthetic immediately with opening track "Concrete". A mash-up of heavy metal instrumentals, sugar-sweet pop hooks and disturbing lyrics (things like "bury me six feet deep" and "I need the taste of young blood in my teeth"), "Concrete" sounds like a Baby Metal song and has the eerie, lingering aftertaste of a Silent Hill game. It's an engaging new style for Poppy and a delightfully twisted take on metal.
The album's best songs tend to be the ones that take the most advantage of this pop-metal dichotomy. "Fill The Crown," for example, is a juicy mash-up of glossy techno and Marilyn Manson-esque macabre sensibilities. It's lyrics bounce between empty pop platitudes ("You can be anyone you want to be/you can be free") and gruesome images ("poison the children/no peace of mind/poison the family/make the children cry"); it's a callback, probably, to the "cult" motif from Poppy's Youtube channel. Similarly, "Bite Your Teeth" combines a series of top-notch guitar riffs with a sing-song nursery rhyme, while "I Disagree" is a diva temper-tantrum set to music; "I disagree with the way you are failing to pleasure me," Poppy screeches, before cheerfully threatening to "let it all burn down." Also fantastic are "Sit/Stay," a rebellious and of-the-moment metalcore track, and "Anything Like Me," an itchy industrial ode to self-loathing that boasts some killer production and a powerful emotional rawness.
I Disagree does have some less memorable moments. Ballads "Nothing I Need" and "Sick of the Sun," for example, are fine songs but don't quite feel thematically necessary. But for the most part, it's an excellent metal album. If the Poppy persona is a commentary on fame, then her foray into hardcore positions the entertainment industry as equal parts seductive and disquieting. She sings in one hushed breath of horrid violence and tasty dessert, as though both are alluring and entirely inconsequential.
That said—Poppy is a gimmick, a fact I can never quite forget. Listening to I Disagree, I couldn't help but keep asking "why now?" and "why metal?" and unfortunately, I think the most likely answer is "shock value." I Disagree has some interesting themes and narratives, but I don't quite believe that they come from an authentic place. I get the sense that Poppy and her behind-the-scenes teams may have selected this yami-kawaii style primarily to capitalize on the uncomfortableness of having their too-cute character sing about death and murder; Poppy is an Internet meme, and yami-kawaii gets clicks. That's not inherently a problem—plenty of artists make choices to boost their popularity and visibility. But with Poppy, it feels like every choice was made that way. Poppy's music is good, and her schtick is enjoyable. But she feels like a schtick first and an artist second.
Still, I'm happy to recommend I Disagree to both pop and metal fans. Quirky, creepy, and full of headbang-worthy tunes, I Disagree is a fun and delicious mix of sugar and spice. In the world of heavy metal, there is definitely room for some pop—and some Poppy.