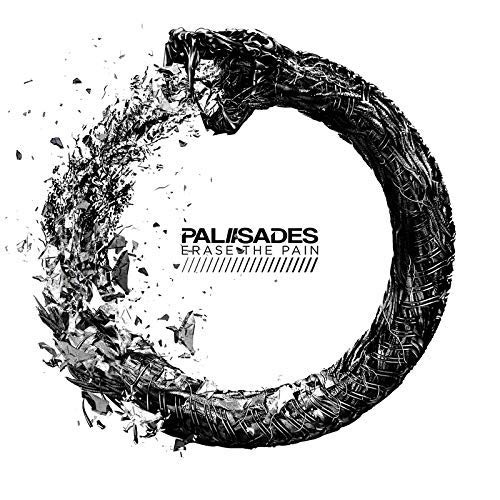 The cover of Erase The Pain, the recently released third album from post-hardcore band Palisades, features a snake eating its own tail — a version of the ancient Egyptian symbol known as an "Ouroboros." A circle in infinite motion, the Ouroboros represents the cyclical nature of time, life and death — themes that resonate deeply with the Iselin, New Jersey five-piece.
"The Ouroboros represents the never ending cycle," the band wrote in their album moodboard, which they shared with fans on Instagram. "Our Ouroboros represents our determination. Our growth no matter what we endure is perpetual. The hardest part of any process isn't starting[,] it's continuing. Pushing forward no matter what the odds."
It's a powerful mission statement for an album that — as its title suggests— has a central theme of overcoming obstacles. Focusing much of its 10-song, 33-minute runtime on pushing through hardship, Erase The Pain is the kind of album that uses metal as a soul-cleanser — this is hard music for hard times, how to fight fire with big cathartic screams. It's also Palisades' heaviest album to date and represents an intriguing turn in their musical style.  A confident showing of emotionally-charged hardcore, Erase The Pain is a solid release from a band with big-league potential.
Opening track "Vendetta" starts the album in a rush of energy. While their previous albums leaned towards electronicore, it's clear from the opening notes that Palisades is pursuing a different sound this time; the song is gritty and dark with a fast-charging beat and grungy instrumentals that suggest industrial and nu-metal influences. This harder turn is a good fit for the band; their strong melodies have a forceful presence, and lead singer Lou Miceli's growly vocals are exactly the rage-fueled engine that the industrial soundscape needs.
Catchy, techno-laden "Erase The Pain" is a nice callback to the electronicore stylings of 2017's Palisades, while lead single "War" is a bombastic thriller well-deserving of its grand title. I do wish there were more of it —"War" is one of a number of songs on the album that is under three minutes, and it feels a bit abrupt and small for an album-carrying single — but it's still ear-catching and exciting, and I think it'll be a powerhouse during live shows.
While the album's nu-metal leanings work well overall, the experimentation does lead to some misfires. On tracks "Fade" and "Ghost," for example, the band over-uses gang vocals and spoken word segments, ultimately veering the songs a bit towards cheese. But other songs find a much better harmony with the nu-metal genre, most notably "Fragile Bones," an angst-ridden hate song about straining in the confines of a bad relationship. With its chilly verses and pulse-pounding, rapid-fire chorus, the song is a twist-a-minute headbanger that's reminiscent of Korn in all the right ways.
The album's strongest moments come when the band is at their most emotional. "Ways To Disappear," for example, is a slower-tempo track that explores an atmospheric sound and themes of searching for love. Alternating a soaring chorus with hazy verses and a wordless, smoke-and-strings-filled bridge, the song has an airy beauty that renders it at once heartfelt and haunting. "Patient," meanwhile, features the album's best songwriting, a mix of cleverly built wordplay — both meanings of the word "patient" figure prominently — and a slow-building arrangement that gives an aching elegance to its desperate tale of love gone wrong. And album-ending  "Shed My Skin" is a horror-core chiller. Gravelly and vicious, with imagery that borders on gore — opening line "I want to peel apart a piece of my eyelids" feels like it could be pulled from a Saw movie — the song a has visceral edge that's hard to shake and ends the album with an ominous high. All three songs possess a sense of narrative and world-building that makes them evocative and engrossing, and Miceli's performances, whether anguished or passionate, have a resonant power. It's this strength of emotion that proves the band's greatest asset; when Palisades is willing to drop their hearts down, they make some serious waves.
Released in the last week of 2018, Erase The Pain closed the year out for Palisades, and in February they'll embark on a North American tour in support of Nothing More and Of Mice and Men. The band's 2019 is already looking like a big one, and the release of Erase The Pain lays a great foundation for these upcoming months. Palisades has been around since 2011, and while they haven't hit it huge yet, I've always felt they deserved to be a much bigger name. Erase The Pain has definitely reinforced that opinion. While I'm not as blown away by it as I was by their previous work, Erase The Pain is still a strong album with a number of great tunes, and its exploration of new sounds speaks well to Palisades's overall versatility and skill. Like an Ouroboros, the band is continuing to press forward and grow, and their path is a journey worth following.