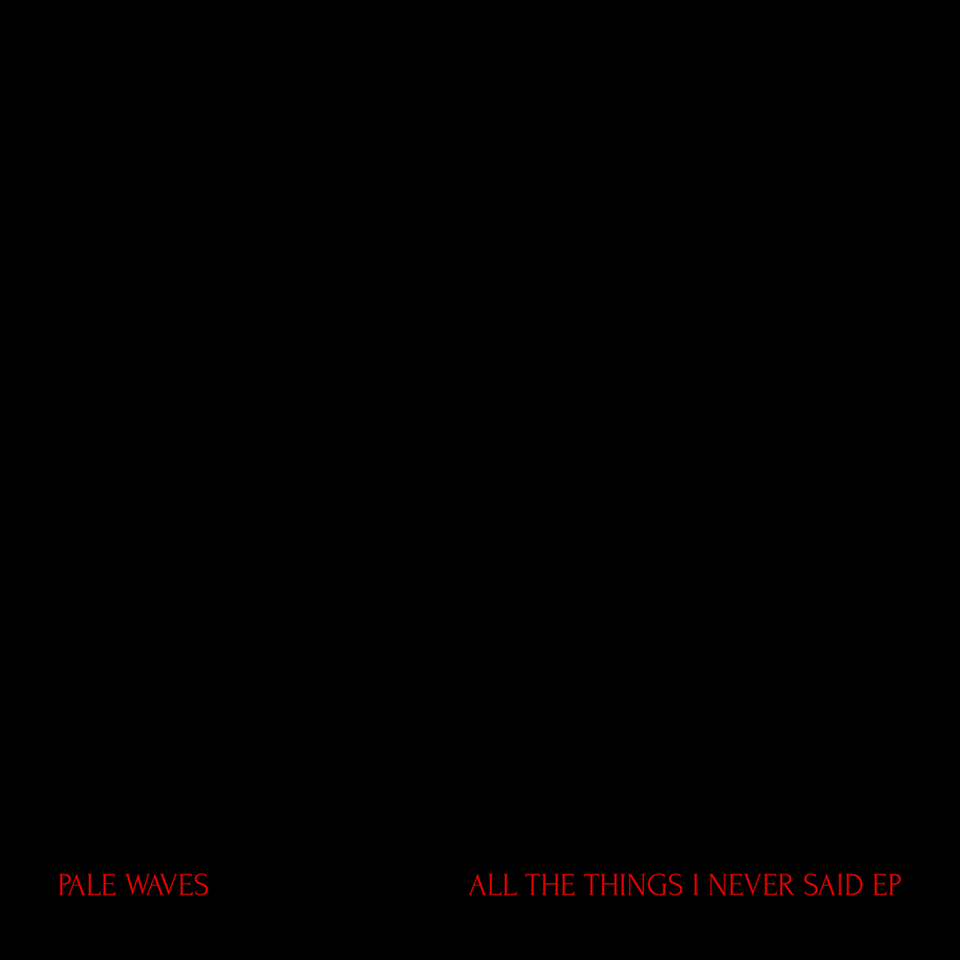 Pale Waves, an English indie pop band from Manchester, have been making a strong mark in the music industry. The gothic rock/dream pop foursome are celebrating the release of their debut EP, All The Things I Never Said. The EP features four tracks with an 80s vibe and melancholy vocals by lead singer Heather Baron-Gracie.
1.) "New Year's Eve"
The first track is a heart-wrenching start with gloomy and loving lyricism. Baron-Gracie addressed the song on BBC Radio 1 saying, "It's about a night on New Year's Eve. It was a very emotional night. I think a lot of people have gone through what I've gone through so [they] will relate to it."
"New Year's Eve" proves that heartbreak can get what it wants, and that is to hurt your feelings even during the happiest party. It can leave you wondering why it happened and how it ended. This song is pure sadness for those who have experienced its theme.
2.) "The Tide"
As the second track starts, you can feel the intensity of the guitar riff smashing your headphones or speaker. Baron-Gracie noted, "'The Tide' is the first ever song that we wrote as a band, so it means a lot to us and we went through a stage where we, you know, we didn't play it for a while because we had new songs and we got excited about them. But the fans were really sort of disappointed that we weren't playing it anymore, so we brought it back for the fans. We did update it a bit, but it's stayed true to what it was originally and we've fallen back in love with it again."
The instrumental throughout the song is a gleeful sound to dance along with. The second verse says it all, "I'll float with you, through the clouds, don't ever leave me, I can't see myself with somebody else, except you." This track is like a never-ending cry for love when someone makes you feel like you are very special and worth forgiving. "The Tide" is a devotion to someone you care about forever.
3.) "My Obsession"
"It's my favorite song. It's a very complex song, and it has a lot of influences," Baron-Gracie mused. From the whole EP, this one really caught my senses. The lyricism is pure poetry. It makes you feel like you need affection from someone who never touches your skin anymore – someone who is already gone. The main influence behind the song is Baron-Gracie's grandparents. She added, "When you see the video, you'll be able to tell that. I was influenced by how I watched my grandad react after my grandma passed, and how he dealt with that. 'My Obsession' breaks my heart every time we play it." The line that I really adore is on the outro, "And I swear I'll never stop loving you, and I'll die by your side if you want me to."
4.) "Heavenly"
The vibe of this track is similar to "The Tide." It starts and ends on a happy note. This is the song you'll probably fall in love with. The lyrics explore what it's like to be with someone so lovely that you don't want the night to end.
All The Things I Never Said is a melodic adventure of love and heartbreak. The EP covers everything that Baron-Gracie (and perhaps the rest of us?) never revealed to the ones who are important. Pale Waves' latest release is a diary that constantly bursts out love and pain through its pages – and I think that's beautiful. This album is definitely worth listening to!