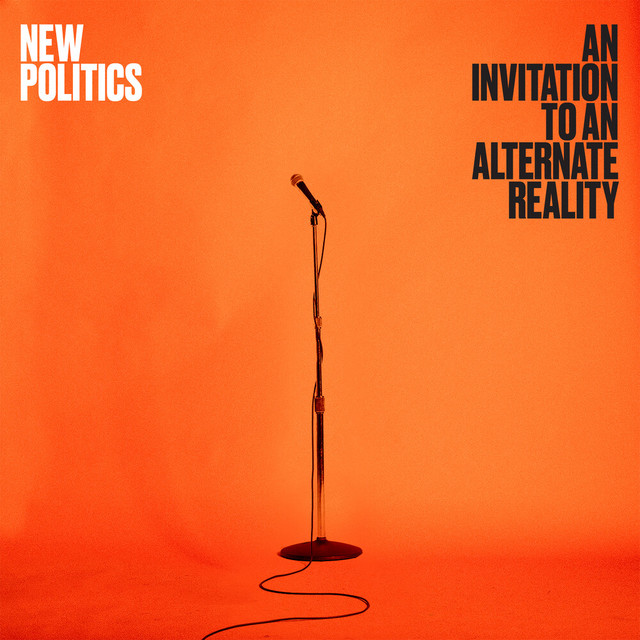 Doomsday scenarios can often be a source of inspiration in music, and it appears that Danish alternative rock and pop group New Politics have tapped this particular influence for their latest offering An Invitation to an Alternate Reality. Their most recent work finds New Politics taking on a darker, edgier, and rawer attitude toward their subject matter and performance as they explore themes of communication, society, speaking out against oppression, and the woes of being human. Frontman David Boyd delivers some of his most dramatic, swaggering, and visceral performances, and musically, the band delve into a vast array of influences and styles ranging from but not limited to reggae, pop-rock, hip-hop, and techno among others. New Politics are taking a go-for-broke approach toward creating and performing music that is daring, exhilarating, and full of experimentation and risk. While the switch-up may be a shock to fans of the band's more upbeat and carefree releases, this latest album is a fascinating signifier of where the band is now at musically and conceptually.
Subject matter-wise, An Invitation to an Alternate Reality at times touches upon topics of communication, modern society, and themes of heartbreak and relationships Musically, New Politics venture into more adventurous musical territory and adapt a thrillingly bombastic attitude toward genre. Opener "Unstoppable" demonstrates New Politics' grandiose new direction, and David Boyd is in commanding and invigorating form. The rest of the band deliver high-octane performances that more than maintain the momentum. Throughout the rest of the album, the band delve into their more conceptual side with tracks such as "Therapy" and "Let Your Head Go/Pretend It's 1995."
In terms of their sonic palette, New Politics aren't afraid to experiment. "Suspension" mixes together elements of hip-hop and techno with a contemporary edge, and "Death of Me" sees them bridging together their usual blend of pop-rock with layers of electronic music and showcases David Boyd at his most ferocious and uncompromising vocally, revealing a newfound grit and intensity. These explorations into more eclectic styles and sounds present this as one of New Politics' most dynamic and well-rounded records and casts a wider sonic scope than on previous albums.
For established fans of the band, some of the shifts in genre and subject matter may be a bit of a surprise, especially compared to the more carefree exuberance of their last record. However, for those who have been passionately following the band's progression, there's plenty of excitement and ambition to be found in New Politics' bold and vibrant new direction. Credit also goes to frontman David Boyd as his willingness to dive headfirst into fresh lyrical and musical territory results in some of the album's most emotional and surprising moments. With the release of An Invitation to an Alternate Reality, New Politics are forging ahead to grander heights while still representing their trademark soul, passion, and commitment. Now, that's not too shabby a reality if you ask me.
Songs to Spin: "Unstoppable," "Therapy," "Death of Me," "Let Your Head Go/Pretend It's 1995," "Ozone"