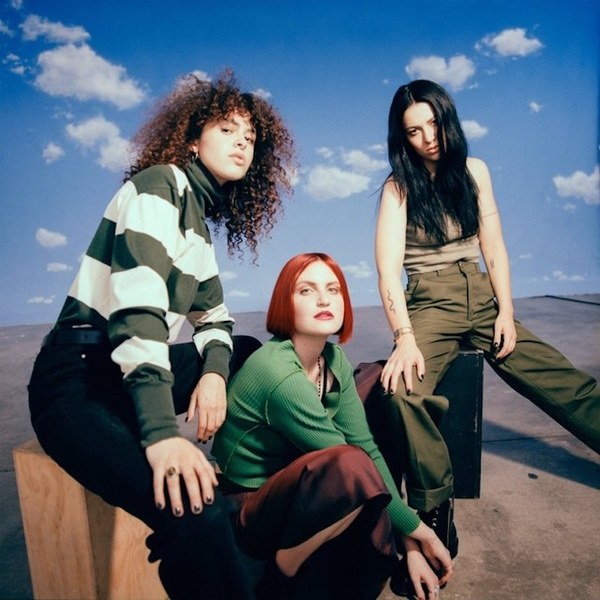 Bursting onto the music scene back in 2014, the LA electronic pop trio MUNA is back with their second album prominently titled Saves the World. With their hypnotic 80s dance tracks and addictive sing-out-loud song lyrics, Katie Gavin, Josette Maskin, and Naomi McPherson tackle serious topics like suicide, sexuality, relationships, and drugs. The album boasts 12 sensational tracks that are intimate, wildly entertaining, and most of all, inspiring.
While their last compilation, About U, highlighted injustice, finding your identity, and abuse, their new album focuses more on empowering listeners and making people feel okay in their own skin. On the popular track, "Number One Fan," Gavin sings about feeling like you're alone in the world and thinking of taking your own life. You can feel the compassion in Gavin's voice as she sings the chorus, "Oh my God, like, I'm your number one fan, so iconic, like big, like stan, like, I would give my life just to hold your hand," encouraging listeners to remember that you have to love and cherish yourself before you can love others.
Saves the World feels like the soundtrack to a romance movie starring Ally Sheedy and Emilio Estevez had they made a spinoff to The Breakfast Club just starring those two characters. More importantly, many of the tracks like "Hands Off" or "Pink Light" feel personal. It's filled with a variety of great ballads for any type of mood you happen to be in. It's an impressive album that will not disappoint.
I think the most important thing that Gavin, Maskin, and McPherson prove in Saves The World is that they're here to stay. With a UK tour right around the corner, it looks like Muna will be taking their positive vibes of inspiration and relatable storytelling on the road. If you like Betty Who or bands like Fickle Friends, you'll simply love MUNA. Check out their latest album now!