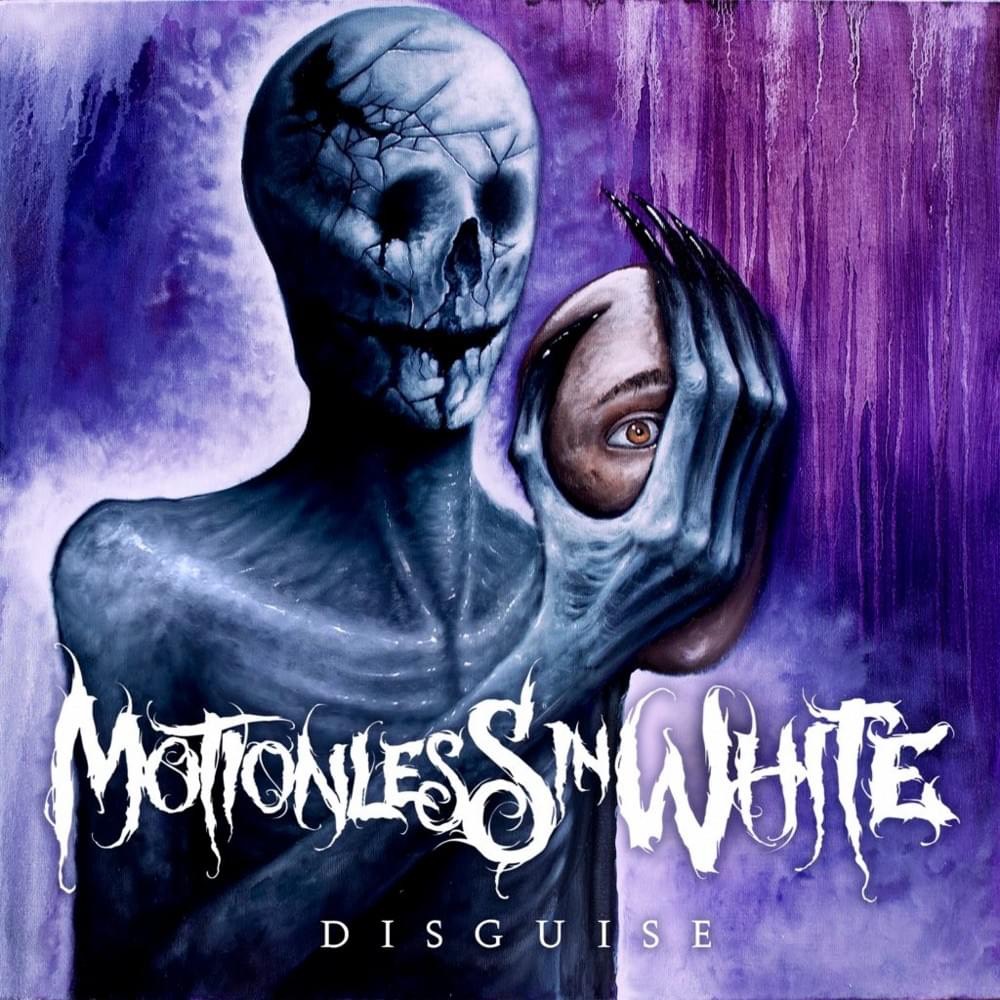 Pennsylvania metalcore band Motionless in White are known for their over-the-top, horror-inspired fictional songs. But during the creation their 2017 album Graveyard Shift, frontman Chris "Motionless" Cerulli decided to take a shot at a more personal piece, writing single "Voices" partly about his experiences with mental illness. Fan response was overwhelmingly positive, and it inspired Motionless to continue to open up.
"To me, music that was always that brutally honest were the lyrics I always clung to the most, so I felt a little more comfortable to do that on this record considering how fans received our song 'Voices.'" Motionless told Blabbermouth.com. "It's a pretty personal song… To see fans receptive to that type of lyrical material, I thought, 'Okay, I could finally use this outlet to get these things out there.'"
So, for their follow-up album Disguise, Motionless in White decided to wholeheartedly pursue this more serious style. The album is largely a departure from the band's usual story-driven horror-core, focusing instead on confessional songwriting and emotional depths. Opening number "Disguise" builds on both sonic and lyrical themes from "Voices," as Motionless screams with the best with of them and dives into the darkness his own mind. It's a harrowing headbanger that sets the album's stakes high.
On "Headache," "</code>," and "Thoughts & Prayers," the band adopts a rap-infused sound reminiscent of 90's nu-metal, and all three boast impressive elements. Self-loathing "Headache" is probably my favorite of the three. A violent industrial delight, all buzzing sound effects, record scratches, and guttural repeated phrases, it plays like a long-lost track from the Nine Inch Nails classic The Downward Spiral. "</code>" is less memorable overall but still features some noteworthy rapping and production. And "Thoughts & Prayers" is the album's heaviest song; with its dark religious imagery, lightning-fast hard vocals, and breakneck drums, it's a nu-metal beast straight from a gripping hell.
While 90's industrial is Disguise's most notable ancestor, several tracks show additional genre influences. On "Legacy," the band takes a stab at an oversized, percussion-driven stadium anthem; it's catchy, gothically grand, and a lot of fun. "Brand New Numb," meanwhile, is a rip-roaring Mötley Crüe riff — gritty, catchy and bristling with sex appeal. Both songs have grown on me with every listen, and I'd love to see the band continue exploring vintage rock sounds.
"Holding Onto Smoke" and "Another Life" are the album's most somber songs. Ballad-liked "Holding Onto Smoke" finds Motionless struggling to pull himself up from rock-bottom, while "Another Life" is an angsty, guilt-ridden break-up song. Both songs pack a good deal of raw emotional punch, but unfortunately, I do think they both sound a bit dated. They crib largely from 2000's post-grunge, but unlike the nu-metal tracks or "Brand New Numb," aren't quite innovative or playful enough to make the throwback style feel fresh.
Although the album is more serious overall, Motionless in White haven't abandoned their story-driven songs entirely. On "Undead Ahead 2: The Tale of the Midnight Ride," the band turns The Legend Of Sleepy Hollow into a pulse-pounding metal track prime for Halloween playlists. And "Broadcasting from Beyond The Grave: Death Inc." serves as the theme song for a fictional afterlife radio show; full of wordplay, bombast, and tongue-in-cheek radio voiceovers, it's the most imaginative and inspired song on the album.
The decision to create art based on difficult emotions is a brave one, and I commend Motionless in White's decision to write about their personal lives. Unfortunately, I don't think they've quite nailed the balance between emotional poignancy and their signature macabre showmanship. Throughout Disguise, the more exaggerated and fantasy-based songs still take center stage, while the more serious tracks are often less successful and fade to the background. Still, there's a lot to like about this album, and key songs like "Headache," "Brand New Numb," and "Broadcasting from Beyond the Grave" have potential to be long-term standards within the band's repertoire. Energetic, risk-taking, and fun, Disguise will resonate well with fans who find strength in Motionless in White's dark music.