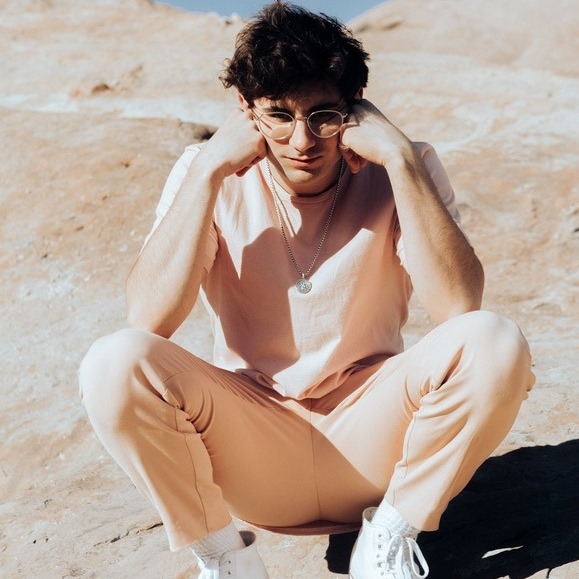 Making music and being an astronaut seem like two completely different professions; however, in some ways, they're much more alike than one would imagine. Both involve charting out new and unexplored territory and reporting back what's found to people who yet to experience it fully. For up-and-coming alternative artist Mikey Ferrari, there's a genuine sense of discovery on his debut EP SPACEBOY, which finds him grappling with themes of isolation, identity, mental health, and purpose – all while blending together genres and sensibilities with a vital, raw yet honest and eclectic approach.
As a listening experience, SPACEBOY finds itself straddling the line between sounds and styles ranging from electronica, alt-pop, indie rock, and even elements of trip-hop and R&B, making for a varied and surprisingly balanced sonic palette. Lyrically and vocally, Ferrari manages to craft songs that are both anthemic and soaring as well as intimate and soulful – a dynamic that offers a strong showcase for his melodic and vibrant range. Despite its relatively short runtime, SPACEBOY manages to feel cohesive and deliver a solidly crafted collection of songs.
Conceptually, SPACEBOY drops listeners into its hazy and ethereal atmosphere with brooding and energetic opener "Moving Slow," which features edgy lyricism among textured arrangements, offering a strong blend of raw intensity and haunting melodies. Elsewhere on the record, the production gives way to more serene and anthemic moments such as instant highlight and viral hit "Lunar Light," a sweetly infectious piece of indie rock featuring some of Ferrari's most tender vocal performances and lyricism thus far.
Songwriting-wise, the tracks here delve into heartbreak, isolation, and missed connections. These themes can easily be handled very heavy-handed, but thankfully, Ferrari's unique influences and fresh perspective keep each track concise and impactful. One of the most enjoyable aspects of SPACEBOY is how it at times melds together diverse influences and themes such as on "Wind Blows," which evokes indie-folk with an ambient element to it, resulting in a dynamic addition to the record. On the title track, Ferrari crafts an immersive blend of psychedelic pop mixed with touches of synth-pop and an alt-rock edge that adds vitality to the proceedings.
As a performer, Ferrari inhabits each track with the right amount of sincerity and style and adapts effectively to each track's atmosphere while still maintaining his own flair and presence. At just six tracks, some ideas may appear more fleshed out than others, but overall, each song provides something distinct and manages to build off each of the sonic elements here with sophistication and ease.
For many up-and-coming artists, it can be challenging to sum up one's appeal early on, but for Ferrari, his transparency and honest lyrical perspective is most certainly a factor – along with his ear for dynamic sounds and styles. The true scope of his potential as a songwriter and performer can be experienced in closer "Standoff," a shimmering arena-style anthem that contains some of his most passionate vocals along with some equally powerful songwriting that speaks to his blend of traditional and contemporary.
With the promise and potential displayed throughout, Mikey Ferrari makes a compelling case for his growing talent with SPACEBOY. Currently, Ferrari is experiencing a fair amount of success and steadily growing acclaim with placements from publications such as Alt Press and a growing following on current social media platform TikTok. With this current release, it'll be no doubt be fascinating to see where he goes artistically from here. If the results of this EP are any indication, Ferrari has quite a fascinating journey ahead. To paraphrase the astronauts who inspire this EP, it may be a small step now but could lead to some giant leaps ahead in the future.
Songs to Spin: "Lunar Light," "SPACEBOY," "Standoff"