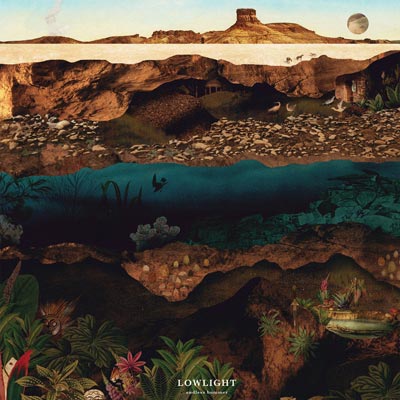 There are albums that exist as just merely a collection of songs and others that feel like their own universe, conjuring up a certain place and time effortlessly. Indie-folk and alternative outfit Lowlight, with their latest release Endless Bummer, channel the expanse of the wide-open west and the roadside bars of blues and folk rock mythology. The group have successfully created a hypnotic, intimate, and accomplished body of work that showcases their honest and organic storytelling.
Musically, Lowlight call upon influences as varied as Fleetwood Mac, Fleet Foxes, and early Dylan-esque lyricism and interpret it in their own unique and modern perspective. Lead vocalist Renee Maskin has an understated yet vulnerable presence that anchors these songs with a wry and authentic touch. Her songwriting is literate and complex, with insights that are rich, multi-faceted, and ambiguous in nature. These elements all culminate to make Endless Bummer one of the year's most original and endlessly layered listening experiences so far.
Endless Bummer's fresh and dynamic sound emerges fully on opening track "Give It a Minute," with its crisp synths and tight drums offering a polished yet infectious piece of alt-pop with echoes of 80's new-wave. Maskin's vocals are full of mood and confidence, and the rest of the band play off one another with precision and ease. In terms of musicality, Lowlight aren't afraid to mix together genres and styles and embrace an unorthodox approach. The track "Horsefoot" benefits from its off-kilter instrumentation, and it emerges as one of the album's more imaginative tracks. The band offer glimpses of their conceptual side with the suite of tracks "Clotheslines" and "Coastlines." Elsewhere on the record, the cinematic nature of Lowlight's music shifts into play with the Cohen Brothers-esque "Burkhalter" and stand-out track "The Unreliable Narrator" as one of the album's most mysterious yet alluring cuts – Maskin's rich lyricism springs to life here.
The themes of Endless Bummer make it a surprisingly human record. Bummer explores the feeling of finding one's self and examining the highs and lows of our every day existence. Track "Locals Only" is the clearest representation of this as Maskin waxes poetic about the mundane aspects of our daily lives yet manages to make them sound haunting and soulful. Underneath its imagery, Bummer celebrates the every day in a way that's not glamorous yet refreshing and strangely hopeful. While Lowlight's music does take time to dissect, like a strong glass of whiskey, the end result always manages to go down smooth.
These days, it can be harder to classify what makes an album truly compelling. With Endless Bummer, Lowlight have crafted a work that is not only fully formed but deeply felt as well. On a musical and thematic level, Endless Bummer announces Lowlight as a true and distinct voice whose potential is significantly emerging. Judging from the results of this record, the group are more than dedicated to the art of crafting music that is authentic as is it artful – all on a scale that's ambitious but still human-sized. The rewards are endless here, but they're certainly no bummer at all.
Songs to Spin: "Locals Only," "Give it a Minute," "Unreliable Narrator," "Burkhalter"