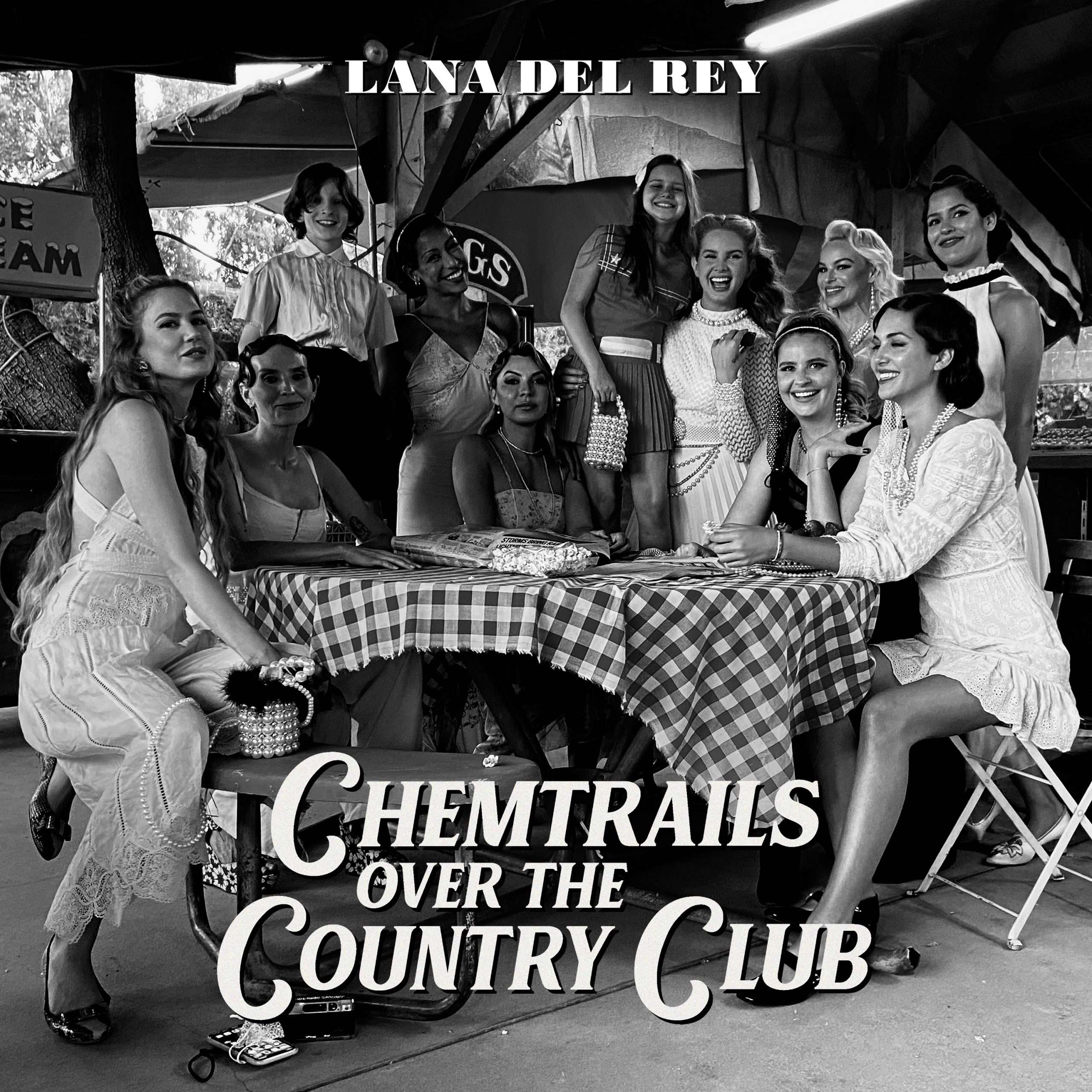 They say great things take time, and that surely applies to the growing progression of many musicians we know and love. For alt pop op songstress Lana De Rey, her career has seen many significant phases, but it's only recently with 2019's critically acclaimed Norman Rockwell that Del Rey has finally crystallized her lyrical and musical aesthetic to tremendous effect. Following up what many consider her most accomplished and mature record yet was bound to come saddled with expectations.
Thankfully, the notable growth and artistry displayed there manages to carry over on Chemtrails Over The Country Club which continues to mine Del Rey's obsession with 70's style songcraft and atmosphere with haunting and elegant precision. What's truly distinct here is that Chemtrails deviates even further from the pop realm of her sound and incorporates elements of soft rock, folk, and Americana along with some of her sparest and moodiest arrangements thus far. Opener "White Dress" is a stripped-down ballad featuring some of Del Rey's most vulnerable and searing vocal performances yet, with an equally stirring production to match. The understated delivery and production help to give this record an eerie yet cinematic mood all its own.
The focus on pure songwriting and organic production continues throughout the haunting and lavish title track and the hypnotic yet melodic "Tulsa Jesus Freak" which also demonstrates Del Rey's knack for personal and layered lyricism, illustrating a cinematic scope and style to the themes presented here. Much of Del Rey's previous work contains narratives that could've been lifted from film noir but here on Chemtrails, much of the material instead emphasizes connection, loneliness, and desire – all shot through with the utmost sincerity and soul. This refreshing take on the material results in some of the album's most immediate highlights such as the yearning yet lush ballad "Let Me Love You Like A Woman" and the smoldering ode to L.A. that is "Wild at Heart." Both tracks feature Del Rey exuding a newfound soul and sensitivity amid some truly gorgeously crafted melodies and harmonies.
Musically, Chemtrails spans a diverse range of influences from channeling 60's folk music on "Breaking Up Slowly" to 50's esque balladry on "Wild at Heart" and "White Dress,"  to elements of Americana on "Yosemite" and "Not All Who Wander Are Lost." These influences run much more organic and deeper than some of Del Rey's previous records. While there are arguably few moments as accessible as "Blue Jeans" off of Born To Die or "Freak" off of Honeymoon, the tracks Chemtrails contains have a deeper resonance and sonic richness that's deeply engaging throughout.
What's truly so fruitful about Chemtrails Over The Country Club is how Del Rey has navigated even closer to crafting her most personal era of music yet. Trading in the bombastic persona of her earlier work while building off of the escalating craft of her last record, Chemtrail serves as a rewarding and dynamic showcase for Del Rey's talents and illustrates her growing sense of humanity and honesty musically and lyrically. If there's one key track on this record that indicates where Del Rey is progressing musically, it remains to be the closing track "For Free," a cover of a classic Joni Mitchell song. Despite being a cover, Del Rey – along with guest vocalist Weyes Blood – manages to imbue her own haunting yet tender sensibility to the track and flows seamlessly with the entirety of the record. It's with this final track that Del Rey's mission statement is evident – to channel the great American songwriters of yore while crafting a contemporary vision all her own. Judging by the results here, she's well on her way to establishing a trail all her own; to paraphrase her own track, she may be wandering but she's by no means lost.
Songs to Spin: "White Dress,"  "For Free,"  "Wild at Heart," "Breaking Up Slowly," "Let Me Love You Like A Woman," "Tulsa Jesus Freak"