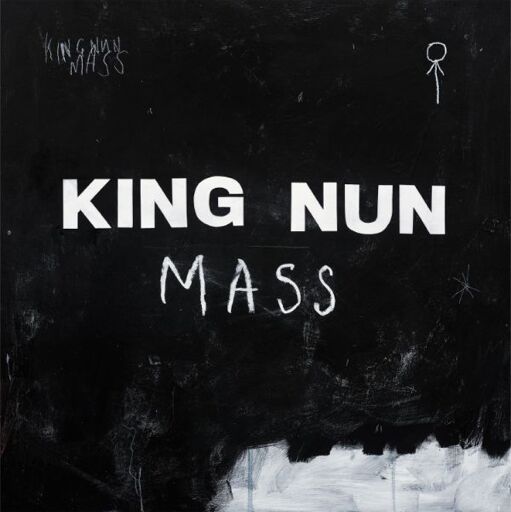 Punk rock has long been a popular staple in American music, and as of late has shown no indication of slowing down in terms of relevance. One of the latest acts to embrace the raw, gritty, DIY approach of the genre is English unit King Nun who are currently on label Dirty Head which houses other contemporary acts such as The 1975, Pale Waves, and The Japanese House to name just a few. The group have been recording and releasing music steadily for quite some time now and recently announced themselves in exhilarating fashion with their full-length debut Mass.
King Nun's style and attitude feel indebted to acts such as The Libertines and classic punk artists like The New York Dolls or The Stooges all while embodying a contemporary flair, resulting in a truly invigorating and refreshing listen. Throughout Mass, King Nun establish themselves as clever, emotional, and passionate performers whose exuberance and enthusiasm toward creating music is immensely satisfying.
The record's feisty, rowdy and energetic attitude emerges clearly on opener "Mascara Runs," a snappy garbage rock number that shows off Nun's brash yet vibrant style and features a delightfully charismatic turn for vocalist Theo Polyzoides whose swagger recalls a bit of early-era Iggy Pop and Lou Reed. Musically, the group embrace influences both modern and retro, and tracks such as "Chinese Medicine" and "Transformer" are hard-hitting heavy rockers full of edge and atmosphere with an old-school level of sophistication. The group have an organic sense of unity with one another, allowing each track to hit with maximum impact, remaining concise and filler-free.
Lyrically, King Nun explore topics of small-town struggles, modern relationships, making something of yourself, and the highs and lows of youth. This subject matter is universal, and Nun's perspective toward it is frank, funny, and at times, surprisingly human. The emotional nature of King Nun's music shines through in highlight "Black Tree" which contains one of the record's most visceral performances, and "Low Flying Dandelion" is a statement of just how complex and abstract the band can be lyrically and musically.
For a debut record, the boys of King Nun manage to deliver a strong mix of all-out rockers along with some more intimate numbers as well. The balance helps to anchor the record and give it a genuine sense of emotional resonance in the process. Another strong facet about Mass is how straightforward its rewards are. Some debut records have a habit of taking on more than they can chew but with Mass, King Nun give us an effective showcase of their talent while still paving the way for the future. As more and more artists draw upon past eras for influence and inspiration, the genre of punk will continue to remain ever-present.
With the arrival of their full-length debut, King Nun have proven that a good old-fashioned punk record is still very much a welcome commodity. Just wait until they make it to the states – now that'll be a mass to attend for sure.
Songs to Spin: "Black Tree," "Transformer," "Low Flying Dandelion," "Chinese Medicine"