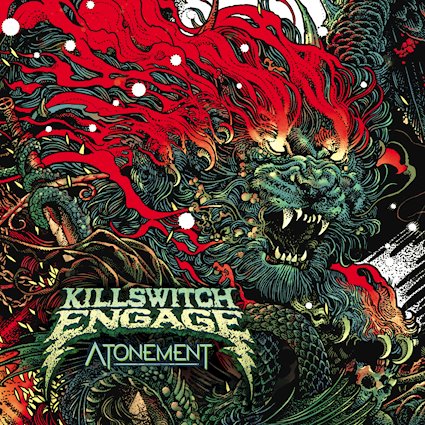 Hailing from Massachusetts, Killswitch Engage are back with a bang, delivering their iconic aggressive roar combined with melodic vocals. The quintet have improved this thrilling metalcore sound on their eighth full-length album Atonement – their first release via Metal Blade Records. Atonement comes after a three-year hiatus and follows up Incarnate released in 2016.
Standout track "Unleashed" kick starts the album. Jesse Leach's vocals are flawless, and his range is impressive. The song starts with a roar then leads into a calming melody – a pattern that can be heard throughout the album. With a catchy chorus and a mental breakdown, "Unleashed" was the best song put at the start!
If you've been a fan of Killswitch for a while, you know that former frontman Howard Jones (who now fronts for Light the Torch) created an exceptional track with current frontman Jesse Leach. "The Signal Fire" comes swooping in with a hard and heavy metalcore intro. The intertwining of their two vocal ranges is perfect, mixing it up with a deep growl, a high-pitched screech, and softer vocals from both.
Ahead of the album's release, Killswitch Engage dropped the single "I Am Broken Too" with a music video. A song that hits you right in the feels, it's a track filled with heavy emotion; it lyrically brings pure realness to mental health issues we all face, including the torture felt throughout our struggles. Leach's vocals are overpowering and make the track meaningful. The song starts with the lyrics, "But I see right through / because I am broken too / in all the same places as you / if you needed proof, I'll reopen the wounds," describing the way that "broken" people can relate to others who have been through past trauma. The song reinforces that it's ok to not be ok, and no matter what you do, you're never alone.
The heaviness kicks back in with ''Know Your Enemy'.' This track would cause a major riot at shows! From start to finish, it's chaotic and intense. Killer guitar riffs and thunderous drum solos really make this track shine. ''I Can't Be the Only One'' has a more eerie sound, with a punk rock instrumental shining through it while still keeping the heavy element.
If you haven't listened to Killswitch Engage before, you must put them on right now, and give them a listen! Constantly putting out music that relates to their struggles, they share their journey and unique sound while expressing that they don't follow suit of anyone else. Killswitch truly know how to deliver something their audience will like – every song has its stand out moments and grips you in within the first few seconds. Atonement shows that waiting is worth it.
Songs to Spin: "I Am Broken Too," "The Signal Fire," "Unleashed," "Know Your Enemy," "I Can't Be the Only One"