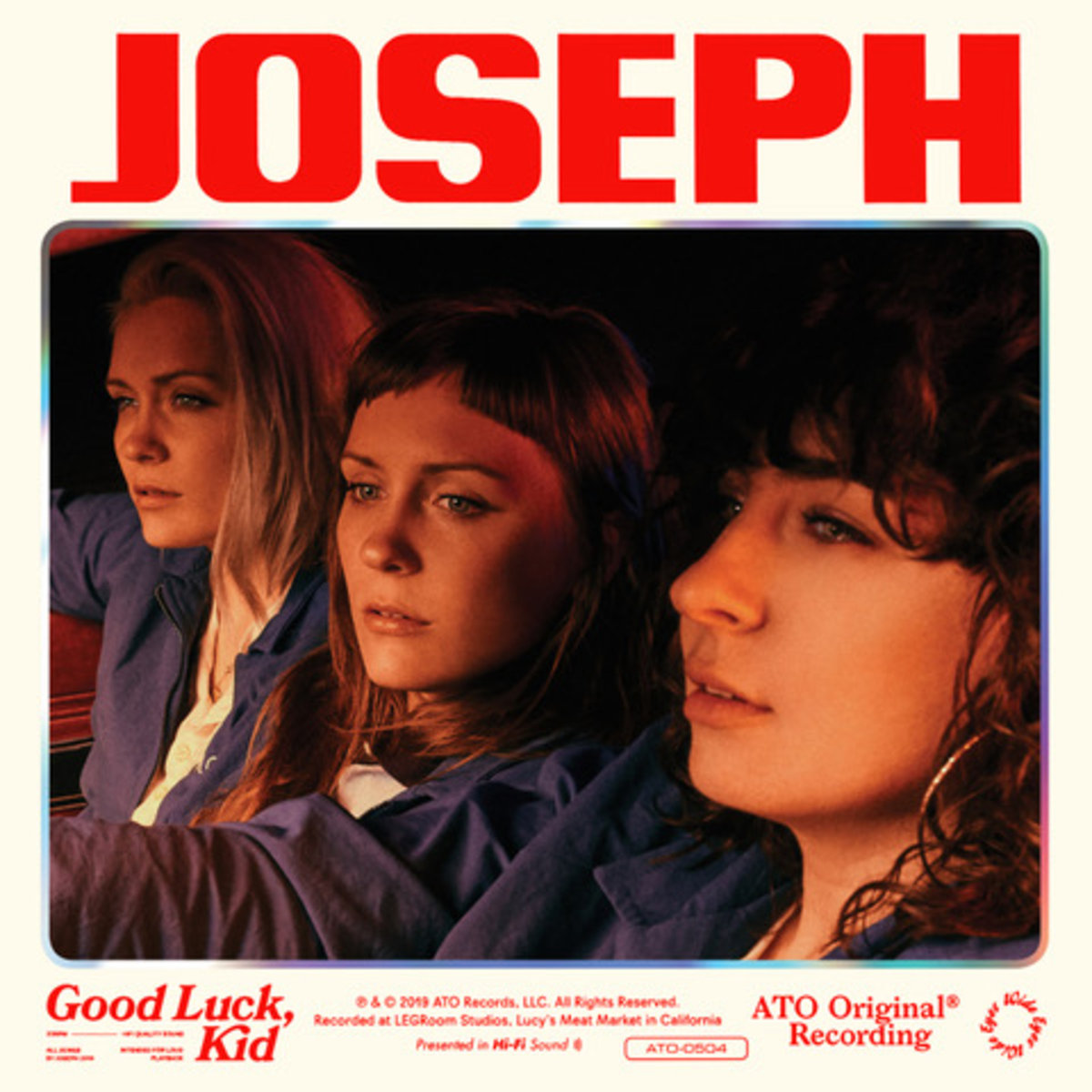 The first time I came across Joseph was when I watched the official live video for their latest single "Green Eyes." Backed by a full band, there were three women at the forefront of the stage, standing at their microphones with confidence and fearlessness that emanated through the screen. What first sounded like the start of a typical country song only got better and better as it went on, making me question what kind of song it actually was. By the time they reached the first chorus, and I heard, "Those green eyes are my green light," I was yelling curse words out of amazement and joy.
Joseph is a Portland-based band – fronted by Natalie Schepmand and her sisters Allison and Meegan Closner – whose sound is hard to pin down but only in the best ways possible. Some call their breathtaking harmonies reminiscent of a folk sound. Others say their musicality is more pop. All I can say after sitting down with Good Luck, Kid is that good music is good music, and perhaps that's the only label that matters.
You can hear invincibility and fierceness through the title track "Good Luck, Kid," and more than the amazing lyrics and incredible hard rock vibe, I think the strength lies in the trio's undeniably perfect use of harmonies. As they sing, "They handed you the keys / The driver's seat is yours now," the heavy bassline and dark sound juxtapose the positive idea of wishing someone "good luck." Here, it becomes very evident that Joseph are not only a trio of talented performers but also incredibly thoughtful in their lyrics and musicality – the perfect combination for taking on the music world.
Good Luck, Kid is the perfect album to play if you're looking to introduce Joseph to someone who's never heard of them before. It jumps all over the musical spectrum. The album says, "There are no lines we're not afraid to cross." It shows off the band's talent at how eloquently they're able to move from heavier rock ballads like "Presence" – which is dark and heavy in drums with deep and daring vocals over a brave electric guitar – to raw and unfiltered truth in slower songs like the beautiful "Revolving Door," and "Room for You." Tracks like "Half Truths," and "Green Eyes" bring pop and fun to the trio's sound. There's something on this record for everyone.
The honesty that lies in their lyrics brings a realness to their eclectic sound. Their chemistry as both sisters and as a band is revealed when you listen to the album and can hear a perfect blend of three personalities coming onto a singular piece of artwork. Their incredible harmonies scream, "We're untouchable and ready to take on the world." Good Luck, Kid is the album that will inspire you to push yourself, call upon a reflection of your past, and make you dance in celebration all at the same time, and if I had any say in it, I would gladly hand Joseph the keys so that they'd be able to drive themselves to wherever it is amazing artists go when they're ready to take over the world.
Joseph are headed out on tour this fall! Get your tickets to see them here.