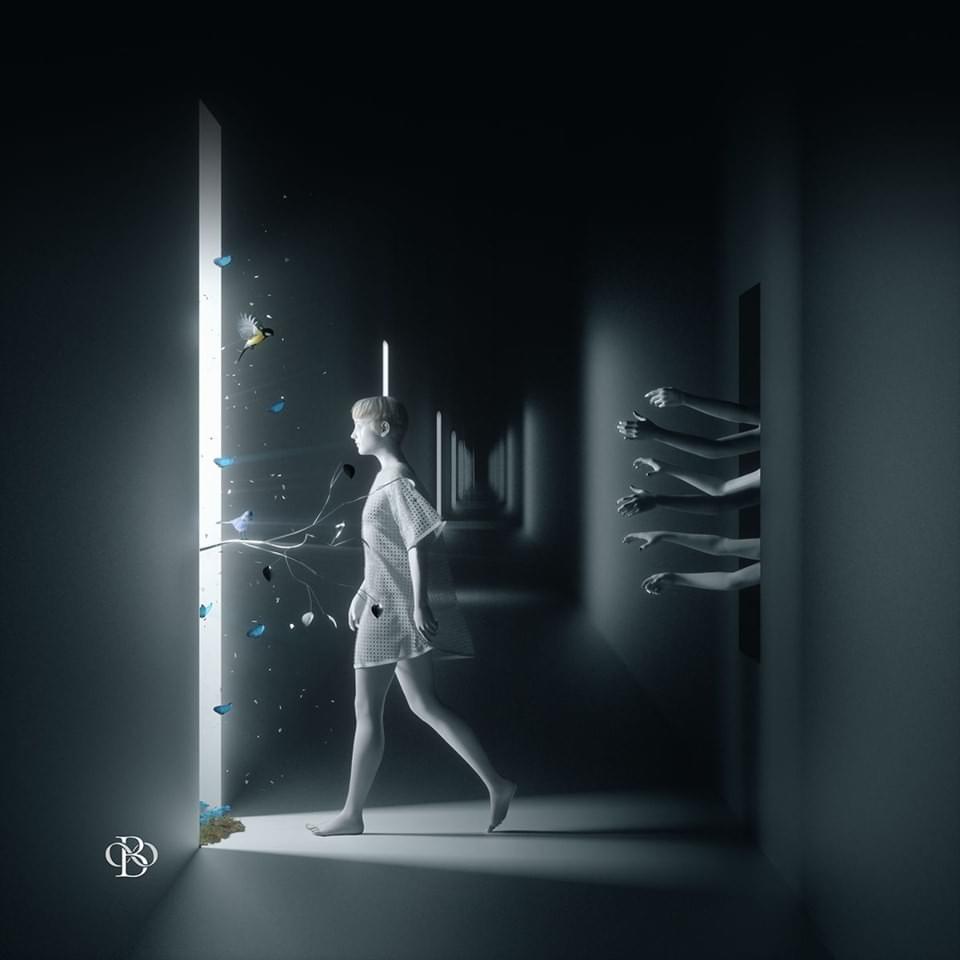 Tyler Carter moonlights as a soul singer.
In 2015, the Issues clean vocalist released his solo EP Leave Your Love, which he followed up earlier this year with the full-length album Moonshine. Although Carter is best known for his work with metalcore bands Issues and Woe, Is Me, his solo work is primarily R&B and Sam Smith-style pop. So, perhaps it should come as no surprise that, since the recent departure of heavy vocalist Michael Bohn left Carter as the band's sole frontman, this penchant for soulful pop would make its way into Issues' discography. Issues have always been known for playing extensively with contrasting genres — mashing up hardcore, electronica, hip-hop, and pop into a sound uniquely theirs.
The band's third full-length album Beautiful Oblivion continues this genre exploration. But where their previous albums were fairly heavy and focused on metal, Beautiful Oblivion is softer and more reminiscent of Carter's solo work. It doubles down on the hip-hop and incorporates aspects of R&B, pop, and gospel. Take, for example, singles "Drink About It" and "Flexin." Mid-tempo "Drink About it" is still definitely still a metal song, but it's a notably soulful and melodic one, full of staccato rhythm and clean edges. "Flexin," meanwhile, eschews metal entirely in favor of a bouncing dancehall beat and poppy vocals. It's a 180 turn from the band's best-known songs, but it works remarkably well, thanks largely to a fantastic performance from Carter. With his smooth falsetto and upbeat vocalizations, Carter handles pop with a Justin Timberlake-like sense of playfulness and easy sex appeal; as the now singular frontman of the band, he more than holds his own.
Other notable pop and R&B-like tracks include "No Problem (Keep It Alive), "Find Forever," and "Your Sake." "No Problem" and "Find Forever" are both bright and catchy, with clever use of jazzy instrumental riffs and gospel-tinged bridges. "Your Sake," meanwhile, is a heartfelt, guilt-ridden breakup ballad. Piano-driven and delicate, it has a timeless quality — it's somewhere between an emo-infused Secondhand Seranade ballad and retro-influenced Bruno Mars one — and packs a strong emotional punch.
While Beautiful Oblivion employs a softer sound overall, Issues haven't completely abandoned their hardcore roots. Songs like the raging album opener "Here's To You" and the screamo-tinged "Second Best" are moody, heavy and dark — a reminder that Issues, for all of their genre-bending quirkiness, have always been a top-tier hardcore band — while the head-bopping "Without You" and moody "Rain" achieve an excellent of blend of dark and light. There are moments on the album where the band's experimentation doesn't quite pull together — "Downfall', for example, feels disjointed, and I wish some of the more straightforward metal songs like single "Tappin Out" were a lot heavier. But for the most part, Issues' take on "R&B-core" is engaging and effective.
"R&B," "gospel," and "metalcore" aren't necessarily genres you'd think of in the same breath, but the unexpected combination works in Beautiful Oblivion's favor. By refusing to conform to strict genre lines, Issues have proven themselves to be a boundary-pushing band with immense skill, creativity, and flair. Dramatic and distinctive, Beautiful Oblivion is a musical risk well-taken.