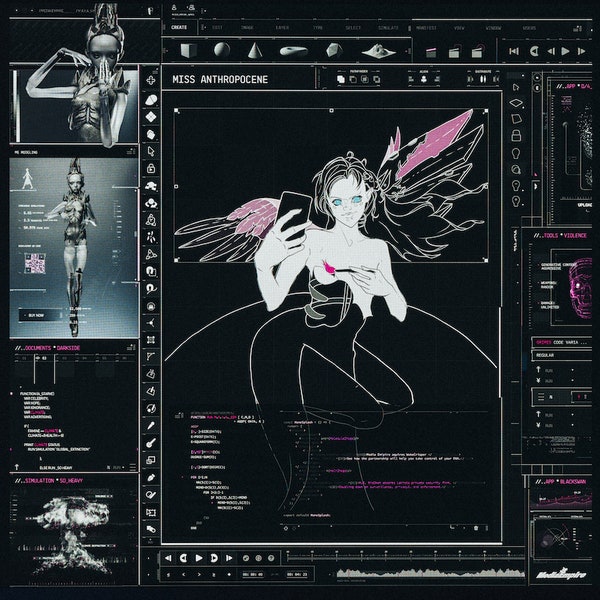 When one thinks of pop music, it's generally associated with a number of things. Whether it be catchy hooks, bright and bouncy production, or slick choreography, the genre has in recent years veered away from these associations and embraced the more artful and surreal. Of the many artists who are currently reworking the genre, arguably none have utilized it to experiment or subvert influences more so than alt-pop wunderkind Grimes.
Over the course of her discography, Grimes has taken a DIY approach to the genre and completely expanded its sonic palette all while edging closer toward accessibility and wide-spread acclaim. Her third record Art Angels saw her merge the avant-garde aspects of her sensibility with her more outwardly pop tendencies and helped cement her as a modern vanguard of the genre. Now, with the release of her latest record Miss Anthropocene, Grimes crafts arguably her boldest move yet and veers away from accessibility, launching her most ambitious, imaginative, and arguably personal collection of work yet. And she's done so in a manner that's sure to excite, bewilder, and polarize listeners – maybe even all at once for some.
The aesthetic and production style of Miss Anthropocene trades in the vibrant sheen of Art Angels for rawer, grittier, and experimental sounds and textures that showcase Grime's growing ambition and scope as an artist. Opening track "So Heavy I Fell Through The Earth" is a sprawling six-minute number that announces itself in gothic industrial-style before it evolves into something disarmingly vulnerable. The arrangements here rely heavily on atmosphere and effects, which jarringly shift listener expectations at every turn.
In terms of sonic palette, Grimes abandons any sense of comfort or playing it safe in favor of risk and invention. This approach can be found in tracks "Darkseid" and "Delete Forever." The former delves into a mix of K-pop and hip-hop, and the latter is a warped indie-folk and pseudo-country number that features one of Grimes' most human yet off-kilter vocal performances. The merging of genres here is a fascinating aspect and one that creates some of the album's most rewarding moments. Tracks "Violence" and "My Name is Dark" utilize traditional structures and then proceed to demolish them. The former track escalates into a hyper-kinetic electronic dance number with brooding undertones. The latter sees Grimes immersing herself within elements of trip-hop while delivering some of her most unique and commanding vocal performances.
Taking just one look at her discography, it's clear Grimes is no stranger to inhabiting her songs with abstract and cinematic scale ideas. However, what emerges as one of the more surprising elements here is the newfound vulnerability and intimacy buried underneath the experimentation. "You'll Miss Me When I'm Not Around" is a hyper-stylized number on the surface but lyrically finds Grimes exploring some very raw and sincere feelings of longing and desire. Throughout the record, Grimes' subject matter circles around feelings of isolation, identity, longing, and connection. These themes are no doubt inspired by her current pregnancy which has been frequently publicized. The tenderness and openness with which Grimes handles these themes adds a rich emotional layer to the proceedings and invites repeated listening. The most prominent moment where Grimes' newfound humanity merges with her abstract artistry is closing track "IDORU," a stirring and shockingly romantic number that features one of her passionate and unguarded performances. It's in this track where Grimes the artist lets us witness her as Grimes the human, and the results are arguably the album's most revealing and accomplished moment.
Much of modern pop music is characterized by a desire to break down conventions and norms of the genre these days. With her fourth album Miss Anthropocene, Grimes has claimed a further stake in her bid to conform the genre to her own imaginative and eclectic ideas, with an added layer of humanity and feeling to spare. After a full listen, it's curious to think of where Grimes will progress as an artist from here. While that answer may not be definitive yet, if she can continue making music this evocative, personal, and unique, then the future looks bright indeed. If there's one true accomplishment gathered here, it's that Grimes reveals her most compelling move of all time – that's she human just like us.
Songs to spin: "IDORU," "You'll Miss Me When I'm Not Around,"  "Delete Forever," "Violence," "So Heavy I Fell Through The Earth"