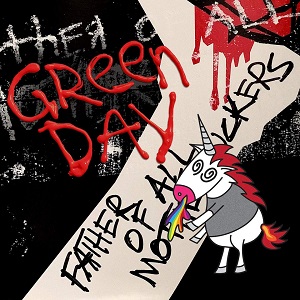 Growing up in the 2000s, I thought of Green Day as a band of politics and grandeur. Here were three cool-dad types, writing rock operas and Broadway musicals and performing songs for humanitarian aid projects. They were the grown-up punks we all aspired to be: mature and wise but still cool, tuned-in to the world around them, and unafraid to speak truth to power.
This American Idiot and 21st Century Breakdown-era Green Day is so legendary that it's easy to forget that the band came from much smaller roots. The pop-punk trio started out in California's underground scene before hitting it big with 1994's Dookie. Their early works — albums like Dookie, 1991's Kerplunk, and 1995's Insomniac — were the kind of pop-punk you'd write in your garage — personal and witty and full of youthful angst.
And now, some 30 years later, Green Day is returning to those lo-fi roots. For their newest release, Father of All…, the band is throwing back to their early years, eschewing the pomp-and-circumstance of their rock opera phase in favor of a straightforward punk album. At just 26 minutes — exactly one minute beyond the 25-minute dividing line between a full-length album and an EP — Father of All… is the band's shortest album ever, and it zips by in whirlwind breeze. Lighthearted and cheeky, this is Green Day unplugged.
Boisterous title song "Father of All Motherfuckers" serves as the album's opener. Rhythmic and rowdy, it's a song that could just as easily have been come from the 90s or from London's 1970s punk hey-day. This vintage flair is prominent throughout the album, with many other tracks coming from the same upbeat, hook-heavy wheelhouse. Standouts include "Stab You In The Heart," a bouncy dance number with a Beatles-esque melody, single "Meet Me On The Roof," an energetic ode to hedonism and love, and "Take The Money and Crawl," which is just good dirty fun.
Other tracks feel more distinctly 90s. Single "Oh! Yeah!" for example, is an indie-tinged picture of Gen X irony, while brooding "Junkies on a High" has the hazy, psychedelic sensibilities of a Red Hot Chili Peppers song. And "I Was A Teenaged Teenager" is a self-aware piece schoolhouse blues, a silly send-up of 90s grunge that's equal parts snarky and sympathetic towards its adolescent subject.
There are nods, too, to the Green Day of the 2000s. "Sugar Youth," for example, borrows whole measures from American Idiot's "She's A Rebel," while "Graffitia" could easily be a passage of that same album's suite "Jesus of Suburbia." "Graffitia" is also the closest the album gets to American Idiot's political content; a portrait of a run-down nowhere town, its lyrics mention topical concerns like poverty and police violence. There's a lot of frothy entertainment throughout Father of All…, but "Graffitia" seems to have more on its mind, and that makes it the most interesting song on the album. Green Day have proven time and again that they are masters at using punk rock for social change; "Graffitia" makes me want more of that.
If the cover art — a crude rendition of American Idiot's iconic heart-shaped hand grenade, super-imposed against a cartoon unicorn — is any indication, Green Day are aware that this new album exists in the shadows of their past works. And I'll admit, I did walk away from Father of All… wishing for something weightier. Still, there's nothing wrong with a boisterous retro romp, and while this might not be a landmark Green Day album, it sure is a fun one. Thirty years into their career, the trio still play adolescent rebelliousness to a feisty T. They may have grown up, but they haven't grown old.