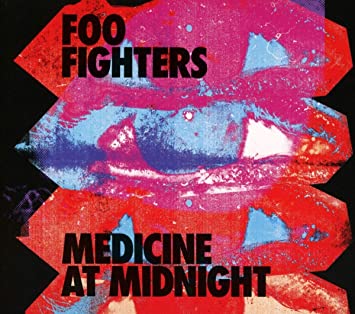 Throughout their two-plus-decade storied career, the Foo Fighters have won countless awards and tons of rock recognition. But more importantly, they've done a spectacular job of being a well-balanced, versatile band that can adapt and stay consistent with the changing times. With their latest album, Medicine at Midnight, we get the sound quality we expect from a legendary band like the Foo Fighters with a mix of a more mellow feel and some pop thrown in. Medicine at Midnight is a brief but bountiful 36 minutes of genuine tunes you'll enjoy.
The album kicks things into motion with "Making a Fire," a song that will be sure to have you dancing in circles in your living room. It has a nice steadiness of light guitar riffs, drums, and a catchy gospel chorus boasting the words "Na-na-na." The organic nature of the track makes you feel as though the Foo Fighters were happy to be recording again since their last record, 2017's Concrete and Gold. It's hands down one of the coolest tracks on the album and most likely will become a fan favorite.
Another kickass track on the album, "Waiting on a War," was inspired by David Grohl's daughter and touches on his fears in the 80s of America going to war with countries like Russia or North Korea. It's a relatable song that shows that America is still dealing with the same violent things that were going on 20, 30, or even 50 years ago. Most of the track has a relaxing familiar tone but starts to speed up towards the end. The last minute or so build-up will remind you of a time before the pandemic when we could go out to concerts and head nod in a mosh pit.
My absolute favorite song on the album is the title track "Medicine at Midnight." It reminds you of songs like "Under Pressure" and "Let's Dance" by David Bowie. Grohl's voice mixed with the background vocalists will just give you goosebumps. It feels like 70s rock with several new-age sounds. If you close your eyes, at times, Grohl even channels his inner Bowie during the song.
Medicine at Midnight was originally supposed to be released back in 2020 but of course, like everything else, due to the pandemic was pushed back. Thankfully, Grohl and the band decided to release it now, and it was well worth the wait. While we can't enjoy concerts at the moment, you can still push your couch back and get your groove on at home to this record. Medicine at Midnight continues to push the Foo Fighters into new and transformative territory.