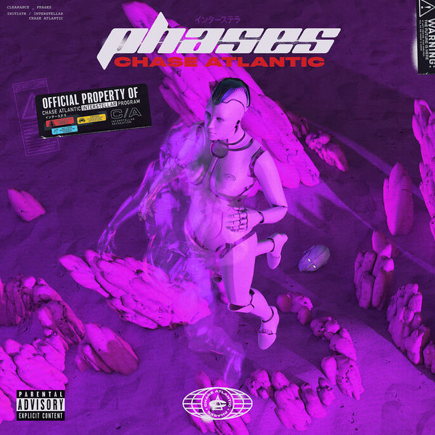 Alt-pop trio Chase Atlantic are coming into their own this year. After dropping an EP in January, the trio have finally released their debut album Phases. The album expands upon the group's woozy, hypnotic, and dreamy sound all while being vulnerable, soulful, and intimate as well. Musically, Chase Atlantic incorporate several musical elements from trap, trip-hop, and Soundcloud rap to even 90s R&B. Lyrically, the themes from their EP are fleshed out more as they continue to examine heartache, obsession, materialism, and fame – all set against their lush and moody arrangements. As a debut, Chase Atlantic emerge with a fascinating sound and style while exploring the confines of their genre in the process.
In terms of production, Phases feels more fully arranged and crafted than their previous work. Opener "ANGELS" is a shimmery, melancholy pop number with elements of soul weaving through. It helps too that Phases feels more conceptual in tone and structure than Don't Try This was. The way Chase Atlantic blur genres makes for some truly compelling results such as the groovy "LOVE IS (NOT) EASY" which examines the complexity of lost love. Moments such as these showcase growth in Chase Atlantic's songwriting and performance. Aspects of their hip-hop style surface on track "HER," a hypnotic number about romantic obsession that draws the listener in.
While at times they lean into lyrical cliches, Chase Atlantic have grown more confident and mature as songwriters, and their lyrical concerns run deeper here. Their songwriting is decidedly more confessional on Phases, thus adding emotional weight.  The band candidly explore mental health on tracks "STUCKINMYBRAIN" and "EVEN THOUGH I'M DEPRESSED," and on highlight "HEAVEN AND BACK," they dive into decadence in the form of an 80s style synth-pop number. The subject matter feels much more direct and honest than before, and the band expands their sonic range quite a bit.
While much of Phases manages to be an engaging listen, there are still some aspects in which the trio are growing. Although it's admirable to see them experiment with genres, at times, Chase Atlantic can't seem to fully pin down their style. In other instances, their lyrical themes can veer toward repetitive, resulting in a few tracks that sound overly similar. Despite these shortcomings though, Phases still contains plenty of promise and a stronger focus overall.
When crafting a debut album, there's usually a fair amount at stake. First impressions are important, and Chase Atlantic signify their unique and emotional sound on Phases. While the trio are still evolving, their musical scope and themes feel more well-rounded than before. As a listening experience, their latest album proves to be an engaging collection of songs that represent the trio's range, progression, and craft. Let's hope their newfound growth is more than just a phase.
Songs to Spin: "LOVE IS (NOT) EASY," "HEAVEN AND BACK," "HER," "ANGELS"