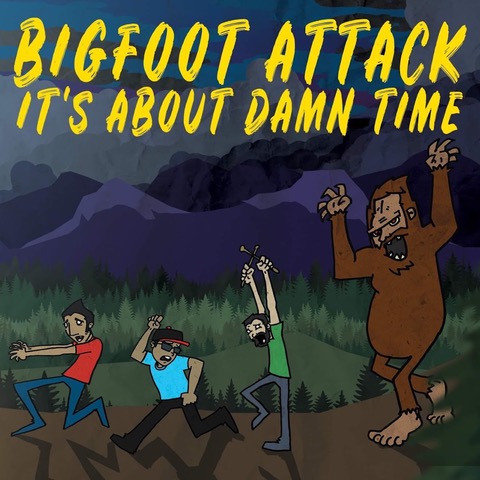 As the famous director Kevin Smith once said:
"People from New Jersey have to try harder because we're living in the shadow of New York. New York is Jesus, and we're his brother… Slappy Christ."
I feel like the same can be said for Fresno, except we're in more than one shadow.
(Well, and we're not even really good enough to be Jesus' brother. We're more like his weird uncle that nobody talks about, but I digress.)
It's hard to be a band in California anyway – the market is wildly oversaturated. But to be from Fresno, it sometimes feels like we're drowning. To our north, cities like Berkely, Oakland, and San Francisco are home to people like Green Day, Rancid, and NOFX. To our south, Orange County and cities like Los Angeles have bands like Pennywise, Blink-182, Black Flag, and even No Doubt.
All this to say – we try a lot harder, and for that, the music that comes out of Fresno is excellent.
Today's morsel of excellence comes from a band called Bigfoot Attack (formerly 24 Hour Bigfoot Attack). Made up of a few juggernauts of the Fresno scene, locals in the know already expect a well-written, self-aware, and supremely polished product – which the band, of course, delivers.
But for those of you who don't know, I can't recommend this band enough.
Harkening back to the days of Blink-182, Bigfoot Attack doesn't take themselves too seriously, and it's a welcome breath of fresh air against a number of alternative bands who are trying way too hard. Even the title, It's About Damn Time is a self-deprecating reference to the fact that though they've been a band for a while, this will be their first full-length release.
Aside from the much-needed levity they bring, Bigfoot Attack write good music – solid, unpretentious pop-punk (with hints of ska-punk!) that is easy to dance to, fun to sing along to, and definitely something that you look forward to seeing live.
Tracks like "Arrogance is Bliss" and "Songs for Lovers" not only feature catchy riffage but also have strong hooks that will undoubtedly get stuck in your head after the first listen.
Which is another great point to bring up – every song is tight, from song structure to production value. Sometimes, independent bands like this fall victim to the freedom they have when unburdened by a label, leaving listeners with something long-winded, self-indulgent, or sloppy. Thankfully, Bigfoot Attack does no such thing, and instead gives listeners an excellent debut and an excellent taste of the best of the Fresno DIY scene.
(Yeah, it's DIY.)
Ultimately, Bigfoot Attack's It's About Damn Time is a phenomenal effort, and what I wish I could give to everyone when they ask me about what the music scene in Fresno is like.
I mean honestly – if this what they can put out themselves, can you imagine what they'd sound like with a major label?
(Actually – don't answer that.)