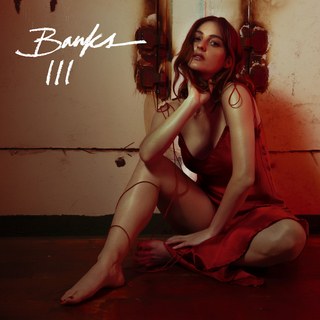 Pop music is full of narratives of artists waiting for the moment when they're finally fully embraced into the mainstream. Alt-pop artist Banks has been steadily building herself up these past few years, and with her latest release III, she may very well now have her seminal album. III builds and expands upon the gothic and dreamy synth-pop of her past releases but also feels more intimate, raw, and visceral. The production is more bombastic and slicker than before, and Banks' performances are more commanding than ever, allowing for some of her strongest moments to date. Banks approaches her material with more flair and extravagance and while the results may not be subtle, they are undoubtedly her most exciting and assured collection of songs yet.
From the first track onward, III isn't about scaling back or restraining itself. Opener "Till Now" sees Banks embrace electronica with a more pronounced edge. She truly dominates the show on tracks "Contaminated" and "Gimme." What's so striking about III is how committed Banks sounds – each track feels like it's being played for keeps, and vocally, her range is deeper and more layered. The immediacy of her songwriting is notable too, with the lyrics emphasizing intimacy, heartbreak, and sexuality. A genuine highlight is her debut with Francis and the Lights "Look What You're Doing To Me," a glossy and dramatic number that's cinematic in nature.
Production-wise, III feels much more cohesive and unified than past releases. III's sound is more textured, with moments of staggering intensity coupled with understated mood. The sonic range of III is apparent on two of its stand-out tracks, "Hawaiian Mazes" and "What About Love."  The former embodies the ambient side of Banks' music while the latter is one of her more soulful and understated numbers. The progression in sound and songwriting demonstrates that III as a more mature and personal record.
III serves as a triumph, ultimately due to how realized it feels. In the past, Banks' albums were full of great moments but sometimes felt as if they were more so a set of songs than a body of work. III feels more accomplished and has a genuine sense of momentum and purpose. As a performer, Banks has never felt more present, and her songwriting is much deeper and honest. With III, Banks has finally delivered the personal statement she's always been capable of.
Pop music will always be about artists solidifying themselves. For some, it happens sooner than others, but with III, Banks has her first true artistic statement. Where she'll go from here is yet to be determined, but Banks has proven what her fans have already known – that she is indeed the real deal. Looks like the third time really is a charm.
Songs to Spin: "Contaminated," "What About Love," "Look What You're Doing To Me," "Hawaiian Mazes,"  "Gimme"