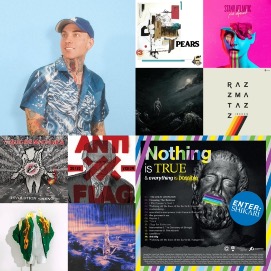 2020 has become the new synonym for "Dumpster Fire." The entire world suffered as the coronavirus took more than its fair share from us this past year. It tried to take music from us by shutting down the venues, but that didn't stop artists from being heard. For many, music has been our only saving grace getting us through this time. Take a look back at some of the new albums released that kept us sane in 2020.
Machine Gun Kelly rocked the scene – literally – with his release of Tickets to My Down Fall. Yungblud got Weird while we were all in quarantine. Green Day cradled us with Father of All Motherfuckers. The Used fixed our hearts with Heartwork. Hayley Wiliams ventured out on her own with Petals For Armor. All Time Low gave us an emotional wake-up call with Wake Up Sunshine, and 5 Seconds of Summer brought us back to center with Calm. Our ears were also blessed by blasts from the pasts like Sepultura, Stone Temple Pilots, Nada Surf, Psychedelic Furs, Bush, and The Flaming Lips.
Some albums didn't hit the charts as hard but were as equally noteworthy and much needed such as:
Anti-Flag – 20/20 Vision
Starting the year off, the political-based punk band from Pittsburgh dropped a heavy record continuing their fight against fascism. They ended the year with a Dying Plea. Vol. 1 and 2, focused on systemic racism.
Pears – Pears
A warranted outlet with a little something for everyone. This album from New Orleans punk band Pears gave us an all-around full spectrum of hard, heavy, and fast sprinkled with a little pop. We were definitely running living room circle pits with the dogs.
The Suicide Machines – Revolution Spring
This Detroit punk band found their way back into the studio after 15 years, and it was well worth the wait. Showing up just when we needed it the most, protesting racism, police brutality, and dealing with addiction. Some of us shouted along through the tear gas.
Enter Shikari – Nothing is True and Everything is Possible
The United Kingdom's synth-rock band Enter Shikari tossed this record over the pond to get us jumping and spinning in place to kill the boredom. Grab some glow sticks and get shuffling through the hallways.
The Wrecks – Infinitely Ordinary
The indie rock band out of LA also hit us twice last year with comforting sounds. We wound down with Infinitely Ordinary in May and then we cuddled up in snuggies and vibed with Static in December.
Broadside – Into The Raging Sea
Mellowing out, the Richmond, Virginia pop-punk band put together a slightly less pop-punk record for 2020. Into The Raging Sea sunk us into bean bags in front of the fireplace with a dog on our laps.
Blackbear – Everything Means Nothing
Florida Rapper/R&B singer Blackbear sends us this mixtape of relatable bouncy balls. You can't help but catch yourself bopping your head and jerking your shoulders while your sarcastically mouthing words to the car next to you.
Stand Atlantic – Pink Elephant
A playful and strong female-fronted pop-punk band from Sydney Australia. This album is the hand reaching for you in the pit when your butt's on the ground. It's fast and fun but chill when you need it.
I Don't Know How But They Found Me – Razzamatazz
The Delorean door opened and out popped this duo from Salt Lake City with their long-awaited debut studio album full of sultry new wave. It's so easy to get lost in the sound that you might miss some of the dark lyrics. Buckle up and whatever you do, don't go back to 2020.
Foxy Shazam – Burn
Got that hankering for time travel again? After six years, the glam rock band out of Cincinnati, Ohio has graced us with their ever so dramatic presence once again. Strap on those roller skates and strut your stuff in your driveway. Have some 70's style fun.
These were just a few of the new albums we missed talking about with our friends. We are so lucky that musicians are still writing and recording and sharing their music with us. We are all crossing our fingers and praying for the day we can wait in freezing cold lines and be packed together again into bars, halls, theatres, and arenas for live concerts. Here's to hope for 2021. Stay strong and stay safe.